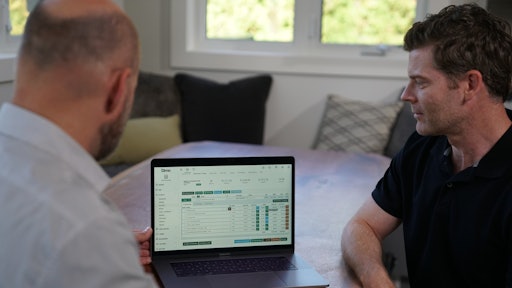 Increasing sales and eliminating inefficiencies are some of the ways to make a difference in your landscaping company's profit.
While still a personal interactive business, landscapers across the country are finding that technology is a window into the operational side of the business. Many are now turning to business operations software to streamline the front office portion of their operation. Finding efficiencies in those areas can make a huge difference in everything from customer relations, budgeting, and workforce development.
Green Industry Pros sat down with LandOpt  director of success Andrew Dickson, Real Green Systems vice president of business development Beth Berry, Landscape Management Network (LMN) CEO and co-host of Landscape Disruptors Mark Bradley and Lawnbot founder and CEO Kendall Hines to discuss some of  the benefits of utilizing software and technology to manage a small business. 
Each offered some unique insights on how those in the green industry can utilize technology and other innovative techniques to improve various facets of their business operations.
Sales
Emerging technology can help landscaping company owners keep track of sales and profits year over the course the year.
Lawnbot founder and CEO Kendall Hines gave a presentation about inbound sales and domination of inbound sales at Lawncology pre-COVID in Georgia. During the presentation, he showed his sales reports from previous six years broken down by source code. He says they were using Real Green Systems at the time.
"I think that's really powerful when you can use systems like that, that you can go back multiple years and go down to the fine details," Hines says. "I can tell you back in 2014 how many sales we got from a home show we did down to the dollar amount after discount."
His company, Lawnbot is now partnering with Real Green Systems on a program that enables users to "do anything a human can do in their business management system." He says the program "can add a customer, book a sale, automatically post the program to the account – so lawncare and landscaping companies can do what they do best and that's taking care of customers, rather than worrying about data entry into the system."
Real Green Systems vice president of business development Beth Berry says AI bot technology is an exciting technology.
"We've integrated with Lawnbot and now our customers can integrate Lawnbot into their website and make sales 24/7," she says. "We learned this from the master at TruGreen: whoever provides the first quote in today's environment is pretty much going to win the business."
With business management software, company owners have access to services, jobs and crews that are benefiting or hurting the company. It saves countless hours of owners, managers or administrative professionals compiling the information because multiple systems are not compatible.
Customer Relations + Accountability
As landscapers, you can't talk about customer relations without also looking at project and business management. This is one industry in which these practices very much go hand in hand.
Customers expect prompt service with any interactions and the right software platform can assist in that sort of engagement.
LandOpt product development manager Andrew Dickson says customer relationship management (CRM) systems can enable landscapers to provide better customer service while improving efficiency.
Through such software, landscapers can maintain their current relationships with their customers – whether that's mass emails, campaigns, etc. Dickson says the software allows the users to foster that ongoing relationship.
"We also believe in what we call a 'care call,' where at the end of any project the initial sales rep checks in with the customer to discuss how the project went," he says, adding that good questions to ask during a care call include queries such as whether the project was successful and if the customer's needs were met. He explains that this opens the door for either a maintenance contract or other future working relationships.
Dickson also says care calls should be made not just immediately following a project, but also monthly, quarterly, and annually. He advises that sales reps should use tools such as FaceTime or other video calling services so clients can show them the lawn or other issues that might require attention.
Berry also touts the use of instant communications, videos, and photos to better serve customers.
"The ease of getting consumers to understand exactly what you're talking about through video and photos over technology has expedited the sales process and made it more meaningful," she says.
As example, she imagines a lawn technician being able to video call a customer from the customer's front yard and saying, "I'm on your front lawn and I see some grub damage. I'm going to go ahead and take care of that for you right now."
Berry explains that simple technologies also enable the same lawn care workers to easily bill for completed work and even get paid faster. Prompt invoicing and payments helps maintain a steady cash flow for your business.
"The technician can then bill a customer immediately from the property and the customer can now electronically pay," she says. "In the old days, it would take us 21 days on average to receive payment. By the time you hand wrote an invoice, left it on the consumer's door and they put it in a snail mail envelope, the best-case scenario was about 21 days. Now you're being paid instantly. As a green industry professional, that certainly helps the overall health of the business."
In addition, she points to the web-based, 24/7 customer portals that allow customers to request services, make payments, see the work that was done, read FAQs and perform a variety of additional self-service tasks that traditionally required leaving messages and waiting for a return call.
Hines notes that he agrees with many of the statements of the other executives. He specifically cites the ability to use the software to set customers up on an automatic payment plan. "When you set up a client's account on autopay, you put the card on the file, your employees go and do the work and that system is automatically charging those credit cards for you," he says.
LMN CEO Mark Bradley says less than 5 percent of landscapers are using business management software, adding that those that do see tremendous growth in efficiency.
"I think once companies do start to use the technology and embrace it and get their employees to do the same, they usually see a 30% to 40% increase in efficiency," he says.
Labor Management
Another universal concern among landscaping company owners is labor. From finding skilled workers to attracting, hiring, managing, and retaining them, landscaping companies are always looking for more effective workforce development methods.
Leading business management software packages offer mobile functionality to allow for increase accuracy in tracking of labor costs.
Dickson advises using well-structured platforms for hiring and managing employees as well.
"If you have structure, a process or system that you stick to, then you can repeat it. Tools like bamboo HR, Indeed and Workable allow us to have that structure," he says.
Also, Dickson suggests utilizing tools such as Microsoft Teams for effective staff communication and online accounting systems for streamlined timesheet and hours reporting protocols.
Bradley believes comprehensive budgeting can help enable landscaping businesses to offer better pay to employees, thus attracting high quality candidates.
"Only around 5% of landscapers are budgeting right now," he says. "I think once they use some software to start doing that and they can budget more effectively, then they can start to estimate their projects with more meaningful markups and really understand how much they can actually afford to pay their staff."
Bradley believe the lack of understanding of the finances causes most business owners to underpay due in part because of the misconception of what they can and can't afford if they have a staff.
"What I've seen is once they start budgeting and estimating using software, they start to look at labor as more of an asset and less of a cost," he says. "I think software allows them to track the efficiencies of the field staff."
Hines advises treating hiring in a similar way to sales and marketing.
"I think it's a really cutthroat world out there right now for employees," he says. "We need to treat getting employees like getting new customers because unless you have the employees, the customers really don't matter."
For example, Hines suggests when posting Facebook ads to do lookalike audiences and only show employment ads to people that are more inclined to be a lawn technician.
To accomplish that, he says companies can get an email data set of sales of around 500 people from a local pesticide office, who tend to retain all their applicators' names and contact information. Hines said the data can be purchased and then uploaded to Facebook as a lookalike audience. For the ad itself, Hines says to talk about how the company is the greatest, all the things the company does, the culture etc.
Berry adds that landscaping company owners should make their intentions clear in any job ads.
For instance, most landscaping companies pay for the certifications required for performing work but may not communicate that clearly in their job descriptions.
"With all of the hype around what student loans cost today, we're seeing customers say, 'Free training and certification, we will pay for your training and certification.' We're finding that using that verbiage gets people in the door because prospects think, 'This company is going to make an immediate investment in my future and career,'" Berry says.
Today's prospective employees are interested in the overall company culture. Hines says always proactively seeking employees can help a landscape company get the upper hand over competitors.
For instance, he says while in line at a fast food restaurant and another customer is observed doing something that shows integrity, he says you should hand them your card right there and explain that you are always looking for people like them to join your crew.
"9 times out of 10, they would call me because they want to be part of a mission; they want to be part of a culture," Hines says. "You have to be on the offensive in today's economy for getting employees. Use every type of technology you can, texting, Facebook messages. It's competitive out there. I've constantly heard two things. One is, you've got to improve your culture. And two is, you have to be hungrier and be on the offense."
Bradley notes that no matter the use, it is important for green industry companies to determine their needs, rather than just saying "I need more tech."
"There are some great things going on in the industry, but I think most landscapers have to clean up their own house before that technology is going to really cure the problem," Bradley says. "That requires effective systems and organization."