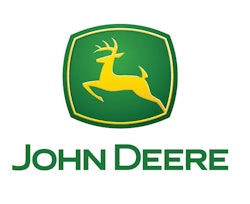 John Deere's fiscal year has got off to a rough start. First-quarter sales (ending January 31) were down 17% compared to a year ago, and net income dropped 43%. Still, Samuel R. Allen, John Deere's chairman and chief executive officer, says the company will remain "solidly profitable" in 2015.
"Deere's first-quarter performance reflected sluggish conditions in the global farm sector, which reduced demand for agricultural machinery, particularly larger models, and led to lower sales and income," Allen said. "At the same time, our construction and forestry and financial services divisions had higher profits, showing the benefit of a well-rounded business lineup. Deere's results also demonstrated the progress we've made creating a more flexible, responsive cost structure."
Inside the Equipment Operations
Sales from Deere's Equipment Operations division specifically were down 19% in the first quarter. The company expects sales to be down 17% for the year.
Agriculture & Turf.  Sales decreased 27% for the first quarter due largely to lower shipment volumes, the previously announced sales of John Deere Landscapes and John Deere Water, and the unfavorable effects of currency translation. Deere's outlook calls for worldwide ag/turf sales to be off 23% for the year. U.S./Canada sales specifically are expected to be down 25-30% for the year.
Construction & Forestry. Construction and forestry sales increased 13% for the quarter mainly as a result of higher shipment volumes. Deere is expecting sales to be up 5% for the year—thanks in part to an increase in U.S. housing starts.