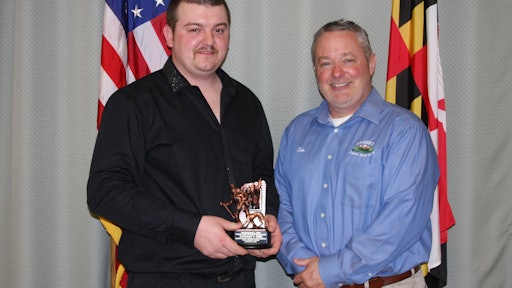 Tom Grosh, the owner of Grosh's Lawn Service in Clear Spring, MD, says that as a professional landscape contractor and business owner, he has an obligation to help make his community a better place to live and work. "I want to inspire other citizens and business owners to get involved in our community and make a difference," Grosh relates.
One way Grosh's Lawn Service gives back to its community is through its volunteer fire service award, the Michael L. Reid Volunteer of the Year Award. This year marked the seventh in which Grosh and his wife, Karen, sponsored the award.
"Grosh's Lawn Service is committed to our state and community by recognizing volunteer firefighters who go above and beyond what is expected," Grosh says. "If we did not have this award, no one would know how much the firefighters are doing for our community."
Grosh has a special affinity for firefighting. "I named the award after our active fire chief for his dedication and commitment of time (over 60 hours a week) that he has given to our community," Grosh says. "I'd actually served with and under his command as a rescue specialist before I retired from active firefighter duty. I wanted to be on the forefront of making this something that other business owners would do to help support our dwindling volunteer ranks. The remarks we receive each year from the firefighter selected says it all when they state that it is so nice that someone noticed and that they were selected. It truly is a thankless job that so many take for granted and do not understand the commitment of time that it takes from family life."
Grosh's Lawn Service selects an award winner from criteria that the fire company selects. "We then purchase the trophy ($80) and award a $250 check toward a class uniform to the firefighter selected," Grosh explains.
This year's winner is Michael Reid's son Zack Reid. He had this to say to Grosh: "Thank you for sponsoring this award, Tommy. I am thankful for what my father does for this community and your support for him and our department. I appreciate you choosing me to receive the award this year. It means a lot to me to get an award in honor of my dad. Hopefully someday I can be as good of a fire chief as he is."
Zack had covered 883 hours as the designated duty driver between May 14 and December 31 of last year. "This was the third most hours given by a driver and saved the fire company in wages, taxes, workers comp., etc. over $11,373," Grosh says.