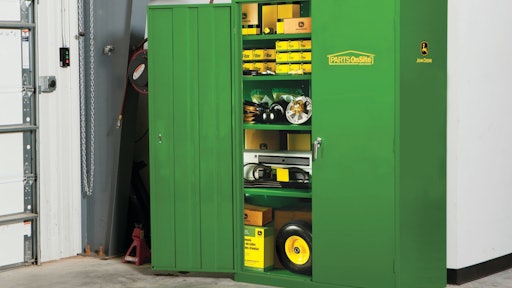 The John Deere Parts OnSite program is designed to help landscape contractors manage their parts inventory program in collaboration with their John Deere Dealer. A comprehensive parts stocking and replacement system, Parts OnSite, allows contractors to better account for their inventory and optimize costs while minimizing down time.
"Parts OnSite is not a one-size-fits-all program," said Jim Goldschmidt, parts product line manager, John Deere Turf & Utility. "By working closely with their John Deere dealer, contractors can have a parts management program that's customized to their business needs."
How to get one started. To implement the program, contractors meet with their local John Deere dealer to discuss the specific needs of their business. The program includes everything from belts to blades, to oil filters, spindles, deck wheels and PTO clutches. The personalized plan can even include Sunbelt parts for all makes to handle the repair and maintenance needs of all the machines in the fleet.
What the program entails. The Parts OnSite program often includes placing a John Deere parts cabinet at the contractor's location. This allows maintenance crews to simply take the parts they need when they need them. The dealer will then re-stock the cabinet and work with the customer to account for and manage the inventory. Dealers may also design the program to stock certain parts on crew trailers or trucks, which makes it even more convenient for the contractor.
Payment and financing plans are also customized to meet the contractors' needs so they can effectively manage their costs and cashflow.
The key benefit of the program is it facilitates more frequent and productive communication between contractors and dealers.
"Through the Parts OnSite program, dealers develop a better understanding of their customers' needs, including parts, supplies, equipment and financing," said Goldschmidt. "This understanding is what makes the Parts OnSite program successful for both the contractor and the dealer."
Companies in this article