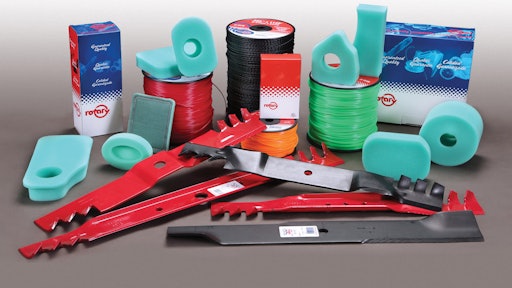 Rotary
Rotary now offers over 9,500 different parts for outdoor power equipment including a variety of new Copperhead mower blades, foam air filters and trimmer line.
Hundreds of new items have been introduced for 2016 including high-lift, low-lift and commercial strength Copperhead mower blades. The new blade assortment is available for many popular brands including Bobcat, Dixie Chopper, Exmark, Ferris, Gravely, Husqvarna, John Deere, Kubota, Murray, Snapper, Scag and Stiga.
Rotary also has introduced a variety of new foam air filters and pre-filters for major brands such as Briggs & Stratton, Generac, Honda, Kawasaki, Kohler and Onan among others.
In addition, a new assortment of black vortex commercial strength trimmer line is among the featured items in Rotary's 2016 master parts catalog. Rotary's vortex, diamond-cut, quad tex and premium quad trimmer line are available in loops, donuts or bulk spools.
Rotary's Copperhead mower blades, foam air filters and monofilament trimmer line are made in the USA at the company's headquarters in Glennville, GA.
Companies in this article