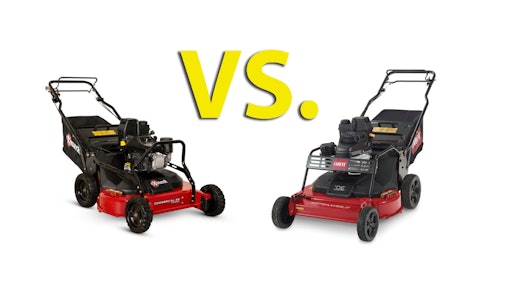 The Exmark Commercial 30 walk mower and the Toro TurfMaster 30-inch walk mower are two of the most-viewed products on greenindustrypros.com.
With 43% more cut area than a traditional 21-inch mower, these two mowers can greatly improve productivity.
Seeing as how Exmark is owned by Toro, a question posed by a greenindustrypros.com reader makes a lot of sense: "Why would I buy the Exmark over the Toro, especially since the Toro is cheaper, or so I'm told?" Great question … so let's try to answer it.
What's in a price?
First of all, prices can be very relative in this industry. Contractors, for the most part, buy equipment from local dealerships. Those dealerships often adjust pricing to their own circumstances.
Evenly matched on the basics
While the Toro model is powered by a 179cc Kawasaki FJ180V engine, the Exmark model is powered by a Kohler Command Pro CV200 single-cylinder engine. Additionally, both feature:
Twin-blade design
One-gallon fuel tank
1.5- to 5-inch cut height in half-inch increments
Weight of roughly 170 pounds
2.5 bushel bag capacity

The Exmark features an infinitely variable ground speed of up to 3.8 mph. The Toro tested in at 4.1, so they are closely matched when it comes to speed, as well.
Finally, both are three-in-one mowers, allowing for conversion from side-discharge to bagging to mulching.
Durability features

For most commercial users, durability is the name of the game. Both mowers have been designed with this in mind, so let's look at some of the features.
Deck construction. The Toro model features a heavy-duty steel deck while the Exmark has a stamped steel deck with welded reinforcement.

Drive system. Both models feature a variable-speed, rear-wheel-drive, sealed transmission. Exmark says its transmission has been custom-built to its specifications using internal wet clutches for increased life and a self-tensioning belt drive.
What's unique
As you can see, these are both solid mowers designed with the professional user in mind. So how do you decide which one to buy? Look at some of the unique features.
Exmark boasts an upgraded transmission and positive drive design that couples both drive wheels for maximum traction in all conditions. It also features:
Cast aluminum oil and air filter bases
Steel blower housing
Parking brake
Cast iron cylinder liners
Dual splash and pressurized lubrication

Quad-Clean air filtration

Toro likes to highlight its two-point cut-height adjustment for both front and rear, eliminating the need to walk around the mower to change the cut height. Also, Toro features a blade brake clutch (BBC) to allow the operator to disengage blades without shutting off the engine. The Toro model also features:
Co-polymer commercial-grade wheels
Steel bullnose front bumper
Brush guard and engine guard
Impact-absorbing bullnose front bumper
Skid plates on bottom of deck
Metal rear door

Get out to your area dealers and take a look at both of these mowers. Challenge your dealers to show you how one will be better than the other. Test the mowers out. Consider the reliability of the dealer you'll be purchasing from. These are both well-designed mowers, but you're going to need service and parts from time to time—so aftermarket support should always be factored into your decision-making process.
*This article was originally published in 2013 and was updated in 2019 to reflect current mower models.

Companies in this article