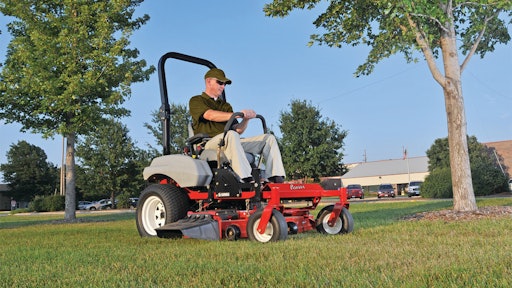 Zero-turn mowers are a popular choice for commercial contractors and homeowners alike. Whatever side of the spectrum you fall on, safe and careful operation of the powerful machine is critical. Read on for some tips for safe zero-turn mowing.
Train – Train all operators on the safe operation of the mower to limit risk of injury.
Safety features – A mower's safety features are part of the unit's design for a reason. Make sure all safety features are intact and never bypass or remove them.
ROPS – If your mower comes with a Roll Over Protection System (ROPS), be sure to keep it in the raised position to protect the operator from being pinned under the machine in the event of a tip over.
Seatbelt – If the mower has a seatbelt, it should be worn at all times during operation.
Noise – Foam earplugs or earmuffs should be worn to protect hearing.
Know the unit and its features – Spend time getting to know the mower's controls and levers, and how they are used to steer the mower and power blades.
Be aware of your environment – Look for any obstacles you may encounter when cutting. Note the hazards and clear the mowing area of obstacles when possible. Do not operate the mower when people are in the area.
Clearance – Allow safe clearance when near drop-offs or retaining walls to avoid a wheel slipping over the edge. Hit the untrimmed clearance area later on with a walk-behind mower or string trimmer.
A degree of safety – Consult your owner's manual for information on what slope angles are safe for cutting. Many will advise against mowing slopes greater than 13-15 degrees (same goes for the ramp when loading/unloading from a trailer). In wet conditions, avoid mowing slopes altogether.
Maintain control – Zero-turn mowers are designed to turn on a dime. Maintain a steady speed and smooth control of the levers when turning.
Read your safety manual! This is just a quick overview of basic safe operating procedures. As always—read, understand and follow the instructions in your safety instruction manual, along with the various safety symbols and warnings that appear throughout the manual and on the product itself.