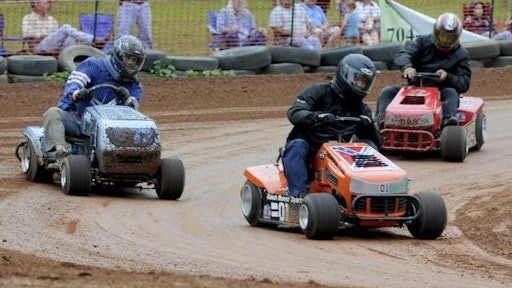 enquirerherald.com
Landscape contractors and equipment dealers can sure be passionate about what they do, but their zeal often pales in comparison to a lawnmower racing enthusiast. Several around York, SC, are quite saddened by the recent announcement that their favorite track would be closing down.
After some neighbors begain complaining about noise, the owner of Phat Bottom Speedway has decided to shut it all down. The County had actually approved a necessary zoning change, but the costs to remain compliant were just too daunting.
Lawnmower racers had been competing at the track since 2009. The present track owner actually had plans to change it into a horse arena, but after seeing how passionate lawnmower racing enthusists are, he decided to maintain it for lawnmower racing.
Some of Phat Bottom's regulars said they'll continue racing, often for the U.S. Lawn Mower Racing Association on its national circuit. The USLMRA is becoming increasingly popular. It sanctions roughly 150 races a year. Drivers never win prize money, the association says. Rather, they win bragging rights, and sometimes trophies or lawn ornaments. Lawnmower racing is mostly about pride.
USLMRA sponsors include Sta-bil, HEET, Grass Blaster and K&N Filters.
The USLMRA Facebook page, as of mid-December, had more than 7,500 likes.
SOURCE: enquirerherald.com