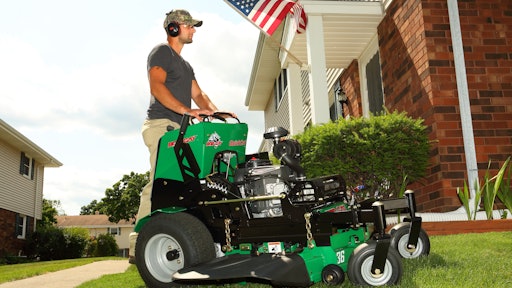 More zero-turn mower manufacturers are making a concerted effort to make you more comfortable on the job and they're doing it for many reasons. The labor shortage that's affecting the green industry is pressuring landscape contractors to cover more ground in a day with less workers. In turn, this pressure is stretching employee productivity to the point that employees are putting in long, grueling days.
Because good employees can get easily hired down the street, one way to avoid sacrificing them to another enterprise is to purchase equipment that helps them get through the day more easily, productively, safely and comfortably, so they want to stick around longer, mowing with less effort and strain. The less fatigue and discomfort a landscaper experiences over the course of today, the more chance of seeing that employee tomorrow. And when team morale remains high, employee retention is more likely, which slows expensive employee turnover.
Ed Wright, vice president of engineering, sales and marketing at Wright Manufacturing, confirms, "The landscaping business is becoming more competitive than ever and there is a shortage of qualified operators. This means many companies are looking to increase productivity with equipment that is faster and more attractive to their workforce."
Landscapers can often spend the bulk of their workday on a lawn mower, which can be physically taxing day in and out. Maximizing operator comfort on a zero-turn mower can be the difference between saving or losing a valuable employee. "The terrain that mowers are used on can be brutal to the landscaper's body as the mower traverses over bumps and around obstacles," explains Ron Scheffler, product manager at BOB-CAT. "The operator needs to be shielded from what the landscape delivers so, at the end of the long workday, the operator still has energy to tackle other challenges and responsibilities."
Chris Vogtman, marketing manager at The Toro Company, agrees that operator comfort is especially essential in the green industry now because "the more comfortable an operator is, the more productive he or she is in the field. In an environment where landscape contractors are continually pressured to accomplish more tasks with fewer resources, it's important to keep the company's most important asset—its people—comfortable and safe, and as a result, more productive. If an operator is using an ergonomically friendly and high-quality machine, it could boost morale and productivity, plus reduce turnover."
Getting in the Comfort Zone
Comfort can mean different things to different people, so how do manufacturers determine what may be comfortable for most landscapers operating zero-turn mowers? This is when experience and customer feedback become part of the equation. Landscapers can tell you that an optimized operator position, lower vibration levels, ergonomic controls and intuitive operation all play a part. Personal customization is another way to get over the obstacle of conflicting comfortability.
This means that zero-turn manufacturers must take a comprehensive approach to increasing operator comfort, addressing many of these concerns before going to market. Ruben Peña, product marketing manager at John Deere, says because customers are requesting more comfort features on zero-turn mowers, "The most important thing a manufacturer can do is to listen to the customer. Find out what comfort really means to him or her, and provide a solution that meets his or her needs.
"Although comfort can mean different things to different people, a great place to start is with the seat," suggests Peña. "For example, if machine vibration is a concern for an operator, it could cause discomfort over time. To combat this, John Deere offers a suspension seat, most recently on the ZTrak Z945M and Z955M mowers, to reduce vibration and increase ride comfort. The suspension seat offers a thicker bottom cushion, additional padding on the back with ergonomic contouring and adjustable armrests, improving comfort and the overall mowing experience."
Scheffler also believes seating with good suspension and isolating the operator from vibration are key to comfort. "BOB-CAT has high-back seats on all its sit-down zero-turn mowers, with an extra-high-back seat and lumbar-supported bottom on its commercial Predator-Pro RS mowers. Mechanical suspension systems with weight adjustability provide options for multiple riders. However, operators need to put in their true weight, and not their high school weight, for a better riding experience," jokes Scheffler. "BOB-CAT also has vibration dampening on the operator's footplate to aid in the landscaper feeling more energetic at the end of a long workday."
Exmark Manufacturing focuses on increasing comfort by dampening the vibration that contacts the operator as well. "Anytime you can reduce bumps and vibration that reach the operator, it's a good thing. Our suspended operator platform on Lazer Z and Radius S-Series models is a good example. The platform works in tandem with the design of Exmark's full suspension seating system to deliver a smoother overall ride with increased operator comfort," elaborates Jamie Briggs, Exmark product manager.
According to Vogtman, comfort is a critical contribution to an outstanding mowing experience and, as a result, zero-turn manufacturers should continue to strive to design for comfort. He says, "Ergonomic is synonymous with productivity and efficiency. Specifically for the landscape contractor, features like cushioned seats, vibration isolation, ergonomic controls and Toro's MyRIDE adjustable suspension system help reduce operator fatigue during long days on the job.
"Providing a safe and comfortable environment from sunup to sundown was one of the key drivers in the development of the new MyRIDE suspension system, which allows operators to adjust their ride setting to match their personal ride preference. The system features a suspended operator platform that delivers 3.6 inches of travel and isolates the operator from the rest of the machine. This suspension system is available on select Toro Z Master and TITAN HD zero-turn mowers, where it delivers 3.0 inches of travel to the operator."
Toro also offers other vibration-isolating features on some of its mowers, including rubberized floor pans and 3D isolator mounts to keep operators comfortable and productive. Vogtman concludes, "Making a zero-turn mower more ergonomic all begins by listening to operators to determine specifically how we, as an equipment manufacturer, can offer a superior mowing experience. It's our duty to design products around their needs."
Extra, Extra, Extra
Many agree that control placement is another imperative to creating a more comfortable zero-turn experience for landscapers. After all, how productive can you be while straining to reach the controls? Briggs says Exmark tries to make controls easy to understand, find and access in order to streamline mower operation, making it as straightforward as possible. When it comes to ergonomic mower design, he says, "First and foremost is operator positioning, and achieving the right position of the control levers relative to the operator's back and feet."
Scheffler echoes Briggs' sentiment that controls should be intuitive and simple to learn, but takes it a step further to say that easy mower mounting and dismounting is just as important: "If a landscaper fumbles around interfering control handles during operation, that makes for a poorly ergonomic interface. Easy-to-reach controls are a must to limit extreme bending, and the mower must be easy to get on and off."
Beyond the typical ergonomics landscapers think of when purchasing a zero-turn mower, according to Wright, safety belongs in the mix. "Machine balance, responsive controls and good visibility are crucial to how easily operators can safely make the most of their machines. Professional operators have thousands of hours of experience and, if the machine responds sluggishly or sloppily, this limits how safe and confident they can be with the mower."
Did you know that cupholders are a major consideration for U.S. consumer car purchases? Does that translate to zero-turns as well? Vogtman emphasizes that it doesn't hurt to throw in more peripheral features to enhance zero-turn comfort. For example, Toro offers "storage compartments for a cell phone, tools or other personal items, as well as a built-in cupholder, which comes standard on many Toro zero-turn mowers."
What else puts you at ease on a zero-turn mower after mowing day after day? Chances are, if it's not being addressed now, it will be. Zero-turn manufacturers are making more headway every year to make you more comfortable on the job and that's a very comforting thought.