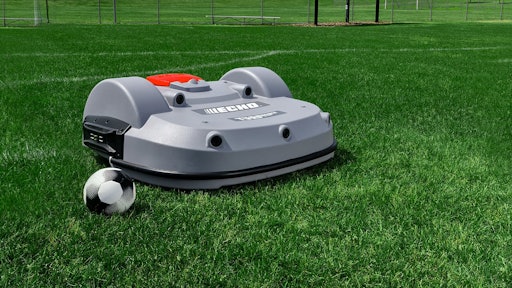 While there are many robotic mowers available for residential use, the commercial robotic mower market remains a new frontier for the outdoor power equipment industry.
ECHO Inc., has entered the commercial market with the release of its autonomous TurfMowers the TM-2000 robotic mower, which received the 2018 Innovative Award from the Sports Turf Managers Association (STMA).
"This product is unique in that it's commercial grade and the TM-2000, which is our flagship model, can maintain up to six acres," says Joe Fahey, ECHO's Vice President of product service and robotics. "Ideally, you're looking at sports fields and maintaining large properties or corporate campuses."
The concept of TM-2000 mower was developed in Europe. Sales of the unit have increased over the past few years, to the point where there are ECHO robotic mowers maintaining over 1,200 soccer field across Europe.
The TM-2000 has an updated software platform and the internal design is more robust than the first generation of robotic mowers released in Europe.
"This year we were finally able to introduce it and the timing was great because North America is just now starting to figure out that 'hey, these robots are for real,'" Fahey adds.
A daily mow
As an automated mower, the TM-2000 can mow for up to 16 hours, self docks at its charging station and is weatherproof. Users can operate it from a smartphone app, telling it to return to its charging station to perform self-maintenance and other commands.
The robotic mower has five floating heads for cutting with three retractable and replaceable 2-inch blades per head.
"This is not your rotary mower. And with a rotary mower you have the large plate, the vacuum deck," Fahey says. "This is a completely different principle, where this particular unit has five heads. Each head is about the size of a trimmer head and has three razor blades on it. Basically, it's cutting with 15 razor blades."
The mower is able to cut grass daily and can be scheduled to mow whenever it's convenient.
"It's just cutting off basically the one day's growth — which is minimal — which is great for the plant," he says. "It has lots of benefits as far as moisture and fertilization."
Another way the TM-2000 is different from traditional mowers is its mowing pattern — instead of straight lines, the machine uses sonar to travel and avoid obstacles.
"It works out a random pattern," Fahey says. "You know, people like stripes. Stripes are beautiful, stripes are nice. But, as with many things and especially a disruptive technology, there are trade-offs. If you could trade stripes for having your lawn look perfect every day, then it might be a fair trade-off. If you could trade stripes for not having to water as much, or maybe not having to put as much fertilizer, that might be a fair trade. Really, you have to look at robotic mowing just a little bit differently than what you're traditionally used to."
Staying on track
The TM-2000 uses sonar signals, pressure bumpers and perimeter wire to stay on track.
"It's constantly scanning, looking for objects that may be in its path," Fahey says. "In the zone that you're mowing, trees, obstacles of that type, it can see them."
The mower uses its pressure bumpers to interact with obstacles in its way.
"When it approaches a tree, for example, it slows down because it knows it's in front of it, and it will slowly tap it," he says. "There's a pressure sensitive bumper on it, so when the bumper taps the tree it knows, okay, I have to go somewhere else. Then it backs up and takes another path around the object."
To protect flower beds and other delicate garden items, and to keep the mower in its designated area, additional perimeter wire for up to six acres can be installed in a few hours.
"It's not as much as you think," he says. "We've done a number of installations that size in maybe three hours. Fundamentally, it's not a significant burden."
Factory installation
ECHO insists perimeter wire installations be completed by factory-trained contractors or dealers to avoid performance issues in the future with the robotic mowers.
"As a manufacturer, and this is our brand, you want customers to be satisfied," Fahey explains. "We are absolutely insistent that any installation is done by a factory-trained installer, whether that's us or whether that's a dealer who has gone through our training program. That is crucial."
ECHO representatives make themselves available to help with installations, either by phone or in person.
"We're also on the other end of the phone because we can, from Google Earth, look at the property and we can recommend some of the things that you do," he says. "I mean, we're here to help to make sure that the customer is satisfied."
Mower maintenance
Without a transmission or engine, there are few parts that need to be maintained on the autonomous TM-2000. The blades likely need replacing every month or two, depending on wear and tear on the machine.
Throughout the season, the robotic mower will put on as much as 6,000 miles, so it is reasonable to check the motor and the wheel bearings toward the end.
Unlike a gas-powered machine, there are no oil changes or constant need to fill it with gasoline. If the mower encounters any issues, it will alert the user's smartphone app.
"If it has a problem, it will let you know. It will call you to come hither and help it out," he says. "If, for example, an article is left on the ground, you know, a big branch falls; things happen."
Conversely, if the user notices a problem, they can simply use the app to send the mower back to its charging station.
"If there's a storm coming, you pull out your cellphone and you hit 'return to station and stay there until I tell you to start mowing again,'" he says.
Contractor friendly
As robotic mowers evolve, Fahey says he see the option of the landscaping pro taking over the monitoring of the units for their customers.
He notes that the service the landscaper would be providing would be to monitor the unit and give it commands as needed.
"The whole robotics commercial landscape model is evolving and people are experimenting with different ways of going about this," Fahey says. "There is going to be a lot of different thoughts and nobody is quite sure."
At some point, he sees the concept morphing into a consistent business model that will be viable.