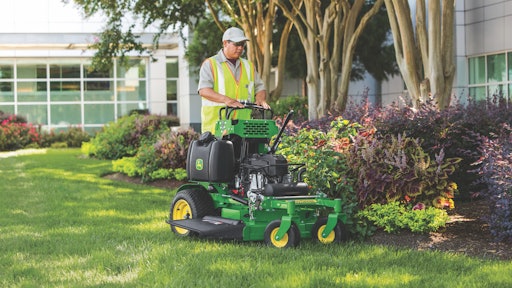 John Deere
Versatility, efficiency, productivity—what's not to love about these potential benefits of stand-on mowers?
"Over the last two to three years, we are seeing a trend of professional landscapers purchasing and using more stand-on mowers," says Chad Carney, go-to-market manager for commercial mowing and equipment with John Deere. "It's not been a huge drastic shift, but it's significant enough to notice the slight shift in the industry. For example, if a professional landscaper has historically had 100 zero-turn mowers in their fleet and maybe they only had two to three stand-on mowers, we are seeing some of them change their fleets to 15 to 20 stand-on mowers with 80 to 85 zero-turn mowers. Stand-on mowers are a great complementary piece of equipment to zero-turn mowers in many landscapers' fleets, and in several applications and situations, they are the best solution."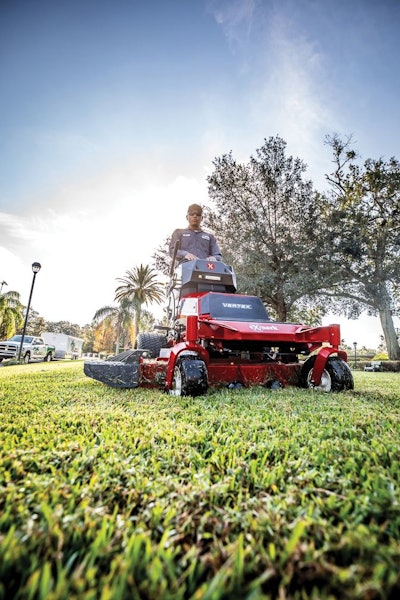 Mower manufacturers explain landscape professionals' increased interest in stand-on mowers and dive into how the machines can stand up to the challenge of streamlining landscape companies' operations.
The benefits
Versatility and productivity are among two of the biggest benefits to stand-on mowers, according to Jonathan Guarneri, product manager at Exmark, as landscape companies can get more done in a wider variety of areas.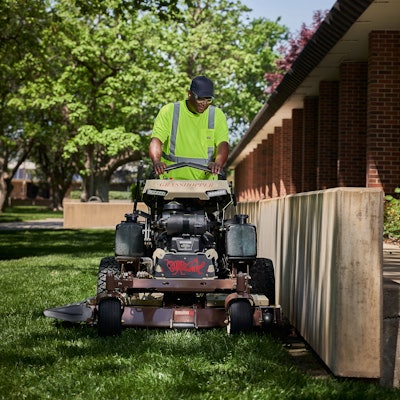 "The combination of those two things is a really powerful aid because time is money," Guarneri says.
Brian Schoenthaler, marketing coordinator at The Grasshopper Co., adds that other benefits come in the mowers' compact footprint and easy on/off capabilities.
"One obvious advantage is the compact design that allows more units that can be loaded onto a trailer," Schoenthaler says. "Another advantage is the easy on/off capability that allows the operator to quickly step off to pick up debris. Also, standing makes it easy to shift your weight on uneven terrain quickly, easily and efficiently."
All of these reasons add up to healthier and happier employees, Carney notes.
"Sitting down on a zero-turn mower for eight-plus hours in a day can be tough on the back and midsection as well as create stiffness in the legs and hips, whereas on a stand-on mower, an operator can use their legs to pivot and shift weight and positions and not experience the aches/stiffness in their legs and back," Carney says.
Applications
With space and trailers at a premium, stand-on mowers have gained popularity in big cities as landscapers use them to cut in medians and tighter areas, according to Schoenthaler.
Carney agrees.
"Stand-on mowers are usually very good with being able to go up and down curbs that are near roads and parking lots, so we see them for being ideal for those type areas including medians," Carney says. "With stand-on mowers, you can generally go more places to mow than with zero-turn mowers, such as medians, slopes and tight spaces between buildings/fences, and you can maneuver easier around low-hanging items such as tree branches."
What to know
Because some operators may not be as familiar with stand-on mowers, landscape pros should take the time to educate their employees on how to use them properly.
"The biggest challenge to using stand-on mowers is simply getting comfortable with driving it," Carney says. "Similar to a first-time user on a zero-turn mower when they are unsure of how to use the levers properly, but by that second or third time mowing with the machine, they are fully comfortable."
Guarneri notes that the fundamentals of how the machine works are virtually the same as other types of mowers and suggests operators start slow speed wise.
"As operators become comfortable with the machine and how it operates, then they can increase their speed," Guarneri says.