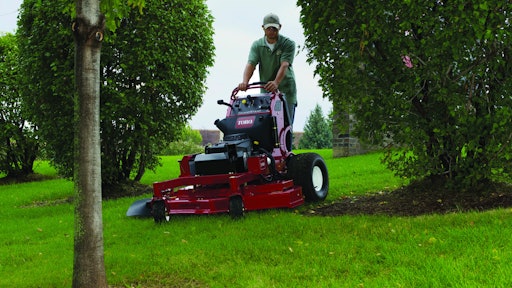 Once upon a time, back in the mid-90s, Bill Wright of Maryland-based Wright Manufacturing introduced this unique idea of stand-up mowing. With just one other brand on the market at that time (Great Dane, which has since been euthanized), the stand-on mower was something of a novelty.
A lot has changed since then. More landscape contractors are incorporating stand-ons into their fleets—and now have a good dozen brands to choose from. Unlike some other product categories, there really isn't a clear-cut leader when it comes to stand-on mowers. In fact, of the eight most recognized brands, the five most popular have favorability ratings of just 25% to 36%. This creates plenty of opportunity for all of the current brands on the market, along with any others that might want to throw their hats into the ring.
Two new players this season
The latest manufacturer to do just that is BOB-CAT, a Schiller Grounds Care brand. BOB-CAT has a full line of sit-down zero-turn riding mowers and mid-size walk mowers. Its new QuickCat stand-on features what the company calls an ergonomic and nimble design to help reduce vibration, which is an important consideration for stand-up mower operators.
"We've often had customers ask us when we would bring out a stand-on model," says Pat Cappucci, company president and chief operating officer. "We didn't want to respond until we were ready with something that truly met BOB-CAT's standards for durability, quality of cut and ease of ownership. We've more than achieved that goal with the QuickCat."
Dixie Chopper unveiled its first stand-on, the Stryker, in the fall of 2013. But having been acquired by Jacobsen Textron in February of last year, this season will really be the first where Dixie Chopper and its dealers actually market the Stryker. "We made many changes to ensure that the product would meet the demands of the commercial cutter," says Brice Hill, a product manager for Dixie Chopper. "These changes included durability, productivity and ergonomics."
Expanding, improving existing product
Several manufacturers have updated and/or expanded their existing stand-on lineups this year. For instance, select models of Toro GrandStand mowers now feature Kawasaki FX Series engines, which are equipped with heavy-duty dual-stage canister air cleaners for enhanced power and reliability.
Toro's subsidiary, Exmark, has also updated its stand-on line. The Vantage S-Series now features a propane model. Daryn Walters, Exmark's director of marketing, says an increasing number of landscape contractors are turning to propane as a way to reduce costs, increase profitability and reduce impact to the environment.
"Time and again, we hear that fuel is one of our customers' largest expenses, and increasing fuel costs have put a serious dent in the profitability of many contractors across the country," Walters says. "More and more of these folks are turning to EFI propane-powered equipment as a way to reduce their fuel bill and get more work done with fewer resources." The Vantage S-Series propane mower is powered by a Kohler EFI propane engine and has a 52-inch deck.
Gravely has also added a propane-powered model to its stand-on line, the Pro-Stance LP 52. According to Bill Engler, Gravely's director of commercial sales, propane costs 20-30% less than gasoline, on average. "Additionally, some clients value lawn care professionals with a fleet that leaves a smaller carbon footprint, giving those contractors the opportunity to offer a unique value proposition to their customers," Engler adds in reference to propane-powered equipment.
Speaking of reduced carbon footprint, there is an electric stand-on mower on the market that could also fit the bill. The Mean Green Stalker QTX is powered by Mean Green Lithium Energy Modules, which reportedly allow for runtimes of 3.5 to 7 hours. Furthermore, the manufacturer says, each Module has been tested to exceed 1,500 complete charging cycles without losing more than 5% of its capacity.
Getting back to the more widely used gasoline-powered mower, we have to talk about the stand-on pioneer, Wright, which has completely redesigned its Stander ZK. One of four stand-on models offered by Wright, the ZK appeals to contractors looking for serious productivity.
"Most mowers have a transport speed of 10 to 12 mph, yet none of them can mow at that speed without losing quality of cut," says Hal White, Wright's vice president of sales and marketing. "The ZK mows at 12.5 mph because the front ends are very light and the operator is standing at the perfect zero point between the rear wheel motors. In effect, the operator is riding a roller over the terrain. And with the deck positioned very close to the rear wheels, the quality of cut of the Aero Core deck is excellent."
First introduced in 2007, the redesigned Wright Stander ZK also features a roomier operator platform to further enhance operator comfort.
Speed, agility and hillside stability can definitely offer important advantages to stand-up mowing. But there is still no substitute for operator comfort. Why stand when you can sit? When standing is more productive—and ergonomic.
Check out the Stand-on Mowers section of our online Product Guide.
Companies in this article