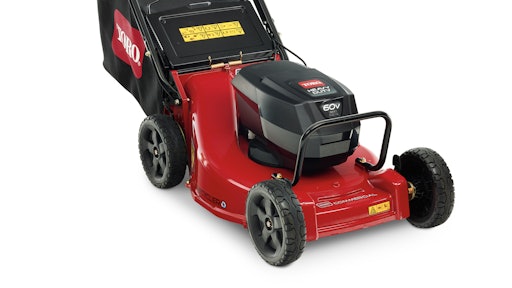 The switch is on. Across the United States and Canada, a growing number of municipalities and professionals are gearing up to make the change to battery-powered lawn care equipment as performance expectations begin to meet and exceed expectations. Toro is ready to answer the call with a fleet of low noise, low exhaust and powerful professional battery equipment
With the new Toro 60V 21-inch Commercial Heavy-Duty Mower, professionals can be ready to transition to an emission-free lawncare fleet of mowers and tools in the years ahead. The launch of the revolutionary 60V commercial mower is the start to a complete game-changing commercial product line-up. It is just the beginning, From Start To Finish.
"We are excited about our investments in technology," said Mitch Hoffman, marketing manager. "By leveraging our 100 years of customer-focused product development, we are building an ecosystem of powerful commercial electric products. This 60V heavy duty mower that cuts and performs as well as the gas cousins is just the start!"
The new Toro 60V Heavy-Duty mower is powered with Toro's proven 60-Volt, 7.5 Amp-hour battery that puts out 405 Watts per hour to deliver the productivity that lawncare pros demand.
Built for today's environmentally aware lawncare professionals, the Toro 60V Heavy-Duty mower delivers zero-emissions and quiet performance while giving lawncare professionals the dependable quality cut that their customers expect.
Prepare for the Transition
Many landscape and lawncare pros already use battery-powered yard tools, such as Toro's 60V family of yard tools including leaf blowers, chainsaws, and edge trimmers. With the new Toro 60V Heavy-Duty mower, landscapers can begin to diversify their fleet with reliable battery power that leverages Toro's 100 years of expertise in lawn care.
The new 60V mower features an on-board power meter with 4 LEDs so you always know how much power you have left. With spare interchangeable batteries, you can run all day long. The battery can be utilized with other Toro 60V lawn tools and equipment, such as leaf blowers, hedge trimmers, weed trimmers, and battery chainsaws. Toro's Li-Ion 60V Rapid Battery Charger provides complete charges within just 75 minutes.
At the same time, users  begin to realize an immediate return on their investment (ROI), including:
Zero downtime due to changing oil, air filters and other mechanical maintenance. The battery powerhead is easy to use and doesn't require regular maintenance like a gas mower.
Easy-to-change 60V batteries – when battery runs out of power, just pop in a spare.
Zero exhaust.
Reduced sound – significantly reduced sound compared to a typical 21-inch gas walk behind mower
While the new 60V 21-inch Heavy-Duty Mower is quiet, allowing pros to get to work earlier and work in sensitive areas such as schools, hospitals and corporate campuses, it is a sheer brut in delivering the power needed to get the job done right the first time.
The Toro 60V is built with a variable-speed self-propelled rear-wheel drive and a brushless DC motor. The brushless motor delivers a blade speed of up to15,309 feet per minute (at 2800 RPM) with our 21-inch steel-forged razor-sharp blades – the same great cut available in our gas-powered walk-behind models – so you won't be missing a thing.
To get you from one job to the next faster, the rear-wheel drive wheels are built with co-polymer and precision ball bearings for long life with less downtime and lower replacement costs. The mower's large 9-inch x 2-inch wheels provides a tip-toe turf friendly footprint.
Unmatched Commercial-Grade Cut
With Toro's patented Recycler Cutting System, the new 60V walk-behind mower not only has the power to shred through anything, including long wet grass, it optimizes the cutting process to deliver an exceptional mulching and bagging experience. The Recycler Cutting System directs grass clippings deep into the turf to provide a just bagged appearance without the hassle of clipping collection and disposal. A wide opening and ramped tunnel profile makes quick work of clipping disposal.
Easily customize your cut with heights ranging from 1 inch to 4.5 inch. in increments of a half-inch.
The Toro 60V mower was designed for maximum life and durability. Front spring arms are contained within the wheels for enhanced protection, and the crankshaft protector provides support to prevent damage from blade impact.
Also the mower is made with the same corrosion-resistant aluminum alloy heavy-duty cutting deck as Toro's traditional heavy-duty 21-inch gas line-up for a superior cut year after year. To extend the life of the mowing deck, Toro added replaceable steel wear plates that protect against bottom and side impacts.