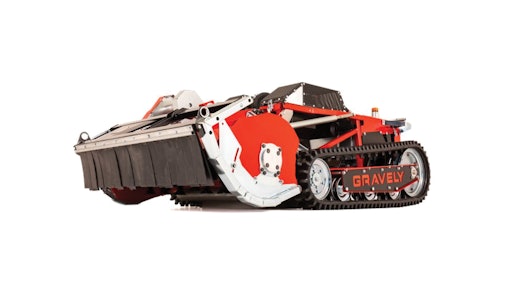 Gravely Commercial

Gravely expanded its mower lineup with the Ovis, a high-slope brush mower.
."Bringing the OVIS into the fold is going to help our customers do their work more safely, and give them access to more jobsites and contracts," said AriensCo Senior Vice President of Product Engineering and Marketing Matt Medden. "It's also a great fit for the Gravely brand. Strong and simple German engineering is going to work well for landscape contractors and our dealers who service the machine."
Features of the product include:
It uses a 40-inch-wide flail mower to clear vegetation on steep or inaccessible terrain where traditional lawn mower operation is either impossible or unsafe.
Though new to the American market, this proven product is currently built by

AriensCo's

AS-Motor brand in Germany and distributed across Europe.
Scaling challenging terrain with the Ovis is possible through remote-controlled operation, a very low center of gravity, and a track-drive system.
With no in-cockpit operator, Ovis can safely climb slopes up to 50 degrees, and it has a control range of up to 1000 feet without "frequency confusion" when operating as part of a fleet with other machines.
The machine's low stature reduces the possibility for tipping and allows it to operate in low clearances.
23-hp Briggs & Stratton Vanguard engine supplies ample power for Ovis' flail-head mower to chew through saplings up to 1.5 inches in diameter.
The Ovis will continue to be manufactured by AriensCo in Bühlertann, Germany and will be sold at independently-owned and operated Gravely dealers in the U.S. starting in spring 2024.
Request More Information
Fill out the form below to request more information about
Gravely Adds Ovis High-Slope Brush Mower