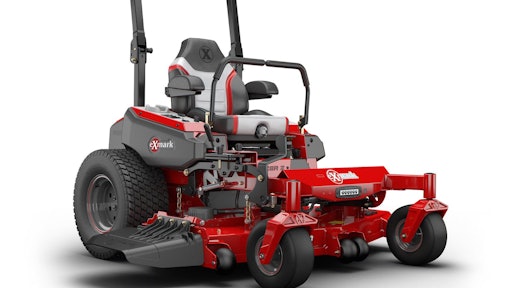 Exmark
At the 2023 Equip Expo, Exmark revealed its new electric model of the Lazer Z riding mower.
The new Lazer Z V-Series delivers performance, cut quality, and long-term durability, with reduced noise output and zero engine exhaust emissions.
"We designed the Lazer Z V-Series to deliver the commercial performance and durability our customers expect," said Exmark Director of Marketing Jamie Briggs said. "It enables them to compete for virtually any commercial mowing contract without equipment-imposed limitations. For a growing number of contractors across the country, that's a very big deal."
Features include:
The Lazer Z V-Series is powered by the HyperCell power system. When combined with Exmark's patent-pending battery management system (BMS), the HyperCell power system is capable of delivering up to seven hours of run time per charge. For most contractors, that equates to a full day of mowing.
The Adapt-equipped 60-inch ElectricSeries 4 cutting deck uses three high-torque commercial electric blade motors to provide instant torque and eliminate all belt-related maintenance and service needs. The electric cutting deck offers the ability to vary blade tip speed to match cutting conditions or preserve battery power. The Adapt system enables quick, tools-free deck rake adjustment to optimize efficiency and cut quality in a wide range of turf conditions.
Standard Horizon360 Connect remote software enables full app-based connectivity to mower settings, location and data, so it's easy to check mower status from virtually anywhere.
Request More Information
Fill out the form below to request more information about
Exmark Unveils Lazer Z V-Series Electric ZTR