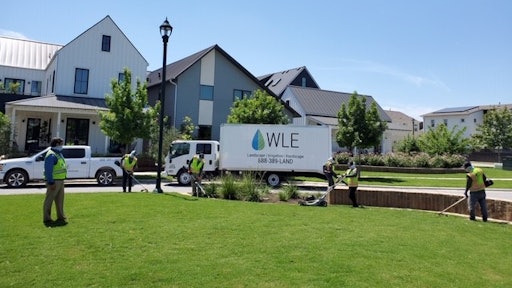 In the latest episode of the Grass Roots podcast, Green Industry Pros staff writer Gigi Wood sits down with Johnny McDonnell, senior vice president of operations for WLE Landscape in Austin, Texas, which was recently named to Inc. magazine's 5000 list of America's fastest growing companies.
McDonnell discusses his company's change from gas-powered to battery-powered lawn equipment, and how it helped bring in a six-figure contract.
The change didn't happen overnight; McDonnell says it took a commitment by the owners' group, weeks of demoing equipment and shifting the way team members in the field think about a day's work.
"We're trying to bring sophistication to very unsophisticated industry," McDonnell says.
Listen to the podcast of the discussion here or read the Q/A conversation below:
GW: Today we're speaking with Johnny McDonnell, senior vice president of operations for WLE Landscaping in Austin, Texas. We're talking about how WLE, recently named an Inc. 5000 fast growing company is using a set of tools that has helped them win larger contracts. Hi Johnny. Welcome.
JM: Thank you for having me.
GW: Our pleasure. So can you start out by telling us a little bit about WLE? It started in about 2003 and you have about a little over 200 employees now?
Rebranding as Landscape Management Provider
JM: Yes ma'am. Yes, we started in 2003, we were primarily landscape construction company focused. And then in the last three years, we rebranded, refocused, to be more of a landscape management provider, encompassing all trades within the landscape industry.
WLE prides themselves on, in those past three years, we have become the only turnkey landscape management provider in the state of Texas. What that means is not only do we do landscape maintenance or landscape construction, but we actually have a design department, a concrete department, and a hardscape department, so we can do everything from sidewalks to masonry work to entry walls, to designing irrigation systems to then installing landscaping. And then once all of those items are finished, then we can maintain it for you.
GW: That's a lot of different facets. Did you bring on a lot of new people to do all those things or were you kind of doing most of them before?
JM: We did. We did. We went through a company restructure, which was probably the pivotal moment for us, when we decided we wanted to take on all those trades and put them under one umbrella and one roof, what we did is we picked kind of the cream of the crop of individuals that owned their own businesses, but were unable to take their business to the next level and invited them to come join WLE. And so that is kind of how we grew our concrete division to do sidewalks, curbs, and then the masonry department and the hardscape.
The landscape installation part, and the maintenance part, we already had that in-house, so it was really just adding the design element, hardscape element and the concrete element into WLE.
GW: Okay. That sounds like quite the project. And you are still doing a lot of work with the landscape, the lawn maintenance type of projects too?
JM: We are solely a commercial landscape management company. We don't really dabble in residential unless it is tied to one of our jobs that is in a HOA or masterplan community that we already maintain. Or it's tied to the installation package. We work mainly with developers and management companies as well as landscape designers.
WLE Landscaping Named to Inc. 5000 List
GW: And you've had considerable growth. Tell me a little bit about how the company was recently recognized for its growth. Can you expand on that?
JM: We've experienced a tremendous amount of growth in the last couple of years through our restructure and kind of touching everything in the industry. What we've done is we went from a kind of lower- to mid-size company to now, grossing a little north of $27 million. So we went from a roughly $8 million company three years ago to $20 (million), to right around $27 million.
GW: And do you attribute that growth to expanding the services that you talked about earlier then?
JM: I think that that is one part of it. The other part is just finding talent and getting the right people on the bus. We have a great team here at WLE from our senior leadership team all the way down to our lower management team and middle management team. Everyone here is excited about what we do on a day-to-day basis and no one really punches a clock here. They work and are excited about what they're doing when they wake up every morning and when they go to bed every night.
Adding Battery-Powered Tools to the Field
GW: Great. Okay. And your team is using a new set of tools. Can you tell me about those?
JM: We just recently were awarded our first seven-figure landscape maintenance contract due to our commitment with Greenworks Commercial's battery-operated power equipment for our handheld part of the landscape maintenance crews. We are quickly transitioning to the stand-on and rider mowers as well.
Here at WLE one of our main company focuses is that we want to bring sophistication to a very unsophisticated industry. Everything that we do from our irrigation team being paperless and using iPads to our maintenance crews using battery-operated equipment. We want to be able to leverage technology to make the landscape industry better and more environmentally friendly.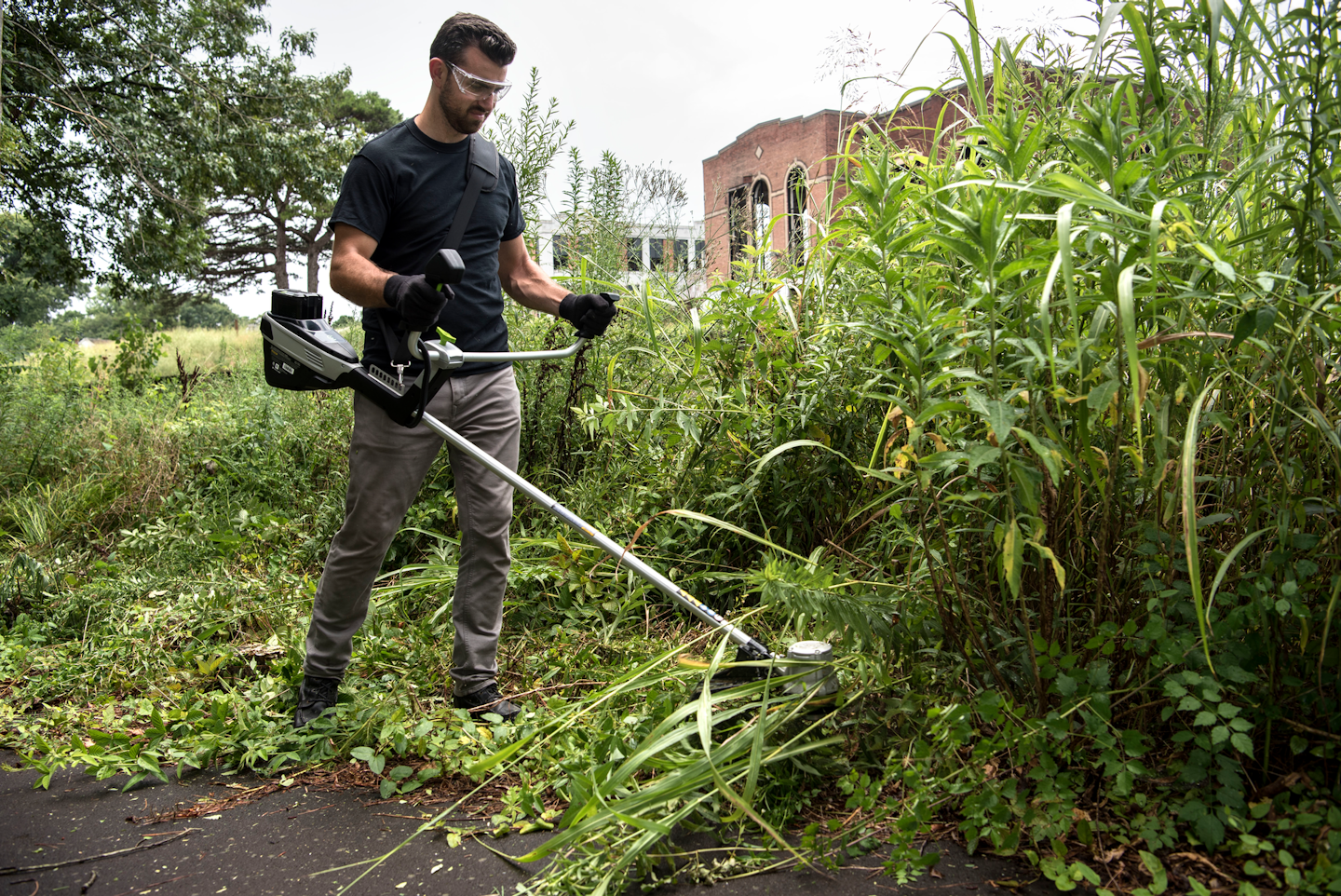 GW: Great. There is a handful of different companies out there producing equipment that uses battery power. Why did you choose Greenworks over others?
JM: What we did is we went and got with our landscape equipment partner when we were thinking about making this leap. And we just kind of reached out to him and asked them what their knowledge was and, and the top three companies that they would recommend. And they gave us three companies, Greenworks Commercial being one of them.
We had the luxury to demo each company for a little over two weeks, and we were able to push each piece of equipment to its limit. And fortunately, Greenworks came out on top, as far as weight of the handheld equipment and the long-lasting ability of the batteries.
Since our commitment to Greenworks at WLE, we've actually furthered our education within Greenworks and we're extremely excited for the future and what that holds for us in the industry. Greenworks has a large group of product specialists that are just as excited as us about changing the industry. So they've got a lot of really neat, cool things that are coming out and they're making tweaks daily on their equipment to make it better and last longer.
GW: How would you say that these tools are different from what you were using before? I think a lot of people question whether or not battery-powered equipment can last long enough or have enough power. Have you noticed any differences from the 'old school' equipment?
JM: Probably the most obvious is the string trimmers. With the normal use of string trimmers, normally the team members that are in the field usually have the throttle a lot higher than what it needs to be. And what that does is that opens the opportunity for it to pick up a rock and break a window or damage property on that site.
With battery-operated equipment, your first thought is that you want to conserve the battery as long as possible. So with the Greenworks battery-operated string trimmers, what you do is they don't encourage you to keep it wide open all the time. They want you to just have it going enough to cut the grass and to get the job done. And in return, what that does, it makes that battery last a lot longer. And also it keeps the percentage of picking up a rock a lot lower because it's not just going in there, you know, super fast and picking up a rock and damaging property.
The Field Staff Adjusts to Change in Torque
GW: That certainly is a difference. Now, has this required a lot of training of your staff? You mentioned training earlier. Have they had to do a lot to get used to the new equipment?
JM: When you make a change like this from the traditional gas powered to battery operated, the field team members, they have a thought of what the equipment should do, because they've used it time and time again, day in and day out.
So, even though the battery-operated equipment is lighter, more efficient, they have that old-school thought of, they want something a little bit heavier. They want the power right away, the torque with battery-operated equipment. It's not a sprint, it's a marathon. And so you don't get that bottom-end torque as soon as you push the trigger.
We've had to educate and coach and train our team members of what this equipment does and what it means to not just the industry or them, but what it actually means to their children, their chidren's children by actually trying to grasp this knowledge on these pieces of equipment.
GW: So what's been their reaction so far? And have you had any reaction from clients as well?
JM: Initially, with our team members in the field, there's that pushback at first. But once we educate them, they're very, very accepting of it. And they love it. They like that it no longer is the gas fumes and they like that it's kind of, it's lighter. The equipment is actually lighter than the traditional gas-powered equipment, so they're not so tired at the end of the day.
Client Reaction to Noiseless Lawn Care
GW: And clients, have they noticed at all?
JM: Yes. We have several crews within our company that are solely designated to battery-operated equipment. And one of those is actually our downtown crew. We have a crew that specifically services and maintains high rises and smaller properties in the downtown Austin area and that crew is completely battery operated.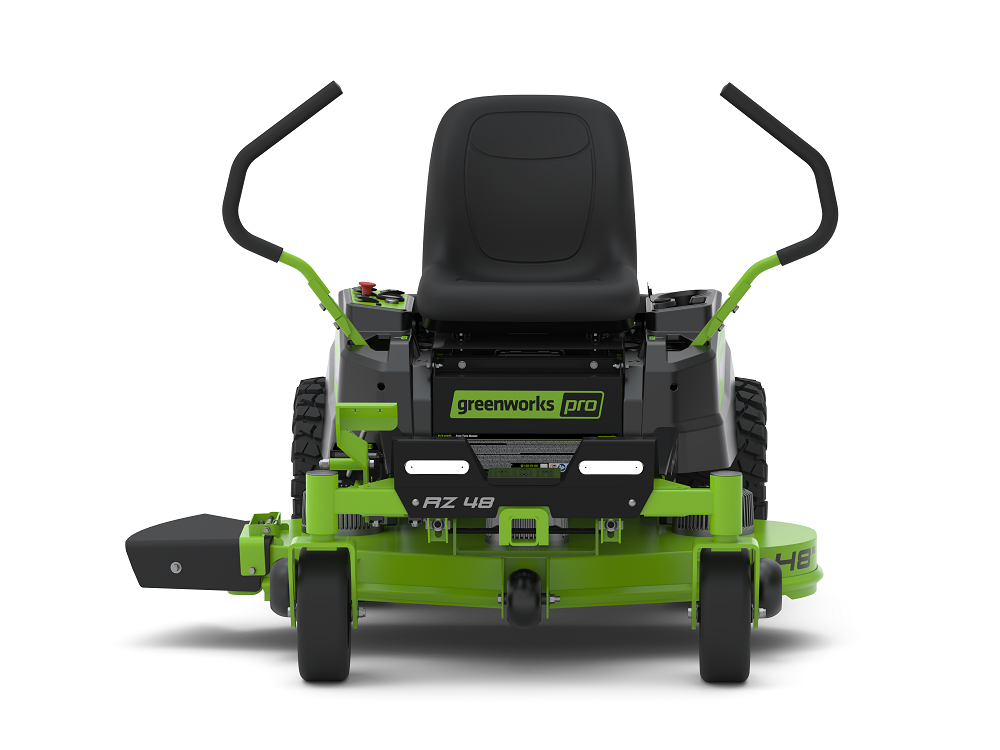 We've had a lot of high-rise luxury condominiums and apartments managers come out and actually talk to us and say, 'Wow, I don't smell the gas fumes. And I don't hear them.' We even had one property manager come up and actually sent an email going, you know, I didn't see the crews show up because they didn't go out and see to see if the crew was there, they were just waiting to hear the equipment. So, we assured them that the crew was there and provided pictures and documentation, but it was because of the battery-operated equipment that it's the noise, the lack thereof, that they thought that the crews weren't there.
Then even to go to another side, one of our fairly new contracts that is predominantly battery-operated, the homeowners, it's a fairly large community in the central Austin area that is up and coming that is focused on sustainability and has a high level of pedestrian traffic. We just last week gave a presentation of a little over 200 homeowners and board members and their reaction to the battery-operated equipment was just astonishing.
They were all excited and they were almost kind of blown away that a landscape company has committed to this kind of equipment and it gave them a sense, almost a sense of relief that a landscape company had kind of a sense of ownership in their client's neighborhood. So those are kind of two examples of where we've had some great feedback.
GW: Is there anything else you want people to know about the tools or your company?
JM: No, you know, just that, we really appreciate the opportunity to speak with you and kind of help, bring education to the industry. I know a lot of people are afraid of the battery-operated equipment, but you know, companies like Greenworks kind of pushing the technology, and having the best interest of the industry and the environment.
I think that the industry is headed in a great direction and being able to leverage technology, I just would encourage other companies to do the same and follow suit and that we can better be you know, more environmentally friendly, as we are trying to make a living, uh, in the landscaping world.
GW: That's great. Well, thank you so much for sharing your story with us today. We really appreciate your time.