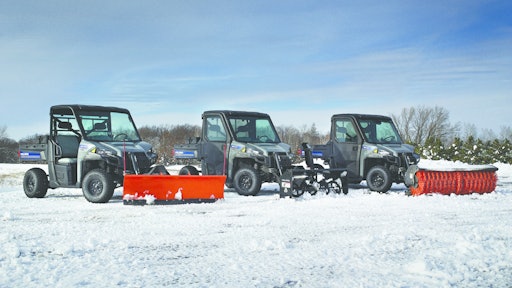 Polaris Industries Inc. recently announced their plans to enter the commercial vehicles market. Polaris unveiled the Polaris Brutus line, the company's first purpose-built commercial vehicle line that delivers front-end power take-off (PTO) capability.
Click here to request more information about this product.
Polaris applied the company's utility vehicle experience to create a diverse product portfolio of commercial-grade vehicles. The new Brutus models are specifically engineered for individuals and businesses that seek capable, durable task vehicles.
The Brutus product line is an outcome of the strategic alliance formed between Polaris and Bobcat in 2009. The co-developed vehicles leverage the strengths of both companies with Polaris' expertise in utility vehicles and the powersports market, with Bobcat's experience in work vehicle technology and attachments. Polaris will manufacture vehicles for both Polaris and Bobcat, while Bobcat will manufacture attachments for the two companies.
The Brutus models leverage technology found in the Polaris Ranger line and are comprised of three models – Brutus, Brutus HD, and Brutus HDTPO. The line was built to be a versatile, capable, and comfortable side-by-side utility vehicle.
The ability to operate several front-end attachments provides commercial customers with a versatile, cost-effective and productive work solution. The Brutus offers the ability to sweep, mow, blow, lift, plow and scoop—all with one machine. The Pro-Tach attachment system, standard on the Brutus HD and Brutus HDTPO, delivers work customers the capability to change from one attachment to the next quickly and easily. Attachment options will likely be expanded upon in the future.
Polaris will not be expanding their dealer network, but rather working to develop their existing dealer base of 1,500 dealers. They will be adding inside support staff and new robust training to help dealers to sell and service the equipment.