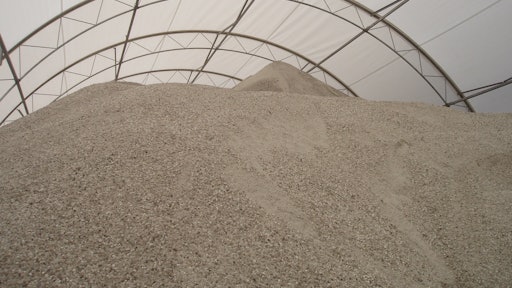 Running a snow removal business is expensive enough—you can't afford to overpay for deicers or lose additional money due to product spoilage. That's why more snow removal contractors are looking to fabric structures for their salt storage needs.
"We're picking up more contractors all of the time," says Chris Talmadge, vice president of commercial sales for Accu-Steel. "Many municipalities are hiring local contractors to maintain certain stretches of road. So contractors have a greater need for salt, and with that comes a greater need to keep more on hand at a given time."
A reliable storage facility allows contractors to buy their salt in bulk, avoiding the higher prices that often come with ordering in the middle of winter. A storage facility also gives contractors peace of mind knowing that any unused product will be protected until the following season.
"The cost savings a contractor can realize from buying in bulk alone will typically pay for a storage building in a couple of seasons, depending on the amount of salt he's buying, of course," Tallmadge points out.
The fact that these types of structures are custom built around a contractor's needs is one of the more compelling reasons to take a look at them. Whether you need to store 500 ton of salt or 1,500, a good manufacturer will be willing and able to accommodate you. Furthermore, depending on the size and complexity of your desired structure, you can normally have one up and running a month or two after placing your order.
Size
"First and foremost you have to decide how much salt your business needs in order to operate throughout the winter," says Brad Williams, national ClearSpan sales, ClearSpan Fabric Structures. "We then have mathematical equations that can help you decide what length and width you need to reach a certain capacity of salt."
ClearSpan can customize buildings up to 300 feet wide and any length. Williams says the average is 45 to 100 feet for salt storage. "Most salt delivery trucks are 48 to 55 feet long, so we always recommend a building that will allow for easy maneuvering," Williams points out.
Accu-Steel offers 30- to 180-foot widths and any length. Height is also variable. "When you have trucks driving in and out, you want a little bit higher center height," Tallmadge explains. "We can manufacture a building to have a higher sidewall in this case. Again, it all depends on the customer's needs."
Structure
Fabric-covered buildings such as these can be considered temporary because they do not require a foundation. "Most people mount their buildings on poured concrete or precast blocks," Williams says. "This also allows for additional building height and clearance. Some just mount the building on concrete piers over an impervious pad, and then build an interior push wall to keep the salt retained.
"The great thing is that these structures can be easily dismantled and relocated," Williams continues. "They are environmentally sensitive buildings and have a smaller footprint than traditional wood or steel buildings."
But they're still durable. "We manufacture all of our steel at our Iowa facility, and then send it out to be hot-dip galvanized," Tallmadge says. "That process coats both the outside and inside of the steel with about 4 mil of zinc. We then have no need to weld, so there are no spots where the zinc coating is burned off. The result is a strong, durable frame that's resistant to corrosion, which is important because salt is highly corrosive."
"Every ClearSpan Hercules Truss Arch Building is constructed of the highest-quality, American-made structural steel," Williams says. "Made from recycled steel, our steel tubing is triple-galvanized and provides superior corrosion protection.
"Our fabric covers are then made from 12.5-ounce, high-density polyethylene fabric," Williams continues. "A rip-stop scrim weave is embedded into the fabric, so in the unlikely event that the fabric becomes punctured, it will not continue to tear."
Accu-Steel buildings feature a premium fabric called HL-13, which is UV-coated over a super-strong woven scrim. "Our buildings are actually engineered so that if the fabric does come off, the structure itself will remain intact," Tallmadge says. "In other words, the fabric does not hold the building together." That is why Accu-Steel will not refer to its buildings as "fabric tensioned structures."
As for the flooring, ClearSpan always advises contractors to have their structures installed over some form of impervious pad of asphalt or concrete. Accu-Steel's Tallmadge says he's seeing a trend toward asphalt.
Maintenance
What's a winter without some punishing cold, wind and ice? Don't be afraid that your fabric-covered building will never be able to take the beating, though. Both Accu-Steel and ClearSpan design their buildings to local codes. If your area experiences a 60-pound snow load and 90-mph wind load, your building will be built to withstand that.
However, there will be some maintenance involved. "Walk the building twice a year to visually inspect the cover," Tallmadge recommends. "If there's a cut, there's a heat-applied patch you can put on. The main thing is keeping salt off of the steel structure (base plates)."
Measuring ROI
As pointed out earlier, big cost savings can be realized by buying your salt in bulk ahead of the season. There are other things to consider, as well.
"Because these structures can be considered temporary, and due to Section 179 of the United States Internal Revenue Code, you can see an incredible tax savings with a fabric structure as opposed to a traditional wood or steel building," Williams explains. Consult your accountant on matters such as these.
"Also, abundant natural light filters through the covers of our structures, eliminating the need for daytime artificial lighting while reducing the number of lights needed at night," Williams says. "Due to this unique feature, a ClearSpan fabric structure requires much less electricity than a conventional wood or steel building."