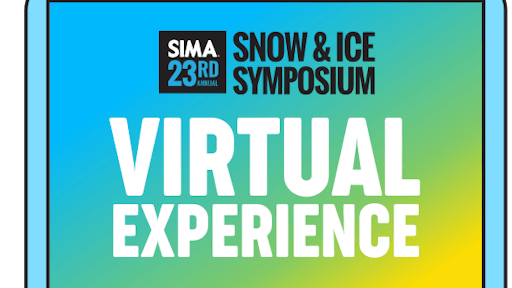 The Snow & Ice Management Association's 2020 Snow & Ice Symposium  will now be a virtual event.
Originally scheduled for dates in mid-June, the event was rescheduled to the August dates due to COVID-19.
SIMA Executive Director Martin Tirado issued a statement indicated that the Connecticut Convention Center, the host facility for the 2020 Symposium, will not be open in August for events.
"These are challenging times dealing with the health and safety impact of COVID-19, and we have been preparing for the possibility that large events would not be able to be held in the near future," he said. "Therefore, SIMA will transition to a virtual Symposium to be held August 26-28, 2020."
Considered the signature event for SIMA, Tirado acknowledged the disappointment in being unable to hold the event in-person. However, he also stressed that while there are new challenges, there are new opportunities.
SIMA's 23rd Annual Snow & Ice Symposium - Virtual Experience! will include an individual and company pass options to maximize participation.  The focus will be to deliver all of the things the symposium is known for in a new format:
Live and on-demand role-focused education that will be accessible through 2020 and beyond. 
Small-group, peer-to-peer topical discussions and role-specific meet-ups that will allow attendees to engage with other snow and ice professionals on a fun virtual platform, maintaining and growing close professional relationships.
A virtual trade show where attendees can meet with exhibitors and learn about the latest in snow and ice equipment and services.
More information and registration is forthcoming, but the virtual Symposium will not be just another boring Zoom meeting.
For those already registered for the symposium as an attendee or exhibitor, SIMA will be reaching out with information on options.
Also, at our Summer Pop-Up in June, we will discuss the virtual Symposium at greater length to give you an idea of what to expect.
"SIMA is working to make the virtual Symposium the best possible for you in light of the regulations and limits on in-person events," Tirado said. "By attending and utilizing the resources we have to offer, you will be better prepared to deal with the upcoming winter season when snow and ice is an essential service to be managed in order to ensure safety to our clients and communities. "