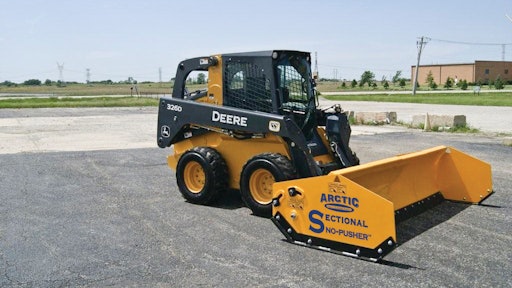 Compatible with smaller-sized skid steers, tractors and wheel loaders weighing up to 5,000 pounds, Compact-Duty Sectional Sno-Pushers from Arctic Snow & Ice Control are ideal for clearing small parking lots, sidewalks and larger driveways. The pushers can also help reduce fuel and salt usage, the company says, by increasing pushing efficiency and eliminating follow-up plowing.
Sectional design bolsters plowing efficiency. Unlike traditional one-piece moldboard plows or pushers, these pushers feature a sectional moldboard design. Each 24-inch-wide section is equipped with its own spring-loaded trip edge and polyurethane cutting edge to allow for precision pushing. This unique design allows each section to move up and down independently, enabling the pusher to effectively contour to uneven surfaces, and remove snow in dips and depressions on the first pass.
Additionally, each section is individually mounted to the pusher's mainframe with engineered polyurethane blocks. In the unlikely event of damage, one single section can easily be unbolted, removed and replaced in reportedly less than 15 minutes, providing both time and cost savings.
Bolt-on mechanical side panels protect the equipment, pusher and operator. Compared to pushers with rigid fixed panels that may be severely damaged if an obstacle were encountered, the CD pusher's side panels rotate up and over small obstructions. The panels also feature durable AR-400 hardened-steel shoes. Combined with the Slip-Hitch system (see below), the shoes are able to ride flat along the pavement, allowing for even wear and prolonged life.
Slip-Hitch system simplifies operation. The patented Slip-Hitch system is designed to make operation easier and more efficient. It allows the pusher to automatically adjust and continuously readjust to the pavement grade, resulting in fewer missed areas and less follow-up plowing. Because the Slip-Hitch ensures proper placement, less time and effort is required to position the pusher, making it ideal for inexperienced operators. The system also enables the pusher to operate independently from the equipment, ensuring that all four tires remain on the pavement at all times. This provides full traction, and eliminates drag and loss of horsepower.
Three options fit all makes and models. The Compact-Duty Sectional Sno-Pushers are available in three sizes:
6-foot, CD6 model is the smallest, with a weight of 1,000 pounds and pushing capacity of 0.7 cubic yards
Weighing in at 1,108 pounds, the CD8 is an 8-foot model that offers a capacity of 0.9 cubic yards
The CD10 is a 10-foot pusher weighing 1,216 pounds and offering a 1.1 cubic yard capacity.
Each model, thanks to Arctic's universal skid-steer attachment or slide-in bucket mount, can be used on any brand of skid steer, compact tractor or compact wheel loader weighing no more than 5,000 pounds, says Steve Sepaniak, Arctic's director of sales.