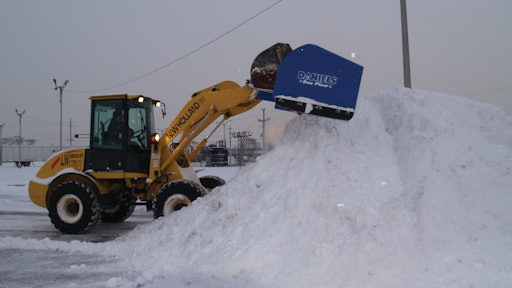 The unpredictability and occasional ferocity of the past three snow seasons magnifies the importance of training, efficiency and professionalism in the snow and ice management industry. If dramatic weather patterns and hyper-competition settle in as the norm, contractors must focus on increasing proficiency.
Two thought leaders in the snow industry—Brian Birch, chief operating officer for the Snow & Ice Management Association (SIMA), and Mark Klossner, marketing director for The Boss Snowplow—help us look ahead to the coming season and what snow-removal contractors should be thinking about.
The weather still matters most. "All in all, last year turned out to be fairly normal," Klossner says. He's referring to the fact that quite a bit of equipment inventory was still in the field at the start of last season, because the 2011-12 season "virtually didn't exist." Last year started slow, but then saw epic events such as Winter Storm Nemo which dumped more than three feet of snow on parts of New England. Additionally, significant snowfall persisted well into spring for some areas, with places like Minnesota receiving events in early May.
"Heading into this year, we're encouraged by the pent-up demand we're seeing from snow contractors," Klossner says. "Last year was up and down, but equipment did get worked hard, so many fleets will need some replenishing."
Snow and ice liability. The liability of having snow and ice on a site has steadily increased for facilities and property managers. This has led to a trend where some, if not all, of that liability is being pushed onto the snow service provider.
"Snow professionals must continue to negotiate proactively when signing contracts with any party, but must also build their businesses to assume some allocation of liability on a site," Birch says. "Professionals will only be able to navigate this challenging risk environment by signing sound contracts that help to protect them, insuring themselves with snow-specific insurance programs, implementing a quality documentation of services protocol, and training operations personnel on safety and efficiency best practices."
Klossner points out how most slip-and-fall accidents take place on sidewalks. Thus, contractors are looking for productive ways to manage these highly trafficked areas. Manufacturers are responding. For instance, Wacker Neuson offers a compact wheel loader that's designed for 48-inch sidewalks. This year, Boss has introduced a fully hydraulic ATV plow that's also ideal for sidewalk management.
"Our new ATV plow is designed for contractors with a lot of sidewalk work to manage, especially in front of retail stores," Klossner explains. "Skid-steer loaders are big and expensive and don't provide the best visibility in confined spaces. There's only so much shoveling manpower can handle, and there's only so much you can do with a snowthrower if you can't move the snow out effectively."
Other product and equipment-efficiency drivers. Snow-removal equipment has come a long way over the past several years, Birch says. "Ten years ago, there were a few major types of plows on the market in the U.S. Now there are dozens of specialty plow types, multiple new entities with innovative plow technologies, and increased innovation from longtime manufacturers of plows and other snow-specific tools. As the need for cost-effective, competent snow management continues to grow, snow professionals will need to invest in multiple tools to conduct specific aspects of work."
Environmental and regulatory drivers. Other factors are affecting snow professionals' businesses, and not just on the snow-removal side. Landscape, pavement and concrete contractors, many of whom also perform snow removal, are all affected by things like high gas prices, rising insurance costs, the new health care law, immigration reform (or lack thereof), and the drive toward "greener" building and property management.
"The more snow professionals can become experts in utilizing various equipment types, technologies and deicing/anti-icing products, the better positioned they will be to use this trend (green building) as a differentiator for their businesses long term," Birch says. With respect to issues like immigration reform and health care, "Snow professionals will need to educate themselves and prepare their companies and employees for some fairly dramatic changes," Birch adds.
Companies in this article