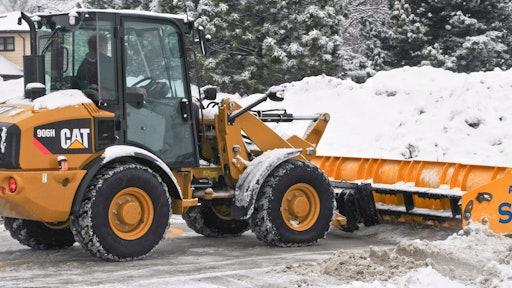 Proper ice management remains one of the biggest challenges for snow removal contractors. When it comes to using salt, prices continue to rise, as does the supply and demand. This makes it difficult to secure adequate amounts and challenging to keep budgets in check. Plus, contractors deal with the dilemma of environmental concerns from overusing salt on one hand and the liability issues for slip-and-fall claims on the other.
With constantly changing and uncontrollable weather, the ideal conditions to use salt become limited and you need an alternative solution. Before you reach for the salt, look to your box plow. You can cut your salt usage, as well as save time and money, with snow pusher technology that's designed to help remove snow and ice as completely as possible on the first pass.
Look for a Steel Cutting Edge
When it's time to break the ice, a steel cutting edge on the right pusher is your best bet. A steel edge can scrape even hard-packed snow and ice down to the pavement, reducing the need to salt afterward. Steel edges are often more effective and durable than rubber options. And since rubber edges wear quickly—lasting only 20 percent as long as steel—a steel edge offers both enhanced performance and longevity.
Use a Sectional or Segmented Moldboard Design
A pusher that features a sectional or segmented moldboard—compared to the traditional one-piece moldboard—contours to any uneven, depressed or elevated surface because it allows each individual segment to move independently.
This precision works well on sloped roads and parking lots since the outer pieces rest at lower points, while those toward the center rise up as the pavement does. Since each individual section adjusts itself accordingly, it ensures virtually no snow and ice is left behind, and essentially eliminates the need for salting.
Plus, when you combine a sectional design with trip-edge technology, you don't have to worry about missing snow around an obstacle. Instead of the whole pusher lifting to avoid obstacles, only the individual section trips or lifts, meaning you don't have to make extra passes or salt later.
Take Advantage of a Drop-and-Go Hitch
Guaranteeing a clean surface is a must in ice management and is expected even with the most inexperienced operators. An easy-to-use drop-and-go style hitch ensures the pusher lies correctly each and every time, so you know you're set up to efficiently remove snow and ice. This type of hitch lets the pusher move freely from the equipment and automatically adjusts the pusher to any change in pavement. Simply drop the pusher and go instead of manually adjusting it. This means all operators—from newbies to experts—effectively position the pusher to reach all icy and snowy spots quickly and accurately.
As you look for ways to better manage ice or complement deicing systems, always consider your pusher first. Odds are you cannot only cut salt costs and work time, but also add efficiency and productivity to your operations.