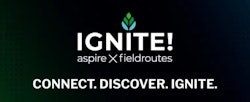 FieldRoutes, a ServiceTitan company, will host its first user conference, Ignite, to highlight the latest technology advances and investments for the FieldRoutes platform from ServiceTitan Nov. 7-9 in Las Vegas.
Ignite will bring together professionals from the pest control, lawn, landscape and snow and ice industries to advance their skills and network with their peers as they work to achieve success.
Attendees will have access to hands-on training with the FieldRoutes and ServSuite by FieldRoutes, in addition to ServiceTitan's Marketing Pro and Fleet Pro products, which will be available to FieldRoutes Operations Suite customers later this year. Ignite will include more than 40 unique breakout sessions covering impactful field service industry topics like talent acquisition and retention, sales, marketing, reporting, compliance, accounting and more.
ServiceTitan's Marketing Pro enables businesses to create hyper-targeted audiences, automates and tracks campaigns, and builds emails and direct mail based on events occurring inside their FieldRoutes software. Marketing Pro allows users to engage and nurture their customers for upsell, cross-sell, and retention opportunities. ServiceTitan Fleet Pro, which provides vehicle and fleet data, eliminates unnecessary expenses, reduces risk, and promotes accountability.
The Ignite conference will provide multiple opportunities for guests to discover the newest innovations and connect with other industry professionals. Early-bird registration is open until Monday, July 31. Learn more and register here.