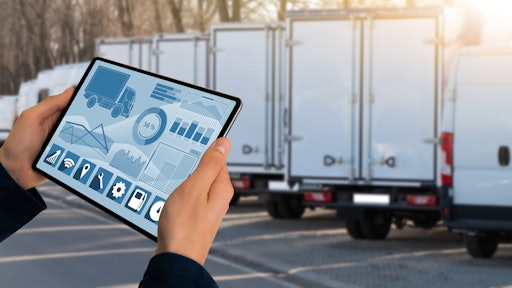 scharfsinn86/adobe.stock.com
Fleet management software (FMS) is a powerful tool for tracking and monitoring fleet assets from vehicles and landscaping equipment to inventory. Leveraging FMS enables managers to track operations in real time and collaborate with their team to quickly resolve issues, reduce downtime and improve productivity.
Save time and improve productivity
Between vehicles, equipment and supplies, landscaping fleets have a lot to manage. While some fleets are still tracking data manually, more and more fleets are turning to digital fleet solutions to help control costs and improve operational efficiency. Digital solutions like FMS help streamline fleet management through workflow automation, real-time issue alerts, enhanced communication and configurable reporting.
Using digital inspections and work orders in FMS, fleets can improve communication to surface problems in real time. Inspections are customizable, so landscaping fleets can create inspections for any asset, including vehicles, equipment, tools and supplies. Drivers can fill and submit inspections on a mobile app and upload results instantly. Failed inspection items alert management automatically so service can be scheduled, thus kicking off the maintenance workflow.
FMS also provides integration options for landscaping fleets using telematics or fuel cards to track fleet data. By integrating these tools with FMS, fleets can get a complete view of fleet health and performance in real time and this is all on a single platform.
Improve maintenance workflows

Taking a proactive stance on maintenance can extend asset lifecycles and ensure landscaping fleets get the maximum ROI for their assets. FMS provides an efficient way for fleets to create comprehensive PM schedules based on OEM specifications, usage intervals and other criteria tailored to specific equipment based on insights uncovered through service histories. FMS also automates the service workflow process to ensure maintenance compliance. Fleet managers can set service reminders to alert technicians and drivers of due service so nothing gets missed.

Digital work orders expedite service workflows for fleets that service assets in house. Users can create detailed work orders documenting labor and parts cost, as well as service time. Technicians can clock on and off a job right in the work order on the mobile app and communicate within the work order to ensure all issues are tackled. In-house inventory counts are automatically updated whenever a part is added to a work order and users can set low-stock thresholds to initiate reorder reminders. For landscapers that outsource maintenance and repairs, FMS provides an outsourced maintenance automation feature that automatically collects service data and streamlines the approval process for improved uptime.
Enhances data quality for more accurate insights
To get the best understanding of your fleet operation, it's important to determine total cost of ownership (TCO) for assets. Managing costs, risks, and depreciation can help maximize an asset's lifespan and overall profitability. FMS automatically calculates fleet assets' TCO, eliminating potential errors and reducing time and frustration associated with manual calculation.
FMS automatically aggregates maintenance, utilization and expense data from which you can create and share configurable reports on virtually any fleet metric to monitor performance. Tracking asset utilization and performance is the best way to gauge the efficiency of your landscaping fleet. Leveraging cost-per-mile and maintenance expense data can help you monitor how your assets perform and whether their operating costs are negatively impacting your bottom line. Plus, you can estimate optimal vehicle replacement windows based on utilization, depreciation and operating costs, while maximizing efficiency and providing complete visibility into your fleet operations.
FMS provides a complete view of operating costs so landscaping fleets can better monitor their bottom line. By tracking expenses in real time, fleets can easily track budgets and get an accurate calculation of their TCO. Having actionable data enables fleet managers to make decisions that maximize efficiency and profitability.