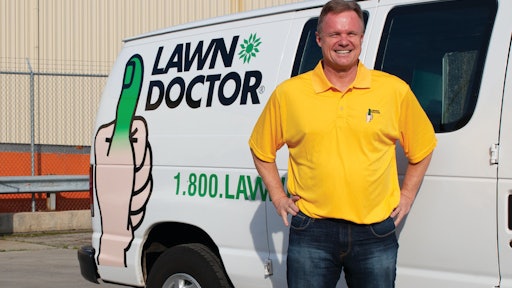 Before Brent Harl became the owner of the Lawn Doctor of Lakewood, CO, he worked at several accounting firms and succeeded in growing the Bruegger's Bagel brand to 350 locations before selling it back corporate. Harl then became the director of operations for Chipotle before they were bought by McDonalds. It was at that point in his career that Harl sought a new franchise opportunity and was drawn to Lawn Doctor.
Carrying on a reputation of quality
When looking for a new franchise opportunity, Harl was attracted to Lawn Doctor's reputation for quality and the promise of a business with a recurring revenue stream. Harl purchased Lawn Doctor of Lakewood, CO, in August 1998, and through his involvement has grown the business to have 17 franchise territories in the Denver area.
"I was looking at a variety of things and I stumbled into Lawn Doctor and a business that was for sale in Lakewood Colorado," explains Harl. "They had an exceptional reputation for quality customer service. Also, it's a business that will continue to benefit from the aging of the population. The Lawn Doctor brand in particular had a reputation for quality with the customers and the markets they serve."
Harl says his success with the franchise has to do a lot with focusing locally on customer needs. The company focuses their efforts on finding the right solution for the local community and climate. Colorado state university is regularly consulted for turf information.
"We really focused on delivering better programs that are right for the local agronomics and I think we are more effective than other national companies," explains Harl. "We really started to excel in customer service. If you can do that in the right economy, there is a great opportunity to take market share from national competitors."
Building a team
Building the right team of employees and managers has helped Harl to set himself apart from the competing franchises. Applying what he learned from the restaurant industry, he sets standards and stresses accountability.
"I'm good at attracting people, setting standards and executing against those standards," says Harl. "I'm building a team that buys into the idea that we are going to give the best customer service possible. We all think like managers and all want to be in business for the long haul."
Being part of Lawn Doctor company has also shown its benefits. As the company continues to invest in marketing and new technology, Harl sees more opportunity for himself and his staff.
"I feel like we are on the verge of really setting ourselves apart with Lawn Doctor thanks to the technology that is now available and reaching consumers quicker with better information, better quotes and better products," says Harl.
Steady and careful growth
Harl continues to grow the franchise, with the recent purchase of a Colorado Springs, CO, location. While he will consider other markets in the future, his continuous growth is carefully considered.
"It is really important to go slow and make sure that things don't change too fast," explains Harl. "I think with this business it is easy to reach a level of incompetence by expanding too quickly. We want to keep real close to the customers and make sure that we are executing it correctly."
The several territories Harl has taken over are operated out of two locations with the help of today's software and internet capabilities. Much of the sales and marketing, outbound calling, and route creation functions will be in Denver for the Colorado Springs market. A focus on quality customer service will be maintained, as Harl stresses the importance of people in a people business.
"If you're good with people, I think this is a great business to be in," says Harl.
Companies in this article