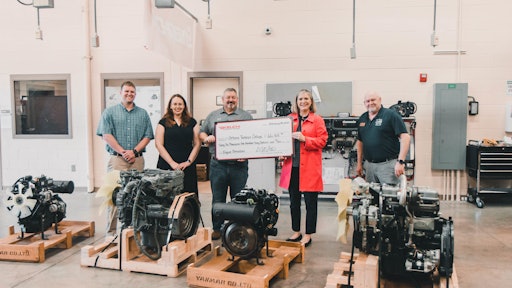 Takeuchi-U.S.
Takeuchi Gives 4 Diesel Engines to Athens Tech
Takeuchi-U.S. donated four diesel engines worth approximately $66,000 to the diesel equipment technology program at Athens (Ga.) Technical College as part of its "Takeuchi Gives" philanthropic program.
"We've been coming up with new ways to support our local communities," said Rick MacLeish, national parts manager for Takeuchi-U.S. "Donating diesel engines to Athens Tech will help students gain valuable hands-on experience they can take into their careers. Our local economy also benefits with the addition of more skilled workers that Takeuchi and other businesses can employ in the future."
Graduates of Athens Tech's Diesel Equipment Technology program can launch careers in fields like equipment repair, over-the-road logistics, parts and supply and customer service. Industries that employ the most diesel service technicians include truck transportation, government, repair and maintenance, motor vehicles and manufacturing.
Takeuchi's donation includes two Yanmar and two Isuzu diesel engines typically installed in some of its compact excavator models. These engines will be placed in Athens Tech's service shop labs where students learn diesel engine maintenance and how to use various tools like pneumatic wrenches, welding and flame-cutting equipment and jacks and hoists. The students are also trained on computerized testing equipment used to pinpoint and analyze malfunctions in electrical systems and engines.
Kansas City-based tree care services provider Arbor Masters has merged with Kansas City arborist company Jennings Tree & Lawn Care. The merger is Arbor Masters's most recent expansion following its purchase of Advantage Tree Services, an Arbor Masters Company in Iowa bringing its services to six U.S. states.
With locations in Kansas, Missouri, Oklahoma, Texas and Iowa, Arbor Masters has provided tree and plant health care services for more than 65 years. A Kansas City family-owned company, Jennings Tree & Lawn Care  (soon to be Jennings TLC: An Arbor Masters Co.), has been providing professional tree care, lawn care and organic removal services for more than 75 years.
"Jennings shares our commitment to taking care of trees and plants right here in our own backyard," said Arbor Masters founder and CEO Ron Keith. "Just like trees trust us, their customers trust them. We are excited to carry on their legacy of providing reliable and expert arbor services from our ISA-certified arborist team."
The merger brings Arbor Masters's headcount to a total of 168 employees across five states.
United Land Services Adds To Portfolio of Companies
United Land Services, a commercial and residential landscape services platform, acquired Greenway Lawn & Landscape and Sanford Tree Service (together referred to as Greenway in this article).
Since September 2020, United has completed 16 add-on acquisitions, grown to more than 1,200 employees and established 20-plus branches across several of the fastest growing metropolitan areas in the Southeast. In addition, United has built a robust acquisition pipeline and currently has several acquisitions under letter of intent which would further enhance its presence in the region.
Founded in 2014 and headquartered in Jacksonville, Fla., Greenway provides landscape maintenance, enhancement and tree care services primarily to commercial customers, including homeowners' associations, multifamily property managers and local municipalities. Greenway's executive leadership team, Sasa Popovic and J.D. Nixon, will continue to provide branch oversight.
"We are excited to join the United team to further accelerate our growth and expand our service offerings throughout the state. United has built a tremendous reputation in the marketplace while embodying a strong culture of partnership," Popovic said. "We are keen to leverage the robust infrastructure, tools and best practices that United will bring to Greenway, broadening opportunities for our customers and employees. We look forward to being a part of this dynamic organization."
Ruppert Landscape Adds New Director of Project Management
Ruppert Landscape added Jeremy Clayton as director of project management in the company's landscape construction division. In this capacity, he will be working with the company's construction branches to create more continuity across project management practices, helping to improve training and refine processes.
Clayton joins Ruppert following six years at another leading landscaping firm where he led their project management team. Prior to that, he ran his own landscaping business in Montgomery County, Md., for 14 years. He holds a bachelor's degree from Towson University and earned his MBA from the University of Maryland.
"Jeremy's extensive experience, positive attitude, and unwavering commitment to best project management practices will make him a valuable addition to our company," said Mike Felts, regional vice president in the company's landscape construction division. "I am confident that his skills and expertise will contribute significantly to our team's success and help us deliver exceptional results for our clients."