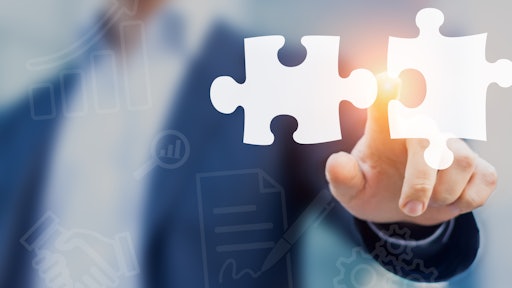 stock.adobe.com - NicoElNino
Mariani Landscape acquired Glengate, an award-winning landscape architecture and swimming pool company. Headquartered in Wilton, Conn., Glengate has designed, built and maintained prestigious swimming pools and residential properties in Connecticut and New York for more than a half century.
"Glengate is a growing company and one of the largest and most respected residential landscape and swimming pool firms in Connecticut and New York," said Frank Mariani, chairman of Mariani Landscape. "They have built an incredible reputation and successful business in the areas they serve. Their first-rate service and unsurpassed expertise in the industry has resulted in some of the most prestigious swimming pools and residential landscapes in the nation."
Glengate will now become the 10th family-owned residential landscape and swimming pool company to join Mariani. The Mariani "family of family companies" now includes:
Berghoff

Design Group

/BDG Maintenance, Phoenix, Ariz.

Designs By Sundown,

Littleton, Colo.
Hoffman Landscapes, Wilton, Conn.

Mariani Landscape,

Lake Bluff, Ill.
NatureWorks Landscape Services, Walpole, Mass.
Rocco Fiore & Sons, Libertyville, Ill.
R.P. Marzilli & Co., Medway, Mass.
Woodlawns Landscape Co., Mundelein, Ill.
Ed Castro Landscape, Roswell, Ga.
Glengate, Wilton, Conn.
McHale Landscape Design buys Dalton Ventures
McHale Landscape Design, a large award-winning, longstanding residential landscape architecture and design-build firms, added Dalton Ventures, a residential estate garden care firm based in Middletown, Md. This will be the third acquisition in five years for family-owned McHale.
For more than 40 years, McHale Landscape Design has been a high-end residential design/build and maintenance firm specializing in estate garden care. Its team of professionals has decades of experience in landscape architecture, horticulture and field experience, enabling the creation of truly remarkable gardens and living spaces. McHale currently operates five locations throughout the Washington, D.C., region: Upper Marlboro, Annapolis, Easton and Clarksburg in Maryland and McLean, Va.
"Partnering with McHale Landscape Design is the best business decision we have made," said Charlie Dalton, owner of Dalton Ventures. "The impact of the combined resources will be a huge benefit to our clients."
Ruppert Landscape promoted Fred Key to COO in the company's landscape management division. This position has been newly created to help support the division's current scale and future growth.
Key has more than 30 years of industry experience and has been with Ruppert for 21 years, serving in a variety of positions including crewman, foreman, area manager, controller, landscape construction production manager, division administrator, branch manager, region manager and region vice president. Key holds a bachelor's degree in business from Salisbury State University and is a Certified Landscape Professional. In 2009, he received one of the company's top honors, the Clyde Vadner Merit Award, which is presented to the individual who has demonstrated consistent hard work and dedication leading to exceptional contributions to the organization. In 2019, Key graduated from Harvard Business School's Owner/President Management program, completing a significant multiyear investment in his management education.
In his new role, Key will continue to oversee the Northern Virginia, North Carolina, and Atlanta regions and will now also oversee the Central Virginia region, working closely with the region managers to influence operational decisions to help better serve our customers and team members. In addition, he will now be working with the company's business development team to help support division-wide sales efforts.
Ruppert Landscape also promoted Dave Sharry to the position of region manager in the company's landscape management division. In this capacity, he will oversee landscape management operations in the company's Central Virginia region, which includes the Fredericksburg and Richmond North, South and East locations.
Sharry has been with the company for more than 11 years, has more than 30 years of landscape industry experience and is a U.S. Marine Corps Reserve veteran. In his first year at Ruppert, he was recognized with the company's Branch Impact Award for his outstanding dedication and contributions to the organization. In 2018, the original Richmond branch split into North and South locations to accommodate growth in the region, and as the newly appointed Richmond South branch manager, Sharry played an integral role in supporting a smooth and profitable transition.
In Sharry's place, Rob Groves has been appointed branch manager in Richmond South. In this role, he will be responsible for the overall welfare of the branch, including the safety and development of his team, strategic planning and budgeting, training, customer service and day-to-day operations.
Groves has been with the company for more than 15 years and holds a degree in ornamental horticulture from Pennsylvania College of Technology. He began his career at Ruppert as an enhancement field manager in the Gainesville branch, worked his way up to area manager, associate branch manager and became branch manager in Richmond North in 2018. He led the branch until last year when he explored other opportunities within the company, supporting division IT projects and irrigation operations in the region, but embraced the opportunity to return to the branch manager role.
Rotary adds new territory managers
Rotary Corp. has appointed two new territory managers as it expands the sales division to meet the needs of a growing dealer network.
John Jordan, who has experience in landscape and outdoor power equipment sales, will serve as Rotary's territory manager for western Tennessee and western Kentucky. He will be responsible for sales and support as well as dealer recruitment.
In addition, Mark Knight, with more than 20 years of sales experience including multiline brands of outdoor power equipment, will oversee business recruitment and sales support for Rotary's dealer network in central Florida.