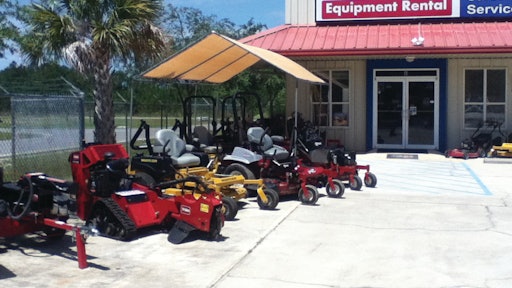 As an outdoor power equipment dealer, you can branch into the rental side of the business to offer commercial and homeowner customers temporary equipment solutions that make their lives easier, while cultivating the dealer-customer relationship. Renting fills the customer's need for occasional-use equipment while supplementing your equipment sales and service revenue.
"Adding rental to an outdoor equipment business is smart and has many potential benefits," says Todd Oden of Coastal Equipment Rental of S. Walton in Santa Rosa Beach, FL. "First, it broadens the potential customer base substantially. Customers who are interested in renting a particular item may have otherwise never come into your store to purchase outdoor power equipment. And if they rent something from you, they are likely to come back to you to purchase power equipment at some point later on. Second, your current customers may certainly rent an item that they otherwise could not justify purchasing in the past. Third, it shows your store to be more of a 'one stop shop' for your customers. And last, it allows you access to a more broad equipment line to offer for rental or purchase to your customers."
Oden suggests that rental equipment can be especially helpful to the bottom line during a down economy. Customers may not be entirely comfortable with spending large amounts on equipment, but could justify a rental fee.
"While sales may substantially slow in a down economy, rental income has more staying power," explains Oden. "If a customer can't justify shelling out the cash or get approved for financing new equipment, then rental is a nice alternative until they can afford to purchase or business picks up. In some cases rental income may even increase during a slowdown."
Do you have the means?
There are a several logistical matters that need to be taken into account when deciding whether or not you want to take on the responsibility and liability of offering rental equipment at your dealership. Adding this new segment to your business could end badly if you don't have the ability to purchase, store, maintain, market and manage equipment. Starting small with a few pieces as you get a handle on the rental market is advised.
"You can slowly add a few pieces of rental items and test the market as you go along, listening to your customers' requests and putting rental income back into adding new items," says Oden. "Start with products you and your customers know, and work into other categories such as general tools and construction/contractor tools if your market will support it. It should not have to take a huge outlay of cash to get into the rental business."
You want to be sure you meet the customers' needs in both the rental product offering, and the service that goes with it. Garry Bartecki, a managing member of GB Financial Services LLP and vice president of finance for the Associated Equipment Distributors and contributing writer for Rental Product News, shares what consumers look for in a rental company:
Newer or well-maintained equipment less likely to break down
Availability of equipment attachments
Equipment pickup and delivery
Operators who know the equipment
Agreed upon rates
A simple billing system
Exceptional service
Personnel dedicated to each account
A loyalty program
Rental maintenance and pricing
Many of the aspects involved in managing a rental fleet are things that dealers have already mastered with their equipment sales and service. It's always been a goal of the dealer to help the customer extend the life of their equipment. Your service department should now also focus on extending the life of your rental equipment so you can get the most rental hours and dollars possible.
"Your service department is your first line of defense against premature equipment failure," says P.D. Peterson, Rental Product News contributing writer. "Not only must the service department keep your equipment running, it must squeeze every last rental out of a piece of equipment before it's sold or retired."
When pricing your rental agreements, you need to find a price that draws customers but still covers expenses and leaves you with a profit. To achieve the goal of setting profitable rental rates, you have to consider each rental unit as a separate business when pricing.
"It is either earning enough to cover debt services and expenses while adding a contribution margin to cover general and administrative expenses and profit or it isn't," says Bertecki. "If it isn't, steps need to be taken to find out why, and appropriate changes made. If it can't be fixed, the unit has to be moved out of the fleet as soon as possible, and the sales proceeds used to pay off any acquisition debt."
Review each unit individually, and then as part of a larger group. Remember that if the rental fleet as a whole isn't performing profitably, it won't matter on the individual scale.
"There is really no 'rule' for setting profitable rental rates, because unless the bulk of the rental fleet is profitable, the business will not be," explains Bartecki. "The rental business is an asset management business first, with income considerations second. Get a proper dollar utilization for the overall fleet and your concerns should be minimal."
Marketing your new rental offering
There is a happy medium in marketing for dealers who are breaking into the rental business. You want to do some marketing, but not too much where the demand is greater than your fleet as you work to grow it. You can start by displaying rental equipment in front of the store for passersby and other customers to see. From there, you can let word of mouth and other forms of marketing spread the news that you offer rental equipment.
"The most effective way to market your rental business is word of mouth," says Oden. "When you offer good rental tools and have your store name and number on your equipment, it's surprising how many people see the items being used out in the field or tell their friends about an item they rented and how well it worked. That being said, other marketing methods can be very helpful as well, especially when starting fresh in the rental business."
Rental agreement and insurance
In setting up your rental business, you will have to adjust your insurance coverage and communicate the insurance policy in your rental agreement that is signed by the customer. A good source for additional help in developing your rental agreement would be your attorney and also rental associations. The clearer you are in your agreement, the safer you are.
Your typical rental agreement contains several provisions designed for your protection, limiting your liability for loss or damage to property or individuals. Matthew Davis, a regional manager for National Insurance Specialists and member of the Hylant Group out of Toledo, OH, provides a few key provisions you may want to include:
Hold-Harmless Agreement – The rentee agrees to assume responsibility for all personal injury and property damage caused by the rental equipment.
Indemnity Agreement – The rentee is agreeing to reimburse you, the renter, for any liability the firm incurs, even liability to the rentee.
Inspection Clause – Creates a duty to inspect the equipment by the rentee, making them share in this responsibility along with the rental company.
Merger Clause – Should be on the front of the contract, preferably in bold print. This clause (which should be signed by the rentee) basically states that the rentee has read all of the terms and conditions of the contract and agrees with them. In order to validate your rental agreement, always obtain a "signed rental contract" from the rentee.
Conversion Warnings – Informs the rentee that failure to return the rented goods may constitute conversion, larceny, or other form of theft designated in their state statue.
When you carefully consider your capabilities and the liabilities, adding rental equipment to your business can help greatly to supplement equipment sales and service. Work carefully with your staff, accountant, lawyer and suppliers to create a business plan that takes all aspects into consideration before embarking on your new endeavor.