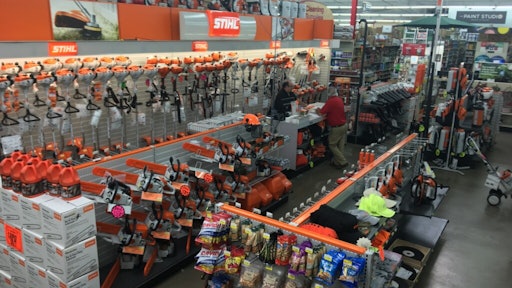 When Earnest Yeager opened a hardware store in 1959, battery-powered tools to facilitate landscape maintenance didn't exist. Neither did the Internet, Facebook and other social media resources to promote the products. Fifty-eight years later the story is much different for his granddaughter and store co-owner Deborah Clark.
Yeager Hardware, a full-service lumber and hardware store, now has four locations throughout Arkansas. Within their walls are many of the most technologically advanced products to make landscaping and gardening easier for customers, including well-known names like Stihl, and the means to quickly get new product introductions and information to them.
"Our stores have always sold outdoor power equipment," says Clark, who worked in the family business since she was 11 years old but didn't start full time in 1990, two years after graduating from the University of Arkansas. "We began selling Stihl at our Van Buren location in 1995 and brought the brand to our Greenwood store when we opened it in 2001. Just last fall we installed a new Stihl showroom in the Van Buren store."
Already, it has paid dividends, she added. "Not only have sales of Stihl products increased, but the display has also indirectly helped showcase the other products we sell. When we installed the new showroom, we produced a Facebook video of it and have since featured it on Facebook live events. People loved the new set and commented on how nice it looked. We also do Facebook live for our Traeger grills and other special events in the store."
Savvy Marketer
For Clark, social media has become a huge consideration for the stores' advertising spend. Although they still promote in newspapers and on TV, her advertising budget for both has decreased in recent years.  "We continue to spend money on circulars because the older homeowners we target with newspaper advertising are still our customer base," she says.  "Social media, however, is attracting fresh faces from a younger demographic and spending there continues to increase."
One of the stores' biggest promotion is Ladies Night Out in early December where most regular priced items are 20 percent off.  "Stihl would be 20 percent off regular price, too," she added. "There is never a discount on top of a sale price."
The two-hour event has people lining up at the door an hour before it starts. Refreshments and door prizes, along with a free gift with a $30 purchase, are all part of the action.
"We try to make it fun and interesting for our lady customers, but guys are welcomed, too," Clark says. "The only caveat is they are not eligible for door prices. The stores also sponsor a spring event when we discount power equipment 10 percent for two days. During the event, we try to sell accessories at full margin to offset the profit loss on equipment."
Her stores also promote their product lines in custom four-page ads, direct mail pieces sent out four times a year, and on outdoor billboards.
Powering Up
The new display, promotions, and special events have helped to bolster sales. "The new FSA 56 trimmer and HSA 45-K hedge trimmers have a great price point to get customers to step up to Stihl, and they are selling very well," Clark says.  "New battery powered options this year are getting great reception from customers, too. In fact, I just purchased the new Stihl battery powered lawn mower after getting frustrated with my husband always complaining about the mower we had."
In addition to locations in Van Buren and Greenwood, Yeagers has two stores in Fort Smith. All are within 25 minutes of each other. Their proximity enables Clark to monitor store operations and assist store managers as needed.  "One of the biggest challenges I have is keeping employees knowledgeable about all the new products we sell," she says. "With so many stores, recruiting and retaining new employees also takes a top priority."
Yeagers services the outdoor power equipment it sells, and the company has a Stihl gold level service technician on board. Store hours are from 7:00 to 7:00 Monday to Friday; 7:30 to 6:00 on Saturday, and 9:00 to 5:00 on Sunday. The long hours, however didn't dissuade Clark joining her father Ed. He entered the business full time in 1966 not long after graduating from Arkansas Tech with a business degree, and is still actively involved. "Hardware wasn't really appealing to me until I had worked for someone else for a while and found I missed retail and my family back home," Clark says.
Two years after graduating from college, she moved back home from Little Rock, married her husband, and both joined the family business.