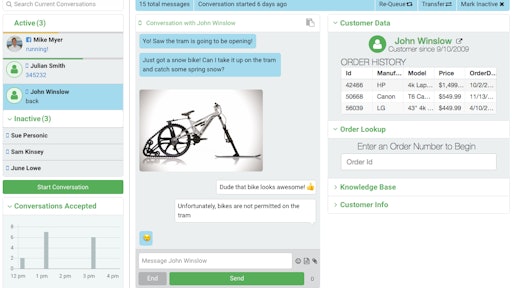 More consumers want to communicate digitally with the companies they do business with. Companies interested in providing great customer service naturally want to make this accommodation. The result, however, could prove to be an all-day onslaught of instant messages from a variety of sources, i.e., text messaging, Kik Messenger, Facebook Messenger, web chats, etc.
The more sources a company has to check for messages, the more time spent checking. It's also harder to manage conversations, likely resulting in slower response times. It's a double-edged sword. Inviting customers to message you is designed to improve the customer experience. However, doing so can actually lead to a poorer experience if you don't have a good system for managing these digital conversations.
"Our research has found that 66 percent of consumers prefer messaging over making a phone call," says Danielle Wanderer, chief marketing officer for Quiq, a software platform that allows businesses to funnel all text message conversations into a single place. "Because customer service agents can view all of the conversations in one spot, there is no cross-channel loss with a customer who is trying to reach out to the company," adds Phil Wilcheck, a mid-market sales representative at Quiq.
How It Works
In addition to the prospect of improved customer satisfaction, there is a cost-saving component. Once signed up with Quiq, a company is given a unique URL. Employees or agents simply bookmark that URL, log on and start working. Quiq is designed for desktop computers, while a more mobile-friendly version is being explored for the future. For now, though, Quiq is ideal for stationary customer service agents who are working on a computer in an office environment.
The subscription process works a bit differently than other cloud-based software. Quiq does not charge per user or per seat. It charges by conversation volume. Thus, if you would like several people in your company to have the capability of using Quiq to communicate with customers, you can—and you don't have to pay more. From there, it's up to the individual business to devise an internal process as to who responds to which conversations and when.
"It's pretty difficult to gauge how many individual messages you're going to exchange with customers over a period of time," Wilcheck points out. "You just never know how chatty someone is going to be. We want to be more nimble for our customers—and we don't want to penalize them for being conversational with their own customers."
From data Quiq collected in observing its current users, roughly 15 percent of a company's annual phone call volume could be deflected into the Quiq messaging channels, according to Wilcheck. That's a good basis when trying to determine how much of a service level would be needed. Quiq offers annual contracts that can be paid upfront or monthly. Wilcheck says, in the event that conversation volume proves different from what was anticipated, Quiq works with its customers to check and adjust as they go, within reason, of course.
For more sophisticated companies that are running back-end customer relationship management (CRM) software, Quiq offers seamless integration. In other words, information being generated in Quiq can also be downloaded into your primary CRM. "Quiq is already integrated with three popular CRM platforms: Salesforce, Oracle Service Cloud and Zendesk," Wilcheck says. "Because of our flexible platform and open application programming interfaces (APIs), we can integrate with other systems as well."
Determining if It's Right for your Company
Quiq has customers in a variety of industries, ranging from retail and financial services to heating, ventilation and air conditioning (HVAC) and landscape contracting. Wilcheck, who used to have a landscape company earlier in his career, says the landscaping industry lends itself very well to text messaging with customers.
"The landscaping business is very weather-dependent," Wilcheck says. "The inundation of phone calls that come along with a weather cancellation is huge. Think about how much more efficient it would be to send out a text notification, and have those clients handled via the SMS channel rather than having to spend a lot of time on the phone with them, and dropping or simply missing calls."
To that point, it's important to note that Quiq is a two-way messaging platform, meaning that customers can reach out to businesses and vice versa. Landscaping businesses may want to send out schedule updates to customers or promotions for discounted seasonal services. "What's unique about Quiq is that customers can actually reply to those notifications from businesses," Wanderer points out. "That's something consumers can't do with other brands like Amazon." Thus, leveraging technology like Quiq to offer this convenient option to customers can give small businesses a valuable competitive advantage.
Improved customer satisfaction is one way to measure a return on investment. Another way is phone call deflection into less costly text-messaging channels. "A single agent could handle six to 12 customers at once through the Quiq platform, which greatly increases their efficiency," Wilcheck says.
One landscape industry business that is using Quiq is Green Drop, a lawn care company operating six branches in Canada, as well as a seventh in the Chicago suburb of Naperville. Green Drop receives nearly 2,000 inbound text messages a month from customers. "It is so easy to text," says Josh Noddin, general manager of Green Drop. "Even the most un-tech-savvy people can send a text because everyone's phone is capable of texting."
Retail companies are also finding that customers want to communicate via text. "We wanted text messaging because we know our customers are using it," says Melissa Porter, vice president of customer relations for Tailored Brands, which includes Men's Wearhouse and Jos. A. Bank. "Quiq has everything we want. Our customers and our team love how easy it is to use."
Quiq has been in business for three years and is already looking to the future. Wanderer says to look for development in the way of artificial intelligence (AI) and bots to help address some of the repetitive questions from customers. "We are by no means looking to replace the live customer service agent," Wanderer affirms. "But we can definitely use technology to help gather more basic information before a conversation is handed off to a human."
Here, too, the goal is to provide great customer service—better and faster than through traditional means. "Communication is changing," Wilcheck says. "Consumers want companies to be available at their moment of need rather than just when they have time to pick up a phone."
Companies in this article