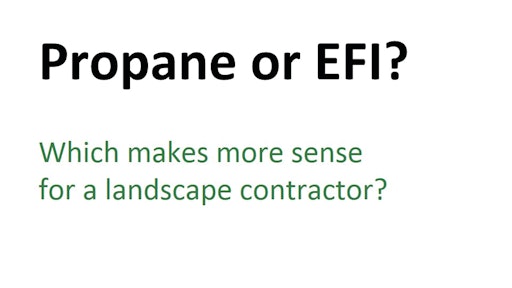 Technology for technology's sake is not necessarily a good thing. Case in point: the automatic side-door openers on my dad's van. It was an expensive repair when one of the motors bit the dust. Thus, my dad ended up paying a big repair bill for a silly feature that isn't even necessary for most people.
Commercial mower manufacturers, for the most part, have done a splendid job of incorporating technology into today's mowers so that real value is added for the landscape contractor. A big trend today relates to fuel consumption. More specifically, we're taking about the kind of fuel a given mower uses, and how much.
Strong advocates of diesel-powered mowers, such as Grasshopper, say you can actually spend less on fuel when using diesel. That's because diesel engines consume less fuel per hour than gas. So, over the course of a mowing season, you'll spend considerably less on fuel, according to Grasshopper's formula.
Most buzz these days, however, surrounds two other options: propane fuel and EFI (electronic fuel injection) engines. Each can help contractors reduce fuel costs and equipment service needs, while also helping them to "go greener".
It's a pretty close match, dollar-wise
There are many contractor success stories on both sides of the propane/EFI coin—enough so that we can't really say whether one is better than the other. Also, a near equal number of mower manufacturers offer EFI-powered models as propane-powered models.
We did some number crunching to see how propane and EFI match up from an ROI standpoint. These are some general calculations based on certain estimates and assumptions, but you'll get the picture:
EXAMPLE 1: Gas price of $3.30/gallon, 600 operating hours, burning 1.2 gallons of gas per hour = $2376 spent on fuel using a traditional gas engine
Propane (at $2.40 gallon) x 600 hours (at 1.2 gallons per hour) = $1728 spent on fuel, saving $648 in one 600-hour season
Propane (at $2.40 gallon) x 600 hours (at 1.5 gallon per hour) = $2160 spent on fuel, saving $216 in one 600-hour season
Now bear in mind that you will likely pay an additional $1,000 to $1,500 for a propane-powered mower (or to have a conversion kit installed on your current gas mower). Thus, "recovering" this added cost in fuel savings alone will require at least a couple of seasons. The key is making sure your propane mower is properly tuned so you're getting as close to a 1:1 (gas to propane) ratio as possible. As you just saw, burning an extra 0.3 gallons of propane an hour will put a serious dent in your savings. So proper tuning is critical.
It's also key that the price of propane stays a good 25-30% lower than gas. Then, as the price of gas climbs and/or you log more operating hours per season, your ROI can happen much faster (see below example).
But first let's look at EFI.
Gas at $3.30/gallon x 600 hours operating at 1.2 gallons/hour = $2376 spent on fuel
EFI engine using 25% less fuel = 600 x 0.9 x $3.30 = $1782 spent on fuel, saving $594 in one 600-hour season
The nice thing about EFI is that you're still using gasoline; there's no wondering what the price of propane is going to be. The average "price premium" for having an EFI engine on your mower can range from $600 on up. So recovering the added cost typically can happen in a season or two. And again, as the price of gas goes up, your ROI happens faster (see below example).
EXAMPLE 2: Gas price of $4/gallon, 600 operating hours, burning 1.2 gallons of gas per hour = $2880 spent on fuel
Propane (at $2.9 gallon) x 600 hours (at 1.2 gallons per hour) = $2088 spent on fuel, saving $792 in one 600-hour season
EFI at 25% more fuel efficient = 600 x 0.9 x $4 = $2160 spent on fuel, saving $720 in one 600-hour season
See what we mean? It's hard to definitively say, from a dollars perspective, which has the edge. Under normal circumstances, both EFI and propane will help you save some serious money on fueling your mower. But you'll also spend more to have that type of mower. So as the old saying goes, you have to spend some to make (or in this case save) some.
There are other things to consider as well. With propane you won't have to worry about the potential ill effects of ethanol-blended fuel. Both EFI and propane advocates talk about other savings you can enjoy in the way of reduced engine service needs; since both of these engines run cleaner. On that note, reduced emissions can be important to many of your customers. In fact, some municipalities won't even let you run gas-powered mowers on certain days; so propane really comes in handy there.
The bottom line is that fuel is a necessary evil in this business. Contractors want to know how to spend less on it, and certainly have their options. There are even propane EFI engines out there now (double whammy!) Talk to your equipment dealer about which option might be best for you as you start shopping around for the 2014 season. And if you have experience with one and/or the other, please share your experiences below in the comments section.