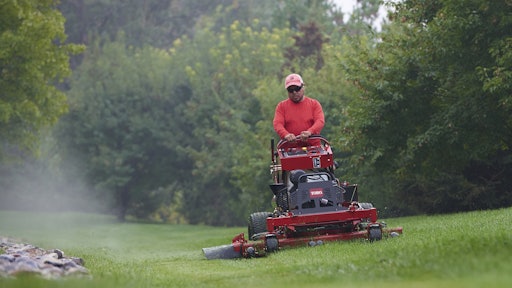 The stand-on mower market continues to grow. More contractors are buying them, more dealers are selling them, and more manufacturers are making them. And those that have been making them for years are making them better than ever.
More manufacturers enter the market
Last season saw the emergence of two additional mower manufacturers to the stand-on segment, Bob-Cat and Dixie Chopper. A couple more are debuting their first-ever stand-on models this year, Ferris and Jacobsen. That brings the total to 16 manufacturers that now offer a commercial-duty stand-on mower.
Ferris. "We'd been looking at the stand-on part of the mower market for quite some time," says Phil Wenzel, vice president of commercial turf products for Briggs & Stratton, which includes the Ferris brand. "But we'd had some initiatives going on with the core of our product line (zero-turn riders and walk-behinds) for several years, and we didn't want to compromise any of those initiatives by starting something new."
That's the main reason Ferris hadn't broken into the stand-on mower category until this year. "Another reason is Ferris' rich history of innovation," Wenzel adds. "With stand-ons, it's almost exclusively professionals who use them. So we really wanted to make sure we understood what these professionals—whether they be owner/operators or large fleets—valued in a stand-on mower. Our mower needed to live up to what our dealers and end-customers expect from the Ferris brand."
For Ferris and its brand new SRS Z2 Stand-On Mower, operator comfort is a huge part of meeting that expectation. Contractors told Ferris that the main benefit of using a stand-on mower is the productivity gains one can achieve. "We've always had a strong belief that a more comfortable operator is a more productive operator," Wenzel says.
As has been the case with its sit-down mowers for many years, suspension is a key feature of Ferris' new stand-on. "We have a coil-over-shock operator suspension platform," Wenzel points out. "That, coupled with how we position the platform and make it so easy to adjust, results in a superior ride to anything else on the market."
Another part of operator comfort is the control system. "We wanted to make sure our controls were velvet-smooth," Wenzel relates. "If an operator has to mow around an obstacle, we don't want him to have to think about being extra careful because the machine gets a little jerky. With our new mower, it's a natural, fluid motion for them."
Wenzel says Ferris engineers also paid special attention to weight distribution, not to mention durability. "Contractors do a lot of curb climbing with stand-on mowers, so there are some durability expectations you have to consider," he relates. "Our charge to our engineers was that we didn't want to be second to anyone in durability, productivity or operator comfort. And at the end of the day, we want to deliver a mower at a great price. We're one of the last to market, so you have to give contractors great value. I think we've done that."
Ferris is offering a 52- and 61-inch version of the SRS Z2 this year. Wenzel says there are plans to introduce a third, larger model next year.
Jacobsen. Dixie Chopper introduced its first stand-on last year, and parent company Jacobsen is now following suit. The Jacobsen Pro Series SZT, offered in two models (48- and 54-inch), features a unique cutting system designed to handle thicker grass, along with built-in footsteps to help operators shift their weight for better balance and traction along hillsides.
Hustler Turf Equipment is getting back into the stand-on mower business after a 10-plus-year hiatus; the company discontinued its ShortCut stand-on/sit-down mower in the early-2000s. This year Hustler is introducing a dedicated stand-on machine, the Super S.
"We talked to dealers and end-users from coast to coast regarding features that will make the best stand-on unit available," says Brad Unruh, director of product strategy. "I am confident that commercial contractors will be impressed with the innovative and heavy-duty design, and appreciate the value that will be second to none."
John Deere is also getting back into the stand-on mower business, so to speak. The production of its QuikTrak mower is being brought to its John Deere Turf Care factory in Fuquay-Varina, NC, starting in May. John Deere stand-ons had been produced by Wright Manufacturing since 2013.
Revamped product lines
Wright. Speaking of Wright, a 72-inch version of its recently redesigned Stander ZK mower is available this year. This marks the first 72-inch stand-on mower ever offered by Wright, the Maryland-based company that helped pioneer the stand-on mowing concept in the mid-1990s.
"Most stand-ons are very compact and sized somewhere between a walk-behind and a mid-mount Z," says Ed Wright, director of research and development. "We wanted to create something that clearly had the capability of a large Z. In fact, we lightheartedly called the project 'The Z Killer', which is what led us to eventually name the product the Stander ZK. We had a few customers who asked for a 72-inch deck for their large properties. So when we redesigned the Stander ZK (fall of 2014), we built in the capability to support the extra weight and width."
Why would a contractor want such a big stand-on mower? "One of the challenges for most 72-inch (riding) mowers is that they tend to be very long, limiting how many can fit on a trailer," Wright explains. "The stand-on format of the Stander ZK overcomes these problems, giving contractors the maneuverability of a 61-inch with the productivity of a 72. In fact, you can transport two 72-inch ZKs on a 6'x12' landscaper trailer."
Bob-Cat, a Schiller Grounds Care brand, introduced its first-ever stand-on mower, the QuickCat, last season. At that time, Pat Cappucci, SCG's president and chief operating officer, said Bob-Cat took its time to market because the company wanted to make sure it had a mower that truly met Bob-Cat's standards for durability and cut quality. "We've more than achieved that goal with the (2015) QuickCat," Cappucci had said.
Now it's 2016, and Bob-Cat has found a way to take it up one more notch: the cutting deck. This year's QuickCat features a modified deck design that provides for increased lift and cut quality, improved clipping dispersal and a cleaner finish. Furthermore, a trim side deck guard has been added for durability.
Worldlawn Power Equipment has revamped both its Worldlawn Venom and Encore Rage stand-on mowers. For instance, this year's models feature an upgraded anti-fatigue operator platform and single-point deck lift.
Gravely has redesigned its Pro-Stance stand-on mowers. This year's models feature improved operator presence controls, a larger operator pad, and a simplified deck level system.
Toro has also redesigned its lineup of stand-ons. These next-generation GrandStand mowers are highlighted by three major improvements. "First is productivity," says Ross Hawley, Toro's senior marketing manager. "The new mowers feature higher ground speed and carry more fuel. Second is service maintenance, which has been greatly minimized. The design is very simple and there are no regular grease points. Thirdly, the new design gets rid of that 'compact car' kind of problem, making the mower much easier for technicians to work on. The fuel tank comes out very easily so technicians can get inside that tower and get to the back of the engine, the controls and the transmission."
Product line expansions
Toro has also introduced a brand new GrandStand model: the GrandStand Multi Force. The unique thing about the Multi Force, as its name implies, is the mower's ability to power multiple attachments, such as the Boss snowplow that's available this year. Toro acquired Boss a little over a year ago.
"The development of the GrandStand Multi Force was definitely customer-driven," Hawley relates. "Contractors told us they were looking for a solution to clearing snow off of sidewalks. Multiple methods are used today: skid steers, ATVs and UTVs, snowthrowers, backpack blowers and even shovels. That tells us there isn't a perfect method available. Contractors flat-out asked us if we could put a plow on the front of a stand-on mower. So that's where the idea came from."
Hawley says the Multi Force provides good coverage and control in snow-removal applications. It's more maneuverable than an ATV. It's faster than a snowthrower. And it's not nearly as big, heavy and expensive as a skid steer. "It's really about giving contractors a machine that is multi-season, but also more productive—in both seasons—than what they are currently using," Hawley adds.
Hawley expects that most contractors will purchase a GrandStand Multi Force to both mow grass in the summer and plow snow in the winter. Furthermore, Toro plans to introduce additional attachments for both landscaping and snow-removal applications. That is why it's so important that contractors are able to quickly change attachments in the field. Toro's Quick Attach System is designed to allow for tools-free swap-outs in just minutes.
Exmark. Toro's subsidiary, Exmark, has also expanded its stand-on lineup for 2016. The company has added a 60-inch version of its Vantage S-Series Propane stand-on rider. This launch comes on the heels of the successful 52-inch model introduced last year.
"The reception to the 52-inch we launched this past year has been overwhelmingly positive," says Daryn Walters, Exmark's director of marketing. "That said, one thing we've heard of is the need for a larger propane-fueled stand-on rider. The 60-inch Vantage S-Series Propane will give these customers the cutting width they need to maximize productivity, combined with the cost-saving advantage of our cutting-edge Kohler EFI propane powerplant. It's a win-win situation. More productivity combined with lower cost equals greater profit. It's as simple as that."