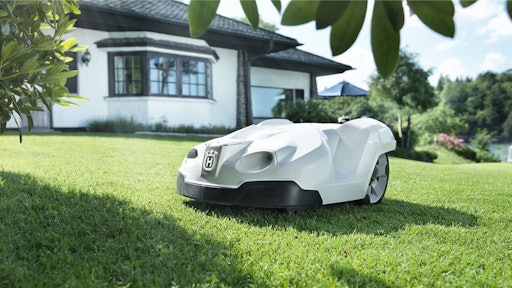 Husqvarna has launched Automower Connect, an app available for the Apple Watch. With the touch of a finger, Automower Connect enables you to mow your lawn from the wrist via Apple Watch, regardless if you are at work or on vacation on the other side of the world.
"Twenty-one years ago, Husqvarna set the first robotic mower on the market, and we have been pushing the technological frontier ever since. With Automower Connect for Apple Watch, Husqvarna takes the user experience to yet another level and strengthens its innovation lead in the growing robotic mower market," says Olle Markusson, robotic category manager at Husqvarna.
The Automower Connect app is available for the Husqvarna Automower 320, 330X and 450X. The one-touch display allows functionality in these key areas:
Control - Monitor the current status of the robotic mower, and send it "Start," "Stop" and "Park" commands.
Configure - Read and modify the menu of the robotic mower settings.
Security - Receive alarm notifications and track the position of the robotic mower in the event of theft.
The application is free to download and available in the App Store and is listed in the utilities category.
The Husqvarna robotic lawnmower was introduced in 1995 and has since evolved into a true performer that handles almost any garden. It is powered by electricity and takes on steep 45% climbs, works in any weather condition, and powers along silently. The unique mowing technique is based on the mower's small, sharp pivoting blades that continuously cut the grass several times in random patterns within the boundaries you set. When it's time to recharge the battery, the mower returns to its charging station, and thereafter continues to mow until the job is done.
Companies in this article