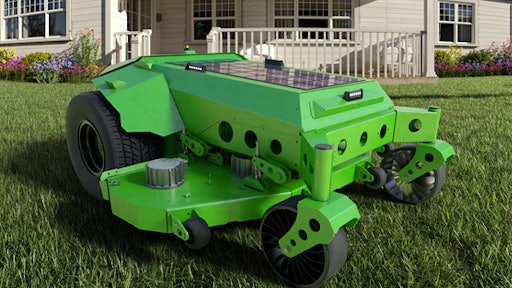 Mean Green ATOM Mower
Mean Green Mowers has partnered with Kobi Company to develop an autonomous commercial electric mower.
Dubbed the ATOM, it is a 74-inch autonomous commercial mower that uses artificial intelligence to find its way around.
Even though the robotic lawn mower was invented in 1969, it hasn't taken off in the United States until recently. During the past decade, market demand for robotic lawn mowers has gradually increased, at a rate of about 12% annually, according to market reports.
"You're seeing autonomous mowers everywhere these days, everything's going kind of wild in the autonomous mower world," says Joe Conrad, president of Mean Green Mowers.
Mean Green Mowers unveiled its new product, in partnership with the robotics company Kobi to develop the ATOM at the 2019 GIE+EXPO in Louisville, KY. Production is set to begin in 2021 on the ATOM, which is intended to be short for autonomous.
Stephen Waelbers, chief technology officer at Kobi, says the new technology on Mean Green's ATOM requires fewer workers, helping to solve a common problem of landscape companies.
"As you all know, the biggest problem landscapers face today is a labor shortage," he says. "They have problems finding qualified people that mow all day. Before now, you had these small robotic mowers that you had to put a wire in the ground, some that use GPS, but that's always troublesome."
For the ATOM, the mower's sensors can detect humans and pets and will avoid them.
"The mower has a human detection system that allows it to sense when people are nearby," Waelbers says. "When this mower is rolling around and it sees a human, it will slow down. Same goes for pets, it knows what to do. Same goes for trees, flower beds. He noted that it is very different from many current models that require perimeter wire set-up and a base station.
"It interprets the world around it, so it can operate fast and safe, which is what landscapers want," he said.
Electric Revolution
Outside of its entry into the robotic realm, Mean Green Mowers also showcased major upgrades to its battery-powered EVO 74-inch mower and Rival CXR 60-inch mower.
"What we've been working on in the past year is a whole new style of mower, all new technology," Conrad says.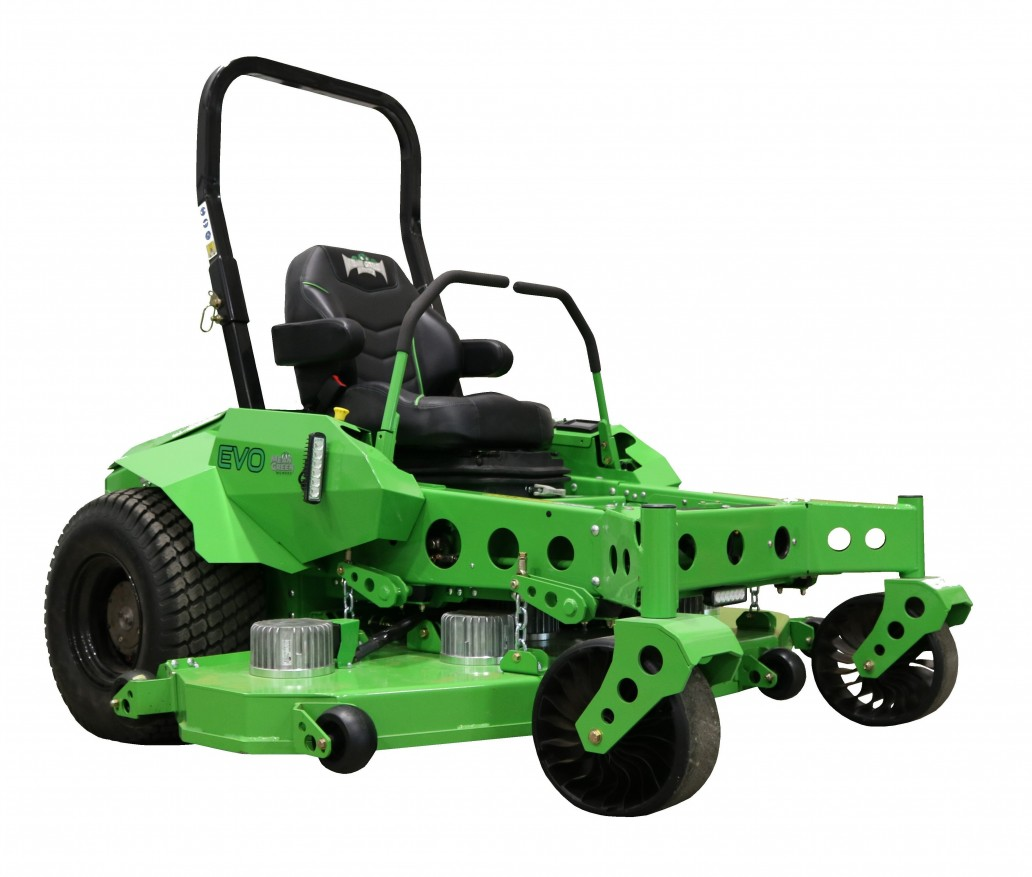 Mean Green Mowers EVO 74-inch ZTR Electric Mower.Mean Green MowersThe EVO was on display last year at GIE, but has undergone a year of testing and is now available for sale. In the past year, new lighting and driving systems were added to the EVO.
"We've had a lot of people ask to be able to drive it on the road, so we've got all new taillights and brake lights and turn signals," he says. "We have a horn. We basically have a full lighting road kit for this now."
Mean Green also recently received patent approval for its ORV-BLAST blower system on the front of the EVO. The blower is billed as quieter than traditional blowers and has zero emissions.
"It's an electric front-end blower that can be attached to any kind of vehicle," he says. "That's been pretty exciting for us. You can turn on the nozzle with your feet and turn it off with your feet, as well.
The EVO and Rival models received drive and control system upgrades, improving the power by three times, Matt Conrad, Mean Green's vice president of engineering and Joe Conrad's son. The two founded the company together. 
"On both these machines, the motor and the gear box is within the wheel and we still got three times the power as we did in the past," Matt Conrad says.
The EVO is running at 40 to 45 hp, while the Rival is at 30 to 35.
"On the blades, you're looking at 20 to 25 hp (on the Rival)," he says. "On that machine (EVO), you're looking at 30 to 35 hp. It's a huge leap from where we were in the past."
Mean Green has improved the battery packs on its older models and within the past year, created an app that allows users to check their machines from a smartphone.