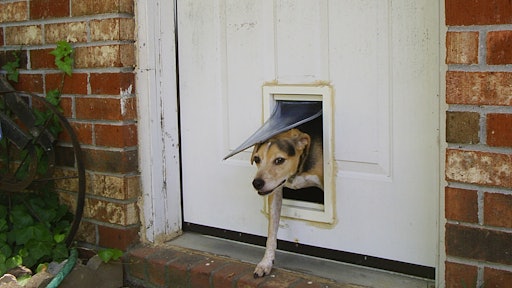 Back in 2016, we had Robin up onstage demonstrating the possibility of a robotic mower as a service rather than just something you buy. They're still going strong, and just introduced and patented what seems in retrospect a pretty obvious idea: an automatic door for the mower to go through fences between front and backyards.
It's pretty common, after all, to have a back yard isolated from the front lawn by a wood or chain link fence so dogs and kids can roam freely with only light supervision. And if you're lucky enough to have a robot mower, it can be a pain to carry it from one side to the other. Isn't the whole point of the thing that you don't have to pick it up or interact with it in any way?
The solution Justin Crandall and his team at Robin came up with is simple and straightforward: an automatic mower-size door that opens only to let it through.
"In Texas, over 90 percent of homes have a fenced-in backyard, and even in places like Charlotte and Cleveland, it's roughly 25 to 30 percent, so technology like this is critical to adoption," Crandall told me. "We generally dock the robots in the backyard for security. When it's time to mow the front yard, the robots drive to the door we place in the fence. As it approaches the door, the robot drives over a sensor we place in the ground. That sensor unlocks the door to allow the mower access."
To read the full original article, please click here.