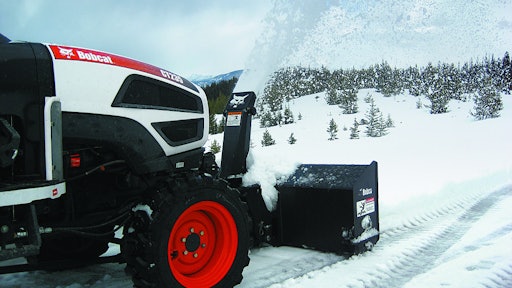 For blowing snow off of sidewalks, driveways and small parking lots, there are nearly as many equipment options as there are shapes and sizes of the snowflakes you're clearing. Knowing what's available and how to choose the right tool is half the battle.
There are numerous commercial-duty walk-behind snowthrowers on the market from manufacturers including Honda, Ariens and Snapper. Many other companies also offer implements for use on everything from skid-steer loaders to compact tractors to utility vehicles. Here's a look at some trends that have been developing over the past couple of years.
Off-Road Vehicles
Several manufacturers have been developing snowthrower attachments for off-road vehicles such as utility vehicles (UTVs) and all-terrain vehicles (ATVs). The popularity of UTVs specifically, for both homeowners and professional contractors, has boomed in recent years—so much so that Boss has even come out with a plow for UTVs this year.
Canadian-based Bercomac has rolled out a lineup of UTV/ATV snowthrowers. "Demand for UTVs has grown by leaps and bounds over the past couple of years," says Chantal Riopel, Bercomac sales manager. "Contractors and homeowners alike appreciate having these machines work all year long, making the initial purchase of the UTV more worthwhile."
Bercomac currently offers two UTV models, 66 inches and 72 inches, that are ideal for light commercial use. Putting one of these snowthrowers to work with your UTV requires a winch to lift it (at least 1,000 pounds), and a rear ball hitch (1-7/8 inches). Also, Bercomac recommends that you verify your UTV's measurements to ensure a proper fit; an optional extension kit for the sub-frame may be required.
Tractors
Bercomac is also in the process of launching a shaft-driven snowthrower that mounts to the front of certain compact tractors. Likewise, Bobcat has introduced three front-mounted implements for use on its model CT120, CT225, CT235 and CT450 tractors.
The ability to mount a snowthrower to the front of a tractor presents certain advantages for operators, especially on larger jobs where long stretches of heavy snow must be cleared. Mounting to the rear, as is the case with a traditional three-point snowthrower, often requires turning around in the seat to perform the work.
However, mounting to the front is often more complicated than mounting to the rear. While compact tractors equipped with front loaders do make it much easier, a front-mount snowthrower may or may not be compatible with the front loader. Furthermore, because the tractor must be equipped with mid-PTO, some sort of mechanism that attaches to the sub-frame must be used. Many companies offer "quick attach" systems that make this process fairly simple.
In the case of Bobcat's front-mounted snowthrowers, the company says a lift kit and PTO kit are required to mount to the tractor. Then, the tractor's front-end loader, tractor grille guard or front weight kit, if present, need to be removed. However, loader mounts do not need to be removed. The snowthrower and lift kit are then fastened together by two quick-release pins, allowing for attachment/removal in minutes.
There's a lot to consider with many variables in play. Simply put: Contractors and their dealers must have a thorough discussion to determine if a front-mount model is a feasible option.
Skid-Steer and Compact Track Loaders
Many contractors have found another feasible option in skid-steer loaders. "A skid-steer loader is more maneuverable than a tractor, and gets better traction on snow and ice than a compact track loader," says Chris Knipfer, segment application marketing manager for Doosan Infracore Construction Equipment.
The skid steer is popular with smaller contractors looking to generate winter-season revenue with the same skid steer they're using the rest of the year. With larger contractors, the ability to utilize a skid steer-mounted snowthrower more often is a persuasive factor.
"For accounts such as retail stores, apartment buildings and single private driveways, a snowthrower might not be your best option," Knipfer says. When you can push the snow off to the sides, a blade makes sense. When you have to remove snow from a smaller site, a skid steer with bucket makes sense.
A snowthrower makes sense when a contractor has a large area to clear but cannot leave the snow on site. "In this case, the operator may attack the job by pushing all of the snow to the center with a bucket or blade," Knipfer explains. "The fastest way to load that snow into a dump truck is to use a machine-mounted snowthrower, many times with a truck-loading chute option."
Zero-Turn Mowers
Many landscape contractors and homeowners use their zero-turn riding mowers for snow clearing operations on smaller to mid-size properties. The big variable here, according to marketing director Ruthanne Stucky of The Grasshopper Company, is traction. Close coupling of the snowthrower to the power unit is the key to good traction, which provides efficiency and maneuverability.
"When an implement is mounted several feet from the drive wheels, as would be the case on a mid-mount riding mower, it becomes unwieldy and hard to handle, instead of working as an integral part of a productive system," Stucky explains. "But on a front-mount mower, the snowthrower is mounted right next to the drive wheels, allowing the operator to maneuver effortlessly and complete bigger jobs in about a quarter of the time, single-handedly."
Grasshopper offers a 48- and 60-inch version of its DriftBuster snowthrower with TractionPlus design for use on its FrontMount zero-turn mowers. Attaching in place of the mower deck, the DriftBuster is driven by the PTO shaft, while speed of travel can be adjusted to the conditions.
The zero-turn maneuverability dramatically speeds the clearing of sidewalks and other small areas that would normally need to be cleared on foot with a shovel or walk-behind blower. "Driveways and small or congested parking lots are other areas that can be cleared quickly," Stucky says. "Many of our customers use this combination when contracting for a neighborhood or chain of businesses."
Walk-Behinds
In many instances, end-users still opt for a walk-behind. There are plenty of powerful, high-performance models to choose from. For instance, the PRO 36 is one of Ariens Company's many snowthrowers backed by a commercial warranty. It features a 36-inch clearing width, 14 inch-diameter impeller and 16 inch-diameter auger, and throws snow up to 50 feet.
Honda offers eight models of self-propelled, two-stage snowthrowers that feature commercial-grade Honda engines. Depending on the model, users can clear 50 to 71 tons of snow per hour, making them well-suited for light to medium-duty commercial jobs.
Honda's commercial-grade hydrostatic drive, serrated ice-breaking augers with deeper serrations, durable metal chutes and auger housings, and low-pressure tires on wheeled models to avoid the use of tire chains allow for use in both icy and heavy snowfall conditions.
Performance features such as these let you know that you're picking a machine that will allow you to get the job done. There are other things you need to consider when selecting a walk-behind snowthrower.
How much area do you need to clear? Two-stage snowthrowers are needed for larger areas. For sidewalks and one- or two-car driveways, you might be able to use a single-stage, though two-stage models are better performers.
What type of surface do you need to clear? When properly adjusted, two-stage snowthrowers work very well on gravel or mixed surfaces. For flat surfaces where traction generally isn't an issue, wheeled machines are a popular choice because they are easier to turn and maneuver than track machines. But on commercial flat roofs or sloped terrain where traction becomes an issue, a track-drive snowthrower is typically needed.
Do you need to clear a lot of packed snow? If you answered yes, a track-drive model might also be your answer. For snow banks or snow that has been driven on, the superior traction of a track-drive model comes in handy.
Companies in this article