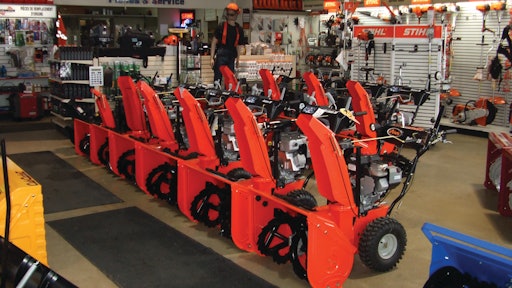 Snow-removal contractors want reliability in their snow-removal equipment, and the snowthrower is no exception. Check out these product selection tips from a snowthrower expert with Ariens Company.
Single-Stage Snowthrowers
Single-stage snowthrowers are ideal for light to moderate snowfall on sidewalks, driveways and other smaller areas. They are called "single-stage" because the snow us sucked up and tossed in a single stage by an auger.
Robust and durable. Snowthrowers have to be built to withstand punishing commercial use. According to Angela Raddant, product manager for snow products at Ariens, features such as steel side panels, sturdy wheels and a protective rear guard increase machine durability.
Effective auger system. Pros want their snowthrower to have a good auger system that can clean right down to the pavement—without excessive wear and tear that could hinder auger performance and life.
Easy to service. Snowthrowers fit for a pro provide for easy access to common service points such as the oil drain, spark plug and carburetor. Also, make sure that common wear parts such as paddles are economically priced and readily available through your servicing dealer.
Engine output and throwing distance. Pros need some power. For example, the Ariens Path-Pro features a 136cc or 208cc engine and can toss snow up to 35 feet. The Toro Power Clear 721 R-C features a 212cc engine and can also toss snow up to 35 feet.
Easy to maneuver. Pros want equipment that's as easy to operate as possible. Look for snowthrowers that are durable yet lightweight. Ergonomic handlebars and controls make a huge difference if you're clearing snow for several hours a day. And features such as foldable handlebars make trailering and storage easier.
Two-Stage Snowthrowers
Two-stage snowthrowers are ideal for heavier snowfalls (over 8 inches) and for larger areas. They are called "two-stage" because the snow is sucked up by an auger in one stage, and is then tossed by an impeller in a second stage.
Robust and durable. All-steel construction, fully welded serrated augers, a cast iron gear case, a large axle shaft with steel axle bushings, and a large and durable friction disc help make for a robust machine. "Each and every component should be built with durability and performance in mind," Raddant says.
Low maintenance and lifecycle costs. A dual belt-drive system can help a snowthrower sustain maximum load without slip, even at lower temperatures, making it maintenance-free with no service adjustments required. Additionally, the gear case should be leak-free and capable of standing up to the harshest of winter conditions, Raddant says.
Engine output and throwing distance. Powerful engines work together with the high-speed impeller system and belt-drive system to throw the snow. High-performing two-stage snowthrowers can throw snow 40 to 45 feet. The Ariens Hydro-Pro models can throw snow up to 50 feet.
Easy to maneuver. Take a look at how easy it is to change chute direction. Power steering is another good feature to have.
Final Thoughts
Warranty. Make sure you understand the conditions of the warranty. The Ariens Path-Pro single-stage snowthrower, for example, offers a three-year consumer warranty and 90-day commercial. The Toro Power Clear 721 R-C offers a one-year commercial warranty. Other brands/models offer three-year limited warranties which should be explained to you by the dealer.
On the two-stage side, Raddant says gear-case failure can be the most common and costly service item. The Ariens Professional and Hydro Pro models feature a three-year consumer and one-year commercial warranty, along with a five-year consumer and commercial gear-case warranty.
Brand name and reputation. Find out how long the manufacturer, and maybe even the dealer, have been in the snow business. A long legacy of building quality product and helping to keep snow-removal contractors up and running can give you some added peace of mind.
Companies in this article