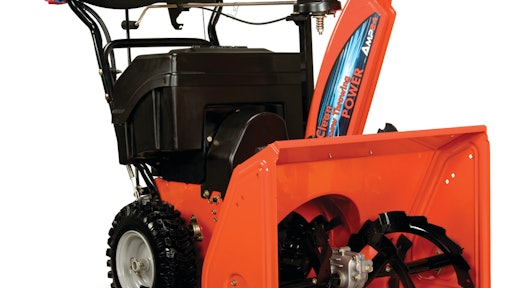 Snowthrowers are constantly evolving. Experts at the Ariens Company help us take a look at some of the more prominent design improvements over the past several years.
Two-Stage Snowthrowers
Tecumseh was long viewed as the best for commercial applications, but has now been replaced by Briggs & Stratton.
Larger engines (displacement and size) as CC ratings have increased with the 420cc Briggs engine now available for commercial snowthrowers.
Less evaporative emissions in the last two years, and therefore better fuel efficiency which should be noticed by professionals putting a lot of hours on machines.
Chinese engines are also beginning to enter the high end of the market on some Craftsman models.
Electric models are also emerging, such as the Ariens Amp (pictured). Two-stage electric enables use and transport in enclosed areas such as helipads, train stations, etc.
More manufacturers are offering hydrostatic-drive machines. The infinite range of speed control these units provide means more efficient use of equipment/time for pros.
For added durability, some companies offer a cast-iron gear case. Ariens also offers a five-year commercial warranty.
Controls have become more operator-friendly and ergonomic. For example, controls are now conveniently located on dash panels. Also, deflector and rotation have been integrated into a single control.
Finally, upgrades have been made to components on parts where pros will see wear with a lot of use. A good example is commercial-grade skid shoes and scraper bars. Polymer skid shoes also offer better surface cleaning on pavement.
Single-Stage Snowthrowers
There was somewhat of a shift from 2-cycle to 4-cycle engines in the 2006-08 timeframe, causing prices and weight to increase. Many manufacturers dropped out of market at that time but now are coming back.
Single-Stage Units Have Lots of Competition
Snow removal professionals simply have more options to clear snow these days. That's one reason why manufacturers like Ariens have seen a drop in demand for single-stage snowthrowers. Market share for two-stage units is growing, conversely, and a big reason is because many two-stage units are priced similarly to single-stage machines.
The market for track-drive snowthrowers is also growing. These units make clearing packed snow much easier.
The power brush segment also appears to be growing. These machines have all-season engines and can be used for multiple jobs, such as ice, gravel, grass dethatching, etc. Similarly, backpack blowers—traditionally used by landscape contractors to clear leafs and debris—are being put to use in the winter to handle light snowfall on sidewalks and driveways.
Companies in this article