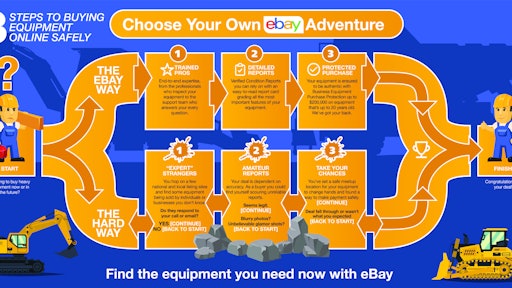 So much of what we do today in our free time is online. It's no surprise then that what we do for our work has also been upended, a transformation accelerated by the pandemic. In all these activities, safety must be a top priority.
Heavy equipment deals used to be made entirely in person at live auctions and between people you or your network knew personally. Pandemic restrictions made that impossible and the post-pandemic market made it impractical. Today, buyers and sellers go to meet online. With more than 150 million active buyers globally, eBay is the world's largest online auction marketplace. Heavy equipment buyers and sellers are noticing they can get all the things they demand from an in-person sale but with added benefits of technology. Safety is one of them.
Construction pros are faced with tighter project timelines, more competition at bids, harder to get equipment and parts and less labor to accomplish everything. So, when it comes to buying used heavy equipment, it's no surprise that ForConstructionPros.com readers say their biggest factors in a transaction are speed, simplicity, price, and trust. With almost 30 years of experience, eBay addresses each of these needs and more.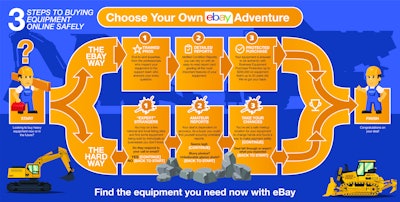 Expertise
When you go into an in-person sale, the equipment you're buying would first get a look-over by your equipment manager, mechanic or other member of your team. You might bring a checklist with you, ask for a test drive or put it through its paces. You can't do that online, and if you use an unauthenticated platform, you're reliant on what could be highly edited photos or videos. Heavy equipment sold by eBay in conjunction with bidadoo is inspected and authenticated. Together they have 20+ years of expertise and their trained professionals act as your eyes and ears to ensure you're listing equipment for the right price or buying equipment that will do what it says.
Support
Reps from bidadoo act quickly to inspect equipment and offer their feedback to the buyer so you know you're getting up-to-date information. Even better, support reps are accessible by phone or email five days a week and can answer questions on shipping, logistics, titles and licensing, financing – anything that could come up in your transaction. That type of support is difficult to find when transactions are made through smaller online auction services and nonexistent if you're making your deal one-on-one. In those cases, you could very likely be dealing with someone who doesn't know the equipment at all.
Standards
A Verified Condition Report [GU1] includes a detailed rating system, including photos and videos free of silly filters or heavy editing. The team has inspected over 100,000 pieces of heavy equipment and knows which standards set the bar. They can benchmark against other equipment they've seen. With an easy-to-understand five-star rating system that shows condition from poor to very good, no part of the equipment goes unchecked. The chassis and undercarriage alone have 10 review categories, with the engine and hydraulic system and the body adding dozens more. If you're a buyer, comparison shopping is easier than ever.
Protected Purchase
All eligible eBay equipment purchases over $1,000 are covered up to $200,000 backed by their trusted Business Equipment Purchase Protection plan. In the unlikely event that something goes wrong, you have peace of mind knowing you won't lose your hard-earned investment. Equipment that is less than 20 years old is covered if you don't receive it after ordering, if it has title issues, if it doesn't come as described or if it has unusual damage that wasn't disclosed and costs you more than $1,500 to fix.
Equipment owners large and small across the globe turn to eBay to keep their fleets moving forward when they need to search and find equipment 24/7 online. Ultimately, the two most important safety factors in any equipment transaction are your personal well-being and the money you have on the line for this big-ticket purchase. You can trust eBay has your back on both.
Click here to learn more about how to sell your construction equipment o
from bidadoo [GU1]