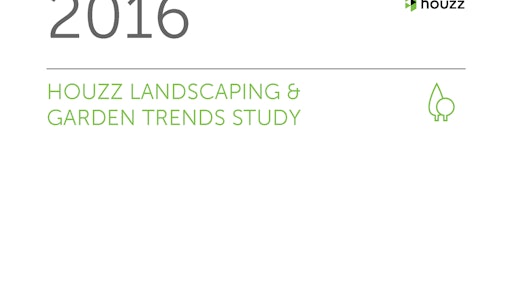 The 2016 Houzz Landscaping & Garden Trends Study was recently published. It includes insights from nearly 1,000 U.S. homeowners using Houzz who are in the midst of, are planning, or who recently completed an outdoor project. Survey respondents offered a glimpse into their biggest landscaping challenges, what they're looking for in an outdoor design today, and which landscaping features they value the most.
Houzz is a leading platform for home remodeling and design, providing consumers with everything they need to improve their homes from start to finish. Houzz is also an easy way for people to find inspiration, get advice, buy products and hire the professionals they need to help turn their ideas into reality.
What drives homeowners
The 2016 Houzz Landscaping & Garden Trends Study has discovered that nearly half of outdoor renovators spend at least six hours a week in their yards, motivating them to invest in major features that transform the outdoors into additional living spaces. Additionally, 41% plan to hire a landscape contractor to do the project for them, and 31% will hire a landscape architect or designer to put a plan together.
The most common reason why a homeowner decides to do an outdoor renovation project is because something is in need of replacement, be it an irrigation system, plant, lawn, patio, etc. Roughly 36% of survey respondents pointed to that very reason. A few other key driving factors followed closely behind:
Homeowner now has means to fund the project – 34%
Homeowner now has the time to devote to the project – 31%
Homeowner just purchased home and wants to spruce up landscaping – 25%
What homeowners are looking for
There are numerous things that today's homeowners look for in a landscape design:
Complement the home itself – 46%
Create outdoor living environment – 45%
Look stylish – 43%
Attract butterflies, birds, etc. – 26%
Water efficiency – 24%
Reflect who I am – 20%
Resale value – 19%
Eco-friendly – 18%
Native plantings – 17%
Make a statement – 13%
Integrate well with neighborhood – 6%
Today's homeowners also want to see the following characteristics in their finished landscape:
Easy to maintain – 80%
Easy for family to enjoy – 49%
Easy to entertain in – 48%
Enhance privacy – 32%
Can cook in – 19%
Can dine in – 11%
Homeowners' favorite landscaping elements
Many homeowners point to the need to update several common structural elements in an outdoor space:
Patio or terrace – 43%
Arbor, gazebo, pergola or trellis – 24%
Deck – 21%
Shed – 10%
Survey respondents also call attention to numerous landscaping elements they want to see incorporated into their plans:
Beds and borders – 80%
Pathways – 51%
Lawn – 37%
Fence or other property border – 34%
Retaining wall – 28%
Stairs – 26%
Water feature – 23%
Fire feature – 18%
There are a few landscaping elements that also seem to be notably growing in popularity, as compared to the results of last year's survey:
Irrigation system – 40%, up from 29%
LED lighting – 32%, up from 28%
Composting – 26%, up from 19%
People still like their grass
As mentioned above, a nice lawn is the third most requested landscape design element by today's homeowners. That's interesting, because even earlier we'd mentioned how "easy maintenance" is the overwhelmingly most important characteristic homeowners are looking for in their finished landscape. This seems a bit oxymoronic, because a lawn requires a good amount of maintenance in the way of mowing, fertilizing, watering, raking, etc.
But the fact is, Americans like their grass—albeit that some are looking to have a little bit less of it. According to this year's survey results:
42% plant to replant their lawn this year, up from 28% last year
31% want to reduce the amount of lawn in their landscape, up from 27% last year
16% want to remove their lawn altogether, up from 12% last year
9% would actually like to expand their turfgrass area, down from 10% last year
What would homeowners put in place of any turfgrass they remove?
Hardscaping – 63%
Garden area – 58%
Ground cover – 57%
Mulch – 57%
Structure – 32%
Synthetic turf – 6%
As you can see, hardscaping remains a very popular landscaping element. Homeowners point to the following hardscaping products as their most popular:
Pavers – 53%
Gravel/Rock – 40%
Stone slabs – 39%
Pebbles – 36%
Bark chips – 34%
Poured concrete – 31%
Brick – 20%
Dirt – 19%
Wood – 11%
Sand – 11%
Homeowners' top landscaping challenges
Drainage (34%) and a lack of privacy (27%) are homeowners' biggest challenges when it comes to their outdoor spaces. Several other challenges follow:
Drought/water shortage – 23%
Too much sun – 19%
Erosion – 16%
Rodents/wildlife – 16%
Too much shade – 14%
Flooding – 7%
Wind – 6%
Storm damage – 5%
Noise – 5%
The "U.S. Houzz Landscaping Trends Study" is an online survey of U.S. homeowners on Houzz conducted in February 2016.