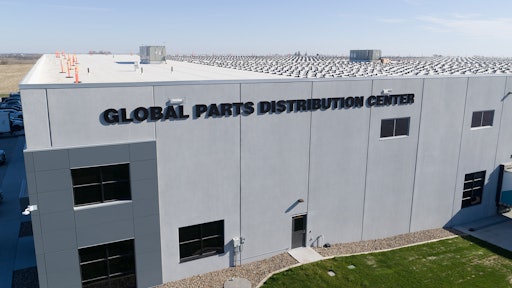 Vermeer Corp.
Prime Sources Names New Proprietary Products Manager
Prime Source, the specialty products division of Albaugh, named Matt Wilkinson as the propriety products manager, following the retirement of Steve Jedrzejek, proprietary products manager.
Jedrzejek's career spanned more than 40 years in roles that included marketing, product development, technical services and executive leadership roles within the turf and ornamental industries. He has been with Prime Source since 2018.
Wilkinson will be leading selling initiatives for the growing proprietary specialty product portfolio across the U.S. He brings nearly 30 years of green industry experience with previous roles in agronomy, golf course management, as well as turf, ornamental, golf and sports turf product sales and portfolio development.
Wilkinson holds a bachelor's degree in horticulture and turf and landscape management from Oregon State University and resides in Denver, Colo.
Vermeer Opens New Global Parts Distribution Center
Vermeer added a 312,000-square-foot Global Parts Distribution Center.
Vermeer team members will package and ship parts worldwide from the facility, located on the grounds of the corporate headquarters.
The location of the Global Parts Distribution Center leverages the manufacturing capabilities of the Vermeer mile, where most Vermeer products are assembled. Three times more space than the previous building, the new Global Parts Distribution Center includes 23 dock doors, a warehouse management system and improved warehouse technology. This investment will help drive efficiency by centralizing parts storage.
The Global Parts Distribution Center is the second facility Vermeer has opened in 2023. Earlier this year, the company expanded its parts manufacturing footprint in Des Moines, Iowa. That facility manufactures horizontal directional drill tooling and utility tractor attachments.
Mariani Landscape acquired New Jersey-based Siciliano Landscape Co.
This is the latest in a series of acquisitions by Mariani Landscape, continuing the company's record growth and major national expansion.
Headquartered in Red Bank, N.J., Siciliano Landscape Co. is a third-generation family-owned business long admired for its award-winning design, installation and maintenance services.
"I'm still at the helm and all of my employees remain in place. We joined a group of a dozen of the best landscape companies in the country to share resources and innovation. It's a huge honor to be selected, and I'm really proud of my team. Mariani has invested in us, and I've invested in Mariani. These are exciting times at Siciliano Landscape," said Karen Siciliano, owner and president of Siciliano Landscape.
The Siciliano Landscape Co. was started in 1935 by Karen Siciliano's grandfather. Having grown tremendously over 88 years and three generations, Siciliano thrives by delivering exceptional quality and service in design, installation and maintenance. The company offers a full range of award-winning design services including conceptual master planning, construction documentation, project management and landscape installation.
Thirteen companies now comprise Mariani Landscape's group of companies, offering market-leading landscaping services with local care.
Kioti Tractor Awards Dealers 5-Paw Status
Kioti Tractor, a division of Daedong-USA, recently awarded 73 dealers across North America with 5-Paw status, achieved through the 2022 5-Paw Dealer Excellence program, the company's top customer experience honor.
Launched 15 years ago, the 5-Paw Dealer Excellence program recognizes exemplary KIOTI dealers who provide top-quality buying experiences and premier service to their customers.
"Our expansive dealer network plays a crucial role in the customer journey with the KIOTI brand, and we are grateful for their dedication," said Peter Dong-Kyun Kim, president and CEO of Daedong-USA, Kioti Tractor Division. "These dealers demonstrate Kioti's commitment to providing the highest level of service and enhancing the machine-owning experience for our customers."
To qualify for 5-Paw status, Kioti dealers are assessed annually on their mastery of service, sales, operations, parts support, marketing, and customer relations.
Triangle Chemical Co. recently joined United Turf Alliance (UTA) as its newest owner. Based in Macon, Ga., Triangle Chemical Co. has locations in Florida, Georgia, Mississippi and North Carolina.
Triangle Chemical Co. formed its turf and ornamental division in 2011. The division serves customers in the golf, lawn care, landscaping and athletic facilities markets with eight distribution centers throughout the Southeast. Ownership in UTA will help the company continue to grow its T&O division through partnership with distributors around the country.
With the recent addition of Triangle Chemical Co., UTA now has seven owners. Triangle is the first owner to join UTA under the leadership of Nick Strain.
Central Turf & Irrigation Supply (CTIS) purchased two Greenleaf Turf Solutions (GTS) locations; one in Pennsylvania and one in Delaware.
"The timing was just right for both companies," said Anthony Luciano, vice president of CTIS. "Greenleaf will help complement our Mid-Atlantic footprint by adding additional conveniences and resources to our existing client base and continuing our overall turf category goals for Central."
GTS was founded in Newark, Del., in 2012 by David Greenleaf as a family-owned, independent landscape supply distributor.