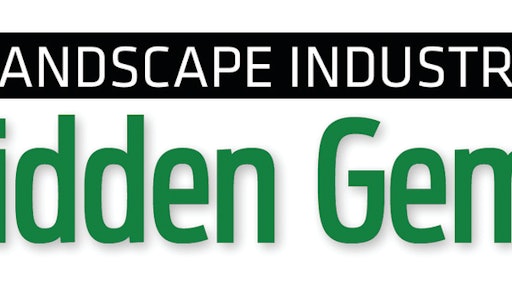 With another comeback year just about in the books, it's time to unveil our 2015 Landscape Industry Hidden Gems. This year we've highlighted 20 landscaping and lawn care companies that, from 2012-2014, outpaced the average industry growth rate of roughly 15%, and have continued growing sales and setting a good example for the industry this year.
So check out this year's Hidden Gems LIST HERE, along with an assortment of best practices you could very well put into action in your own business. And for information on how to apply for next year's list, which will focus on the industry's fastest-growing companies of the past year—regardless of sales volume—send an email to editor@greenindustrypros.com.
Standing out
Green EffeX in Naples, FL, operates in a way that you don't see very often. They run a one-stop-shop as a full-service landscape management company offering maintenance, fertilization and pest control, and tree care. And why stop there? Green EffeX features a full retail center and a horticultural dump—both of which service the company's competitors.
Kevin Kaulbaras, founder, co-owner and general manager, explains, "In the beginning it was hard to sell. The competition would come in and say that they wouldn't purchase anything because they didn't want to support the competition. I'm not out there to compete on pricing structure. In a year, year-and-a-half, all those faces came in and they realized, 'this guy is actually helpful.'"
Kaulbaras says that his company most likely holds more licenses than any other company in town. They offer free advice, not only to their residential customers coming into the store, but they also answer questions and give advice to competing landscapers. "I've established that we should reach out to our competition and make it a plan to educate."
Rather than trucking their clippings and yard waste to the landfill, Green EffeX operates their own horticultural dump. They partnered with a local 100% organic recycling plant that takes the horticultural material and turns it into compost. Some of the compost is then used in orange groves and tomato fields by the recycling plant, and some is returned to Green EffeX for sale in its retail center. Kaulbaras adds that his contractor customers don't have to waste time driving; they can get materials and plants, and dump yard waste all in the same location.
Northwest Construction & Landscape in Bremerton, WA, is a full lawn maintenance and customized landscaping company. One thing that sets them apart is their offering of concrete finishes for patios, walkways and driveways. They offer broom finish, exposed aggregate and a popular choice among their customers—stamped or decorative concrete. The company made the decision to acquire their own general contractor license, rather than work with a subcontractor.
"Concrete finishing and stamping was a skill set that a key employee of ours had come to us with. Another landscape construction crew member also had previous concrete experience. So it made a lot of sense for us to specialize in decorative concrete, along with landscape construction," explains Meeshka Bernabe Brand, vice president of Northwest Construction & Landscape.
Brand says that the decision was a successful one. Their customers appreciate the ease of working with a contractor who specializes in both services. The company offers a number of different concrete stamping styles, and as Brand explains each project comes out looking unique. "Decorative concrete offers a lot of customization through color and border options. So even if we often work with the same stamp, our projects look and feel very different."
Platinum Landscapes in Cedar Hills, UT, says that they've been a leader in design and implantation in the industry. Owner Rick Meinzer says, "Unlike some contractors, we get excited about taking on work and projects that are new and unique. This has been our philosophy from day one. We are always experimenting with new styles, designs and ways of building/creating elements in a landscape. Too many contractors stop learning. They do the same landscape with the same plant material, the same rocks, and never branch out."
Most recently, Platinum Landscapes added their own pool installation division. Before, they subcontracted, but many of their projects involved pools so they ended up having to oversee the project anyway. They made the decision to bring in a division head from Australia, and the difference in standards from Australia to Utah has had a tremendous effect.
"Clients absolutely love how much we know about pools and how invested we are in the overall experience of the pool and the landscape. Our projects are now averaging $300,000 and above, with pools and landscaping, and it is a match made in heaven," explains Meinzer.
Ross NW Watergardens in Portland, OR, believes they are proof there is still opportunity for growth by focusing on craftsmanship and custom landscapes. Ben Bowen, landscape designer, adds that the company's marketing efforts, which includes blog and social media postings, have helped create dialogue with clients that ultimately led to interesting opportunities.
"For example, we did a post on 'mid-century modern' landscapes," Bowen tells. "It was musing more than anything. But within weeks we had several new design clients with MCM homes.
"One client wanted a landscape that highlighted the home's unique lines and layout, but that also kept maintenance and water use to a minimum," Bowen continues. "We were able to take inspiration from classic Palm Springs landscapes and Japanese gardens and create the yard he wanted (see photos). We utilized locally available materials, such as decomposed granite, basalt boulders, and juniper timbers. Plants were carefully chosen to be drought-tolerant in Portland's climate."
Land Expressions in Mead, WA, says it has redefined what it is to be a truly professional landscape contractor. "We have become a prime consultant and general contractor on jobs requiring civil, structural, mechanical, and electrical engineering and architects," says Dave Nelson, company owner. "We have initiated innovative contract agreements to better meet the needs of the developer or client. And we have helped create private/public partnerships for park projects to better facilitate meeting community needs."
Land Expressions has completed projects throughout the western states, maintaining business licenses in Washington, Idaho, Oregon, Nevada, Utah, Arizona and North Dakota. Many of those projects are high-profile, including expansive water features and streams. "We've been fortunate to get pulled into these resort towns like Park City, UT, and Jackson Hole, WY; it's a pretty nice niche to have," Nelson relates.
Land Expressions has won numerous awards for its design/build work, most recently from the National Association of Landscape Professionals back in October (see photo).
KLC Lawn & Landscape in Maryville, TN, has begun doing a few things to help itself stand out from its competitors. First, roughly 95% of KLC's clients now pay their bills online. Second, all outdoor lighting the company installs is LED, helping clients save money in the long run. "We're also really pushing water-saving irrigation upgrades and installations, and are introducing native plants into landscaping around here," says company owner Ken Hennebert.
There's one other way KLC has been standing out. "One of the best decisions I've ever made was hiring my deaf friend Randy," Hennebert says. "Randy has created such a bond with my customers that many will call and request him to work on their property."
Unfortunately, Hennebert adds, the deaf are often overlooked by many industries, including this one. As a general rule, though, he says they are industrious people who want to work. "From our perspective, the limitation is being able to communicate. But with a little effort, that barrier can be cleared," Hennebert relates.
"Really there is no communication gap between Randy and I," Hennebert goes onto say. "I took a sign language course and continue to learn with Randy's help. As far as my customers, they usually give Randy a written list of things that need to be completed, or I interpret for him. If I'm not on the site, Randy will use his iPad to communicate back and forth with the customer."
Randy Boshears is Hennebert's one and only employee these days. But over the course of his 22-year landscaping career, Hennebert has employed many. "Randy ranks in my top two," Hennebert says. "Randy never complains, no matter how menial the task. Understand that Randy is basically retired, so he doesn't have to work. But he wants to, because he loves to."
Battaglia Landscaping & Supply in Washington Mills, NY, says it can tackle any job in a timely manner, all with minimal disruption to the customer. It also works to create unique designs for each project.
"All our designs are unique to each individual customer. We're not like most companies that have a one design fits all motto," says owner Chris Battaglia. "We listen to the customer's likes and dislikes, their favorite vacation spots and hobbies—whatever will help us give them their ultimate goal of having a landscape with the 'wow factor'."
The Battaglia team takes the time to attend seminars and tradeshows. Battaglia says the company stays innovative by continuing the learning process. "I am constantly striving to learn more. This means reading magazines, websites and journals. A landscape often is as much a reflection of the homeowner's personality as it is the architecture of the house. Whether the project is a small foundation planting or a full property transformation, it always starts the same way: by listening."
Business tactics
Perfect Turf Landscaping in Dallas, GA. "It's not what you know, it's who you know and how you treat them," says Chad Smallwood, owner of Perfect Turf Landscaping in the northwest Atlanta suburb of Dallas. That philosophy has helped Smallwood and his team of now 12 employees quickly build a million-dollar business since opening in 2010.
"We've been very blessed," Smallwood adds, referencing the significant presence his design/build/maintenance company has established in the affluent Atlanta neighborhood of Buckhead. Yes, they've been blessed—but also, what goes around comes around. The Perfect Turf team serves at an event call Community Makeover which is held every year throughout the NW Metro Atlanta Area. Perfect Turf has also mowed and provided general maintenance for up to 50 homes of the elderly, unable and underprivileged.
"To build a landscaping business, people have to trust you and like you, so you have to be honest and build relationships," Smallwood says. To help facilitate that process, while adding another element of professionalism and convenience, he's working on a customer portal to add to the company's website. "It will be a link on our home page for a 'customer log-in' where customers can then view service histories, request services and make payments," Smallwood explains. "Customers will also be able to ask questions of us, and we'll be able to answer those questions and communicate thoughts of our own, such as issues our crews are noticing on a property." This customer portal is being created through Perfect Turf's existing business management software (Real Green).
Irish Green Lawn Care in Moore, OK, has harnessed the use of outside technology to enhance their relationship with their customers. With the use of a chat button on their website, Facebook comments, email and two different internet services, Irish Green customers have plenty of choices when it comes to communication.
To help manage pre-service calls, Irish Green uses an automated system, Appointment Reminder, which either sends a voice recording, text message or email, depending on what the customer's preference is. "First I did a lot of online research. After talking to their customer service agents, I picked this company because of their responsiveness. The customer service at this company is fantastic. In the last (product) update, several of my requests were added," says Shar McLaughlin, vice president of Irish Green.
The second internet service, DemandForce, sends an email to the customer after their property is serviced, allowing that customer to submit feedback which is immediately posted to Irish Green's website and Facebook page.
"We realize that many of our customers are very busy dual-wage earners who love technology.  For this group, all communications with us can be done electronically—from answering questions to emailing invoices and being able to pay their bill online," explains McLaughlin.
But Irish Green also offers the old-fashioned method of communication. "Many customers are retired and prefer to speak to a 'live person' or have face-to-face conversations. For this group, we always knock on the door to address any questions or concerns they have," McLaughlin adds.
Irish Green has also decided to manage their customer reviews through a third-party website, once again relying on DemandForce. McLaughlin explains that they started using DemandForce because they are receiving more and more estimate requests through their website. "So it only made sense to spend more of our marketing budget online," McLaughlin says. Third-party reviews add an element of credibility.
Outdoor Expressions in Canton, GA, has their customers coming back for more. Co-owner Ray Wiedman says that around 95% of their business comes from repeat customers or customer referrals. They service both residential and commercial properties and make communicating with customers a breeze.
"Our customers know they can reach their project manager, account manager or even one of the owners virtually around the clock, and they know they will get a timely response. All of these key positions are filled with veterans from several different backgrounds encompassing design, construction, horticulture and maintenance," says Wiedman.
Weidman estimates that around 80% of the work they do is on commercial properties. He attributes it to fostering great relationships with developers, who then return when they have new projects. While Outdoor Expressions often works with a third-party design firm, the company makes sure that customers have a specific individual they can reach out to, rather than having to keep contacting multiple people for questions or project updates.
"To our customers, 'the company' is often this individual, and the crew is who they see on their property doing the work," explains Weidman.
Greenscapes, LLC in Oregon, WI, has been in business since 2006 and has always been geared towards providing excellent customer service. The company was awarded the 2014 Super Service Award from Angie's List and was voted bronze for the Best in Madison 2015.
"I was always taught to treat your customers like gold and not take any customer for granted," says Jason Reimer, managing partner and sales executive. "When an issue arises, we remedy the situation that day or early the next day with our quality control department. When you show the customer that you care about their issue, they know you care about the property and them. If you wait for weeks or don't even respond, that's when the customer will start to call around for better service and wonder why you don't care about their issue."
Greenscapes responds to new customers quickly as well. A salesman will meet with the customer within a day and have an estimate generated in the next couple days. They also make it easy for customers to visualize what the project will look like, through the use of 3D landscaping videos.
Bob Wambach, head of landscape sales and design, explains, "I post the videos on our website and YouTube channel so clients can visualize the project and easily share it with other decision makers. Typical overhead build plans look like a bunch of expensive circles and lines to a client. While useful to the foreman, they do not invoke any emotion or lifestyle enhancement potential for a customer. In both our maintenance and construction divisions, the goal is to never just bullet point our knowledge or capabilities, but to show how our services can change a customer's interaction with their outdoor environments."
Wambach says that depending on the size of the project, he uses either Realtime Landscaping Architect or DynaScape (design software). The 3D design allows for Greenscapes to generate a quick plan, which ensures that they have the same vision as the client.
Environmental stewardship and sustainability
The Plant Nerd in Huntington Beach, CA. The intense California drought has brought water-intensive landscaping to the forefront of scrutiny this year. But the Plant Nerd has been championing this cause since 2003 when the company first opened.
"Our 'Grass to Garden' designs have exploded," says company owner Korina Petrozzi. She's referring to those smaller, roughly 800-square-foot lawns she's helping convert from primarily turfgrass to more drought-tolerant plants and materials. "We had been doing four a month, but now we are doing two a week," Petrozzi adds.
The rebates homeowners could get when replacing lawns did help drive some of this growth. But there's more to it than just government incentives. "The funding for that program dried up in August," Petrozzi points out. "When the rebate program was coming to an end, I had 15 appointments still booked. I called those clients and told them they had to jump on it because the program was ending. About three-quarters of those clients couldn't get in in time. But they're still having me do their projects because they know it's the right thing to do. So I'm really not concerned that demand for this service is going to fade anytime soon."
For its first several years in business, The Plant Nerd grew roughly 15% a year. Things have taken off over the past few years—in part because of the "Grass to Garden" phenomenon—but also due to a key employee addition.
"We hired a very well-respected designer, Sarah Robinson, to help me," Petrozzi says. "She focuses on the bigger projects, allowing me to focus on our 'Grass to Garden' service. Our output has skyrocketed, which is allowing us to keep moving forward very quickly." When it comes to installing the great landscapes Petrozzi and Robinson design, Petrozzi's husband and business partner, Chris, runs the landscaping crew.
Green Lawn Specialists in Lewis Center, OH, are firm believers that healthy soil is requisite to healthy grass. This is why the company—founded in 2009 and owned by brothers Kyle, Philip, Scott and Chris Germann—has gotten into the habit of topdressing lawns.
"We use Com-Til, a compost product from the city of Columbus," Philip tells. "Com-Til mulches in the seed with a nutrient-rich compost blanket, and adds organic matter and beneficial micro-organisms. Ohio State University has discovered that there are no shortcuts if you want to improve the organic matter in your soil; you must add bulk material. We use a 1/4-inch layer, which works out to about 1 cubic yard per thousand square feet."
Green Lawn Specialists' local mulch supplier stocks the compost. "It would be cheaper to buy in bulk, but our facility lacks enough bulk storage," Philip point out. "So for now, our crew just picks it up when they need it."
The crew then applies the topdressing by hand. "They sling it out of a wheelbarrow," Philip says. "You can also blow it out of a bark blower or use a topdress machine. Most of our jobs are 8,000 square feet or less, though, so hand application is practical."
Compost topdressing has also proven to be a great fall service to offer when crews aren't as busy. "We sell it separately as a 'renovation' item, most often done with seeding and aeration," Philip explains. "We discourage it in the spring. The main reason is we are not typically aerating in the spring; lawns are usually less accessible due to wet conditions and faster growth, and spring is not as ideal of a time to seed."
Green Lawn Specialists, it should be pointed out, is not "anti-pesticide" or completely "pro-organic". Philip says that, from what he's seen, organic herbicides don't work, period. "They are so questionable that we don't even offer it," he adds. "We try to get our customers to improve their soil by topdressing."
Landscape Creations in Calhoun, GA, creates their designs to flow with nature so that the blend of indoor and outdoor living spaces don't have a negative impact on the environment. Additionally, their organic land care program operates with the goal of maintaining soil health, increasing landscape diversity, and improving the health and well-being of their customers.
That's not to say that using organic methods was an easy sell in the beginning. "The hard part was getting people to understand that grass clippings are actually good for the soil," explains co-founder Andrew Davis. The company also pushes native plant-based landscaping, though this too was no easy sell in the beginning. "We encourage people to add native plants because they don't come under attack like the non-native, ornamental varieties that host pests. But people are reluctant to change," Davis adds.
Landscape Creations recently started using propane mowers, a transition that Davis says was a smooth one. They not only took full advantage of the PERC incentives, but also worked closely with a local propane company Blossman. 
"Blossman took care of our conversion for us, set us up with a propane tank on-site for efficiency, and handled all of our safety training for us and our employees. They set us up with ways to carry extra LP tanks with us so we don't have to leave a job to go refuel," says Davis. "We've found that our crews save time not having to refuel at the gas station each morning, leading to more productivity and less downtime. When we installed the propane tank on site, we were able to negotiate a yearly contract price. This, in turn, saved us about 36% on average for the cost of fueling our mowers."
John Welch Enterprise in Victor, NY, recently reduced their carbon footprint with the introduction of propane mowers. Christine Streich, marketing and customer service associate, explained that by cutting down on gasoline and the clean emission output, the transition has been a happy one. The company also installs permeable pavement. Owner John Welch is one of only 20 International Concrete Products (ICP) instructors in North America, and instructs crews on how to install it.
"We were ahead of that trend and now it really has gained in popularity. We're noticing great feedback from it," says Streich. "Permeable paving is definitely the next wave of pavers, patios and sidewalks. As it continues to catch on, people are going to turn to it more."
Keeping sustainability in mind, they set aside 20 acres of land on the company property for a local organic Community Supported Agriculture (CSA) farm. "It's been a win-win for both of us," Streich says. "The land is being utilized and farmed, and the farmers, who were out of a space when the lease on their former space was terminated, were able to come here. They've been with us for two or three years, and it has worked out great. We couldn't be happier."
ArborScape in Englewood, CO, says that the 3 R's—reuse, recycle and repurpose—are the foundation of its sustainability initiative. "We view our whole business as helping trees," says David Merriman, company president. "The more we help trees, the greater the benefit to the wider environment. It's a uniquely satisfying aspect of running an arborist practice, and one to which our company as a whole is committed."
In addition to curating trees, ArborScape has tackled some of the problems any business has in becoming more sustainable. They started by making small changes.
"We've tried to make sure chippers and trucks aren't run excessively when on site," Merriman points out. "We reuse available materials to fix equipment, and purchase equipment which can be used for different types of tree care jobs. In 2011 we became more ambitious, acquiring hybrid vehicles to cut gas consumption. That larger investment has been successful for smaller vehicles. However, we're still frustrated by the lack of available bucket and dump trucks in the hybrid category."
Tree trimmings are recycled at Mountain States Wood Recyclers. Merriman says the recycled materials are then used to create wood mulch, finer mulch for soil amendments, and composting. In fact, 90% of tree debris is recycled with the remaining 10% sold as a soil amendment. "For our crews, the last stop of the day is to recycle the debris we've removed," Merriman says.
Finally, in an effort to promote awareness of the latest threat to local urban and wild forests, ArborScape has developed an Emerald Ash Borer cost calculator. This web-based application provides ash tree owners and caretakers a free, simple-to-use tool to help manage their ash trees into the future.