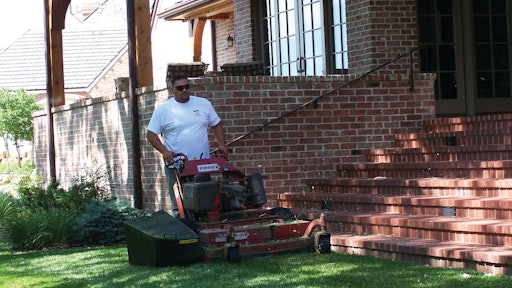 Back in 2004, lawnmower manufacturers sold roughly 45,000 commercial intermediate walk-behind mowers. Last year they sold fewer than 19,000.
There is no doubt that the need for big walk mowers isn't what it once was. That is because today's professional user has several alternatives in the way of more compact, price-sensitive zero-turn riding mowers, more widely available stand-on mowers (some of which easily convert to walk-behinds), and even larger "traditional" walk mowers such as the 30-inch mowers introduced by Toro and Exmark last year.
The good news for manufacturers and dealers that would like to continue selling intermediate walk-behind mowers is that there is still a need for this type of machine. In fact, even though the market has shrunk by more than half over the past decade, manufacturers expect the market to grow slightly less than one percent a year for the next couple of years. In other words, the market is a lot smaller, but it's still out there—and appears to have stabilized.
Why intermediates won't go away
While it's true that most contractors would rather sit/ride than walk, some do prefer to walk. What's more likely, though, is that a larger walk mower makes good sense in many applications.
One contractor commented on our Facebook page that a walk mower puts him in better control around flower beds and other delicate areas. Intermediates can also be effective when mowing medians and parking lot islands. Additionally, intermediates are generally considered to be safer on hills and slopes. But the increasingly popular stand-on mower is also ideal for slope handling. Nonetheless, some contractors prefer a walk-behind in these instances.
Take Colorado contractor Nancy Juba, for instance. She has used a 36-inch walk mower for years. According to Juba, that size and weight are ideal for maneuvering on slopes and around the tops of retaining walls. Plus, a 36-inch walk mower can easily fit through a gate to access a backyard, for instance, lending itself to additional applications. Juba also likes the cut quality and grass-catching ability of her 36-inch mower as compared to some of the stand-on mowers she has tried.
Juba wouldn't want to go any larger than a 36-inch deck, though. When she has tried, she wasn't pleased with the cut quality. So in those instances where a 36-inch walk mower just won't be productive enough, Juba simply hops on her 60-inch rider.
Some contractors will jump up a bit bigger than a 36. Ken Hennebert of KLC Lawn & Landscape in Maryville, TN, will go up to 48, but doesn't like to go beyond that unless a property is wide-open and heavily sloped. Another Tennessee contractor, Curtis Thompson, actually dropped down from 52 to 48 a couple of years ago in order to gain some additional agility without losing too much productivity.
Equipment dealer Collin Palmer of Earthworks Restoration Company in Ridgetown, Ontario, Canada, says he continues to sell quite a few intermediate walk-behind mowers. "Our BOB-CAT line with Z-Control steering is more popular than the Scags we offer," Palmer says. "We offer them up to 52-inch, but never sell larger than 48."
Jay Baudhuin, BOB-CAT's product manager, says a 48-inch deck is BOB-CAT's overall best seller. It offers the ideal balance of productivity (cut width, power) and agility (size, weight). "Our gear-drive model continues to outsell our hydro," Baudhuin adds. "The gear-drive hits a nice price point ($3,000-$4,000) for guys just getting into the lawn maintenance business. The other thing we see is that, even for contractors who primarily want to stand or sit, they still need an intermediate walk-behind. They have one or two properties in their portfolio with lots of hills or whatever that require a walk-behind. So maybe several years ago they had a few intermediates, but now they only have one."
Innovation helps keep them relevant
As you can see, there are a lot of reasons why many landscape contractors still demand an intermediate walk-behind mower. That's why intermediates continue to hang around. It's then up to manufacturers to continue improving the product so that contractors continue to see a benefit in operating them.
Two main focal points are cut quality and operator controls. With respect to cut quality, most leading manufacturers each have their own versions of "superior deck design" to improve airflow and clipping dispersal, and to reduce scalping. Many also offer floating-deck models, as opposed to just fixed-deck, which further helps to reduce the chance of scalping.
BOB-CAT is re-entering the floating-deck category this season when it begins shipping a new float-deck hydro model toward the end of February. "The company (Schiller Grounds Care) had offered one years ago, but discontinued it," Baudhuin says. "We'd been getting requests from our dealers to bring it back, since many of our competitors had begun offering floating-deck models. Our new version features several improvements from the previous one, including a single height-of-cut adjustment control located right where the operator stands."
BOB-CAT hydro models offer two operator control systems, which is the second big focal point for manufacturers. BOB-CAT's Z-Control system mimics the controls found on a zero-turn riding mower. Then, its SoftGrip EZ pistol-grip control system features a shorter throw and wider paddles for easier use. Additionally, the operator presence levers better conform to the handle shape which, in turn, better conforms to the operator's palm.
Exmark's Enhanced Control System (ECS)—standard on some of its Metro, Viking and Turf Tracer models of walk mowers—is designed to put the handles where the operator's hands naturally fall. The shorter grip levers are designed to reduce fatigue, while the cushioned handles help minimize vibration.
Both Ferris and Snapper Pro, Briggs & Stratton brands, offer a cruise control bar on some of their intermediate walk mowers. The cruise control bar allows the operator to set his speed while also allowing him to override speed and direction with the thumb controls. The cruise control bar is found on the Ferris Comfort Control DD Series, and the Snapper Pro SW20 and SW30 models.
Toro is one other manufacturer that has placed considerable emphasis on control-system design. Toro's intermediate walk mowers feature either the traditional pistol-grip steering or its exclusive T-Bar control system. "On an annual basis, the T-Bar control system accounts for nearly half of Toro's wide-area mower sales," says Ryan Moorlag, associate marketing manager at Toro.
According to Moorlag, the T-Bar configuration is popular among contractors for several reasons. "It is ergonomically designed to reduce activation force, and its unique push-to-go design is intuitive to use, making it an ideal choice for first-time operators and when used in smaller or confined areas," Moorlag explains. "Release-to-go systems (i.e. pistol grip) require a longer learning curve before an operator is comfortable using the system on a regular basis. The T-Bar control system is also a fatigue-reducing design that leads to increased productivity."
Companies in this article