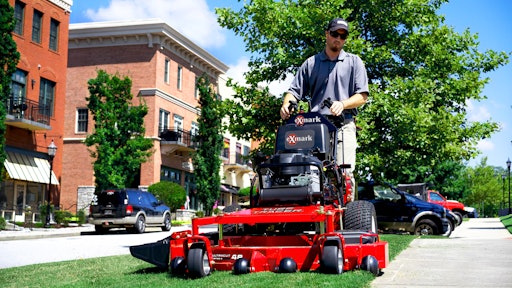 Exmark Mfg.
The commercial walk-behind mower remains a mainstay on the trailers of landscape professionals across the country. And, while zero-turn and stand-on riders remain popular options for many crews, a number of companies have found that walk-behind mowers give them a number of competitive advantages.
According to David Pursell, owner of U.S. Lawns franchises in the Ridgeland and Vicksburg, MS, areas, the advantages of running walk-behind mowers are many.
"Walk-behind mowers are lighter, easier to operate and more efficient to run for my employees," Pursell says. "The ability to get closer to landscaping and run up under bushes and shrubbery means there's less finish work after the primary mowing is done."
The majority of Pursell's crews leave every day with two mowers on the trailer: a 60-inch Exmark Turf Tracer X-Series wide-area walk-behind, and a 48-inch Turf Tracer S-Series hydro-drive intermediate walk-behind. A handful of zero-turn riding mowers are available for specific jobs or needs, but Pursell says the majority of his crews' mowing work is done by the 48- or 60-inch walk-behind machines.
Given the majority of Pursell's business is comprised of industrial and commercial clients, his extensive use of walk-behind machines may seem counterintuitive to some. But he says his crews lose little, if any, productivity compared to crews running zero-turn riders.
"Almost all of our 60- and 48-inch machines are equipped with a stand-on sulky, so it's rare when our operators are actually walking behind the machines," Pursell says. "And while it's true a zero-turn rider may have a higher top speed than an equivalent walk-behind, it's rare you're actually able to mow at top speed, regardless of mower type."
Pursell says that, in terms of productivity, he believes a properly equipped 60-inch walk-behind is every bit as productive in most conditions as a 60-inch zero-turn rider. "In a wide-open field, the increased speed of a zero-turn rider may save some time. That said, on most of the properties we maintain, I believe a sulky-equipped walk-behind mower is just as productive."
Right mix of mowers
For Pursell's mostly commercial client base, the choice of a 48-inch intermediate and 60-inch wide-area walk-behind mower for each crew makes sense.
"We use the 48-inch mowers in any high-profile areas, or around cars, windows or other sensitive areas," Pursell explains. "They are set up to mulch, which reduces projectile risk, and since we're typically mowing properties once a week, we're not generating a huge amount of clipping material."
Pursell says the choice of walk-behind machines allows his crews to run up as close as possible to landscaping, reducing the need for string trimmers or a smaller trim mower. As a result, his crews only carry a 21-inch mower on the trailer for specific client needs or finish cut requirements. "We really only use the 21-inch machine for high-profile clients, or on areas where a specific quality of cut has been requested," Pursell adds.
At the other end of the spectrum, Pursell's 60-inch mowers are set up for maximum productivity. "The 60-inch mowers are set up to side-discharge, and we use them primarily to cut large areas," Pursell says. "With sulkies and powerful EFI-equipped engines, the bigger mowers get jobs done quickly."
For landscape maintenance crews with a more residential focus, access through gates is often the deciding factor with respect to mower size.
"If you're maintaining a property with access through a 36-inch gate, you're looking at a whole different set of rules," says Jamie Briggs, Exmark product manager. "The width of the gate limits cutting deck width to roughly 30-inches once you factor in the width of the deck and discharge chute hardware."
Briggs says Exmark developed its popular Commercial 30 walk-behind with the needs of these landscape professionals in mind. The 30-inch twin-blade cutting deck delivers 43% more cut area per pass than a 21-inch mower, with similar balance and maneuverability. "The Commercial 30 has been very well received by our customers for its productivity, maneuverability, durability and small footprint on a truck or trailer," Briggs adds.
Technology increases efficiency
Almost all of Pursell's 60-inch mowers are powered by Electronic Fuel Injection (EFI)-equipped engines, which have significantly increased the fuel efficiency of his larger machines. "I haven't tracked the specific data, but I can say I've noticed the reduction in fuel consumption since we transitioned our larger mowers to EFI. The engines perform better too. That's a win-win situation."
Pursell believes some contractors may be intimidated by the electronics behind EFI, but says he has had great experience with his EFI-equipped machines. "They start and run with the same consistency we've come to expect from our trucks, and they do it reliably every day."
Landscape professionals have a growing range of options when it comes to increasing fuel efficiency and decreasing day-to-day operating costs on commercial walk-behind mowers. "EFI gasoline engines are just one way contractors are saving money on fuel," Briggs points out. "A growing number of landscape professionals are realizing significant cost savings using the latest generation of walk-behind mowers powered by EFI propane engines."
As a longtime proponent of propane-powered commercial mowers, Exmark worked closely with Kohler to develop the industry's first EFI propane commercial mower engine. Today, Kohler EFI propane engines are available on both of Exmark's hydro walk-behind models. And industry-wide, the number of manufacturers offering EFI propane models continues to grow.
The dealer is key
Pursell says an often-overlooked factor when making equipment-related decisions is the quality of the dealer.
"As a landscape professional, your relationship with your dealer is a critical part of your ownership experience with a machine. How they respond to your needs can be the difference between being stuck with unproductive equipment and having machines, and crews, that are out there making money."