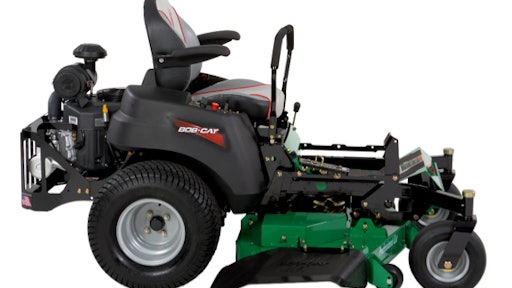 Bob-Cat has announced new 48- and 61-inch decks available on the XRZ Pro mower. These deck sizes join the original 52-inch deck, which the company released when they introduced the XRZ Pro in 2015.
The XRZ Pro brings pro specs, pro warranty, and pro cut to both commercial and residential applications. It features commercial quality and durability in a size and price point that homeowners also desire. These new decks add to that broad appeal. The 48-inch deck is ideal for smaller properties while the productive 61-inch deck helps to mow large-acreage properties quickly.
"We want our customers to have exactly what they need to get their lawn care jobs done," said Bob-Cat brand director Matt Donohue. "These new decks give them more options on the XRZ Pro, with the same great cut quality and performance."
All three models feature the TufDeck Pro professional mowing system, highlighted by a patented Double-Wave Baffle System, which stands grass up with maximum vacuum and lift. An oversized polymer discharge chute also provides efficient dispersal of clippings for a clean finish.
Other key features include:
Kawasaki FX Series Professional Grade engines
New Large 22-inch Zero-T Drive tires for a smoother ride and sure-footed traction
Decks with C-channel anti-scalp brackets and reinforced leading and trim edges
Professional-grade spindle assemblies like larger professional models
The new terrain-gripping Zero-T drive tires bring improved grip, puncture resistance, tight turning with minimal turf damage, and self-cleaning for all three sizes of the XRZ Pro.