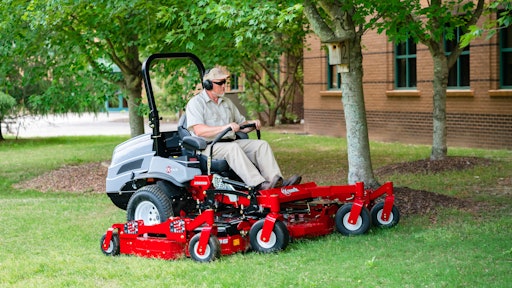 Exmark is celebrating the 25th anniversary of its Lazer Z commercial zero-turn riding mower. First introduced in the fall of 1995, the Lazer Z was Exmark's first mid-mount zero-turn mower model.
It was quickly accepted as the state of the art among landscape maintenance professionals, for whom the increased productivity, cut quality and ease of transport were distinct improvements from the status quo of the day.
By mounting the cutting deck between the front caster wheels and the drive wheels, the mid-mount Lazer Z offered a true zero turning radius, with a much smaller footprint than earlier zero-turn mower designs. This made the Lazer Z much more maneuverable in tight spaces and significantly reduced the space needed for trailering and storage.
Exmark General Manager, Daryn Walters, said that while the basic layout of the Lazer Z is similar to the original, the machine has evolved considerably over the years.
"As our customers' needs and preferences have evolved, we've worked hard to continually raise the bar with the Lazer Z," Walters said. "Whether it's productivity, cut quality, operator comfort and safety, or long-term durability, today's Lazer Z represents the current state of the art in commercial mowers."
Exmark remains focused on the needs of landscape maintenance professionals, however, over the years, more and more homeowners have purchased the Lazer Z.
"Professional cutters and homeowners alike have aspired to be a part of the legacy and experience the Lazer Z's superior productivity, cut quality, durability and performance," Walters said.
Launched as a single series in 1995, today the Lazer Z family has grown to include four series and numerous models for 2021, each available in a range of cut widths and configurations. Exmark offers gasoline- and diesel-powered Lazer Z models, with decks capable of cutting up to 96-inches per pass.
For 2021, Exmark has updated its largest, most powerful Lazer Z model – the 96-inch Lazer Z Diesel. A new engine shroud reduces operating temperature with a larger air intake screen. The increased surface area of the new screen allows the fan to draw cleaner, cooler intake air across the radiator. The location of the screen has also been revised to significantly reduce blockage from clippings and debris.
The 2021 Exmark Lazer Z family includes:
Lazer Z E-Series – 48-inch to 72-inch deck widths; air-cooled gasoline engines
Lazer Z S-Series – 52-inch to 72-inch deck widths; Smart Controller equipped air-cooled gasoline and EFI-gasoline engines
Lazer Z X-Series – 60-inch to 96-inch deck widths; air-cooled EFI-gasoline engines featuring Exmark's patented RED Technology
Lazer Z Diesel – Updated for 2021 – 60-inch to 96-inch deck widths; RED Technology equipped Yanmar turbodiesel and common-rail diesel engines
Learn more about the Exmark Lazer Z zero-turn mower, as well as the rest the company's 2021 lineup at Exmark.com.