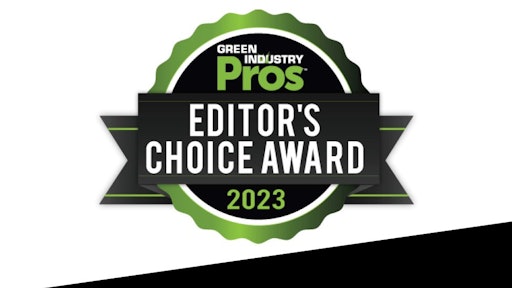 Products that make landscape pros' lives a little easier. Products that solve the problems that keep them up at night. Products that streamline their operations. Products that allow them to work smarter, not harder. These are the types of tools and equipment Green Industry Pros recognizes with the 2023 Editor's Choice Awards.
For this year's Editor's Choice Awards, the Green Industry Pros staff zeroed in on this year's top 35 products.
To add more validity to the process, winners were chosen based on a nomination and selection process by the Green Industry Pros editorial staff. The new process adds credibility, assurance and uniformity for all nominees.
We selected products that represent every sector in the green industry: business management, lawn care, mowing and maintenance, equipment and technology, hardscapes and design and irrigation and lighting.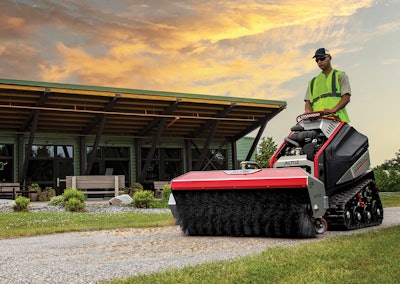 The 2023 Altoz Switch is built around an operator-first stand-on tracked platform, providing multifunction for multiseasonal usage. Mow. Plow. Snow Blow. Broom. Brine. Do more. Go further with one Altoz compact tool carrier.
Available attachment options include three mower decks (all-terrain, brush and finish), an angle broom, a v-blade, a straight blade, a snow blower and a brine de-icing system.
Because all terrain is not the same, the compact size of the Switch (55-inch length with an adjustable 42- or 52-inch width) gets its traction via Altoz 9-inch wide tracks. The patented torsion spring axle suspension is the key to bridging terrain gaps and decreasing chassis bounce, producing a smooth ride. Operator efficiency will add value to the bottom line when removing snow, reclaiming overgrown areas, low lands and technical terrain, quickly, confidently and safely with the need for only one main compact tool carrier.
The 29.5-hp Kawasaki FX 852-cc engine has an integrated electronic throttle and governor control helping you power through the toughest conditions. And, Kawasaki's EFI fuel management system continually adjusts power to load, keeping ground speed steady.
Additional details include:
Adjustable coil spring-over gas shock suspension rider platform
Torsion axle width adjusts from 41.5 inches to 51.5 inches for added stability
Kawasaki's EFI fuel management system continually adjusts power to load
High-performance commercial hydrostatic drive system
Electric dial throttle control, 9-gallon fuel tank, solid-state PTO switch, keyless push-to-start ignition and SmarTrac Pro control come standard
Patented SoftStart clutch control decreases mechanical wear and increases belt life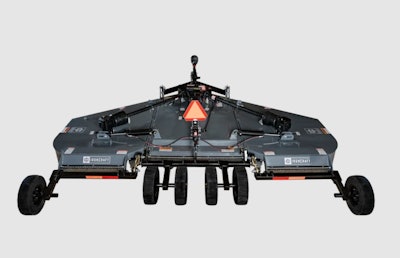 2. Ironcraft 2515 Series Medium-Duty 15-Foot Flex-Wing Cutters
Utilizing a smooth-top deck and spring suspension, the 2515 Series Medium-Duty 15-Foot Flex-Wing Cutters from IronCraft will make quick work of tough jobs. Designed for use with tractors with a 50 hp minimum, this medium-duty Flex-Wing requires only one hydraulic remote. For its 180-inch cut width, the cutter uses three spindles with two free-swinging blades each, which reduce the shock of impact when a stationary object is contacted. Slip clutches protect the gearboxes and drivelines from damage. Standard equipment includes driveline shields, clutch shields, chain discharge shields and a safety tow chain. Additional specs include:
Wing flex: 22 degrees down to 88 degrees
Upwing free float: 22 degrees down to 45 degrees up
Blade overlap: 6 inches
Output shaft diameter: 2 inches
Wheel type: 20-inch or 26-inch laminated, 26-inch foam filled or 29-inch pneumatic
Hitch type: swivel pivot self leveling
Gearbox warranty: five-year limited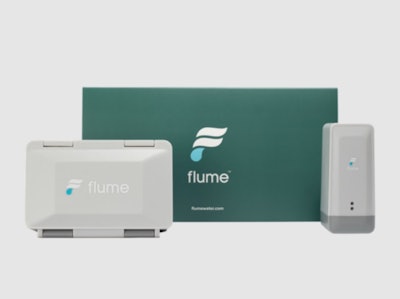 3. Rain Bird Controllers with Flume Smart Home Water Monitor
Rain Bird Corp. and Flume delivered a new generation of whole-home water management solutions intended to give homeowners and water agencies better tools to achieve substantial water savings.
By combining Flume's easy-to-install smart home water monitoring with Rain Bird's irrigation controllers, property owners and water agencies will be able to track water usage down to the drop from irrigation to indoor appliances. The collaboration will also enable homeowners and water agencies to establish firm water usage goals to help homeowners better manage their water use.
Flume's smart home water monitor reports water use by appliance and fixture, allowing people to measure use in real time. Rain Bird's Smart controllers automatically adjust watering schedules based on weather conditions to reduce overwatering. The new partnership will link Rain Bird's controllers with Flume's water monitor, allowing homeowners to quantify the savings generated by using Rain Bird's Smart controller features. In addition to quantifying and encouraging water savings, the Flume monitor will be able to detect irrigation system leaks to avoid water waste and subsequent property damage.
The combined system will also measure water usage by irrigation zone to enable the user to adjust irrigation needs more accurately. These features will be available to the homeowner via each company's mobile app. The paired products will be available through both companies' traditional sales channels, including online and will also be available to utilities and water retailers for specific programs.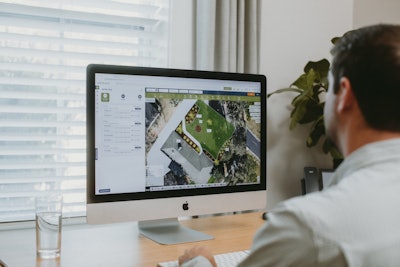 4. SatQuote Software Measure AI
SatQuote is a cloud-based platform for desktop, tablet and mobile developed to help landscapers measure and map properties, estimate project labor and material needs, create landscape designs and generate PDF quotes with map images, products and photos that allow collaboration with customers on what and where work will be done. SatQuote's features include:
SatQuote uses high-resolution aerial imagery and measuring tools to provide accurate property measurements remotely and waste less time driving.
SatQuote's AI measuring helps landscapers quickly measure property features such as lawns, buildings, driveways and roadways.
Share property maps and estimates via magic links, email or SMS where customers can comment, markup and add photos.
SatQuote's labor and material estimation feature helps landscapers profitably estimate project pricing. This feature takes into account the size of the property, the type of work that needs to be done and the cost of materials.
SatQuote's landscape design feature helps landscapers to create visually appealing and functional landscape designs. This feature includes a library of premade templates and a drag-and-drop interface that makes it easy to create custom designs. If clients already have a design, you can upload and scale it to the map to confirm the accuracy and determine material and labor needs.
SatQuote's estimate generation feature helps landscapers create professional-looking quotes that include the scope of work, the cost of materials and labor costs. Estimate generation syncs with Quickbooks.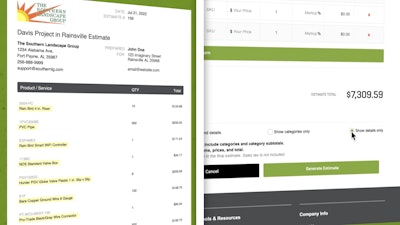 5. SiteOne Landscape Supply Online Estimate Tool
SiteOne Landscape Supply launched an estimate tool designed to help contractors quickly and easily present customized, professional proposals to customers and win business without requiring separate software or subscriptions.
"We know that many landscape operators use pen and paper to quickly sketch out estimates, so we are excited to make things easier for them by reducing the time it takes to create an estimate—and present it professionally," said John Wells, SiteOne director of product management. "The estimate tool enables contractors to produce a personalized document with their own logo and up-to-date supplier pricing."
SiteOne account holders can use the free estimate tool by building an item list on SiteOne.com, either using "add to list" or by uploading a list in Excel format.
Once a list is created, the account holder may convert the list to an estimate, add a markup and customization and then download the estimate as a PDF. The estimate tool includes a free-form field so contractors can add items that are not available on SiteOne.com, such as labor and permits.
Account holders can reference SiteOne's estimate tool explainer video as a resource and step-by-step guide to learn how to use the new feature. Contractors can contact their local branch or SiteOne to enable online access and take advantage of SiteOne's business management solutions.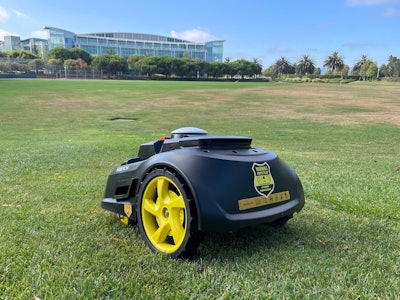 Nexmow Robot Mowers from URSRobot use 4G cellular and an industrial-grade RTK Network to create digital boundary maps and navigate mowers with a 2-centimeter accuracy. Installation of the geofence boundary is done once, and maps are saved to the cloud; then operators can deploy from 1-10 Nexmow robots to operate in a fleet. Any combination of robots can be deployed as needed, and they mow stripes and diamond cut patterns. The swappable lithium-ion battery has a six-hour run time and takes three hours to fully charge. There are no boundary wires or charging stations to install. Nexmow mowers allow landscapers to redeploy or supplement the lawn mowing labor from site to site. They are quiet and emission free. Nexmows can be purchased or rented (one-year subscription) from authorized Nexmow dealers in the US. Everything is controlled from the Nexmow app (iPhone and Android available) Drop, Mow and Go with a Nexmow. Additional features include:
Cutting deck: 14 inches
Blades: five flail style razor blades
Drive: two-wheel drive
Mowing speed: 1.8 mph
Mowing capacity: one Nexmow can mow .14 acres per hour; a fleet of four can mow .56 acre per hour
Safety sensors: four ultrasonic sensors, bump and lift sensors
Security: bump and lift sensors trigger alarm, robot takes pictures, GPS tracking, and the robot can only operate from account assigned via Nexmow app
Cutting height: 1.5 to 4 inches controlled via app
Mowing direction: artificial Intelligence (AI) determines the most effective mowing direction when robots are deployed, but the operator has capability to override AI to change mow direction. Robot mows in stripes.
Swappable battery: 778-watt lithium-ion battery
Runtime: five to six hours
Charge time: three hours for a full charge
Battery cycle charge: rated at 700 or two years of daily usage
Installation: digital boundaries are created using the Nexmow robot or Virtual Marker, and maps are saved to landscaper's private account.
The Nexmow App is available for iPhone and Android phone.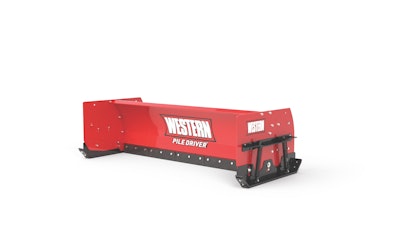 7. Western Products Pile Driver Pusher Plows with Trace Edge Technology
The Western Pile Driver lineup of pusher plows is designed for snow removal applications.
The series is available in 8-, 10- and 12-foot widths. The attachments come with three heights and a common carrier attachment system making them compatible with skid steers.
Patent-pending terrain response advanced cutting edge (TRACE) technology is made up of independent 2-foot sections that oscillate, move vertically and trip to accommodate contours and obstacles in the plowable surface.
"This new cutting-edge technology will offer business owners peak snow removal performance on their toughest jobs," said Andy McArdle, director of marketing, CSI, at Douglas Dynamics. "And in an industry where you have no time to waste, the ease of attachment, operation and the best-in-class dealer network will help operators get more jobs done faster."
Each blade section is equipped with a 3/4-inch cutting edge with carbide insert for heavy-duty use. Self-leveling side plates with reversible, bolt-on skis facilitate servicing, allowing you to use both edges of the ski before replacing.
8. Aspire Software PropertyIntel
9. ASV VT-100 Compact Track Loader
11. Bobcat ZT6100 Autonomous Zero-Turn Mower
12. Diamond Mowers TR Boom Drum Mulcher
13. Ditch Witch PT37 Ride-On Plow/Trencher
14. Exmark Vertex V-Series Electric Mower
17. Fisher Engineering Tempest Hopper Spreaders
18. Grasshopper Mowers Model SO26 Stand-On Mower
19. Hunter Industries Rain-Clik With Freeze-Shutdown and Rain Sensor Capabilities
20. Husqvarna 525i Battery Series Product Line
21. Kioti Tractor ZXS Stand-On Zero Turn Mowers
22. Kubota Tractor Corp. 3710 Front-Mounted Mower
23. Mecalac North America AS Swing Loader
24. Milwaukee Tool Fuel Top Handle Chainsaw
25. Rotary Battery-Powered Sprayer Kits
27. Steel Green Manufacturing SGXL Zero-Turn Stand-On Sprayer
29. Stellar TMAX 1-13 Aluminum Mechanic Truck
31. Syngenta Recognition Herbicide
32. Takeuchi-U.S. TB350R Compact Excavator
33. Toro 60V Max Revolution Series Handheld Tools
34. Verizon Connect AI Dashcam